Record high temperatures expected across the South this week
Temperatures could be 15-25 degrees above average across the South
Parts of the northern United States will experience record-low temperatures and dangerous wind chills this week, but it's an entirely different story across the South as unseasonable warmth moves into the region.
A ridge of high pressure over the Southeast is allowing for temperatures 15 to 25 degrees above average for this time of year, and those warm temperatures are expected to last until at least the middle of the week, according to the National Weather Service.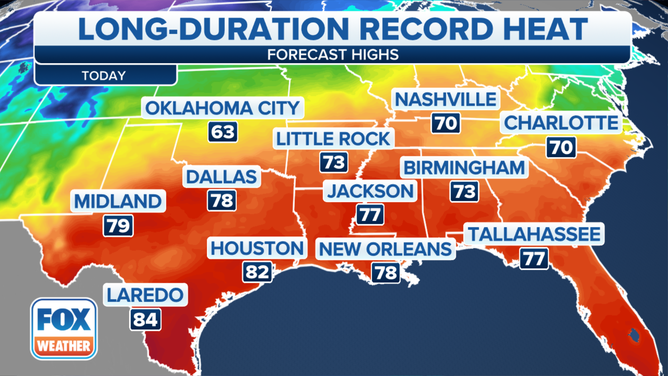 Temperatures are expected to be in the 70s and 80s across the South. Areas of northern Texas, like Dallas and Midland, will stay in the upper-70s Monday, while areas of southern Texas, like Houston and Laredo, will be in the lower to mid-80s.
Areas of the Gulf Coast should stay in the upper 70s or low 80s on Monday.
Those 70-degree temperatures will extend north into places like Charlotte, North Carolina, and Nashville. Oklahoma City is the "cool" spot as temperatures are expected to reach the low-60s.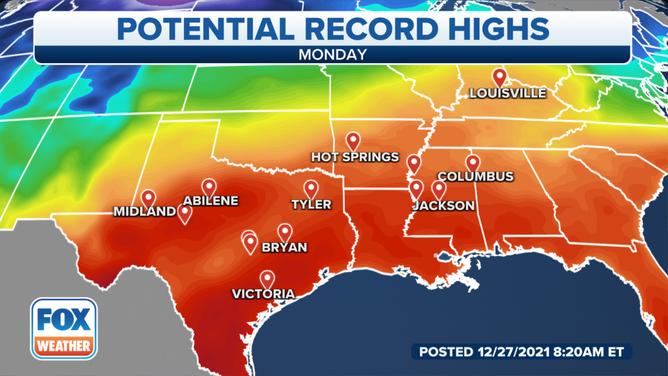 With the unseasonable warmth across the South, some areas have the potential to break some records.
Records could be broken Monday as far north as Louisville, Kentucky, south into Texas. Parts of Arkansas and Mississippi could also break some records on Monday.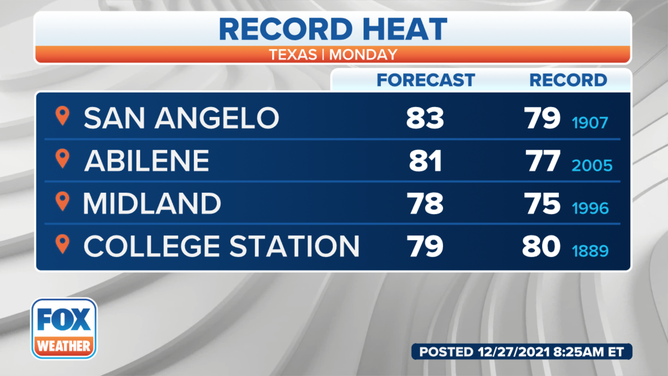 San Angelo, Texas, is expected to break its old record of 79 degrees set back in 1907. Abilene is expected to hit 81 degrees Monday, breaking its old record of 77 degrees. Midland could also break its old record of 75 degrees.
It will be a close one for College Station, though. The old record is 80 degrees set in 1889. It's expected to be around 79 degrees on Monday.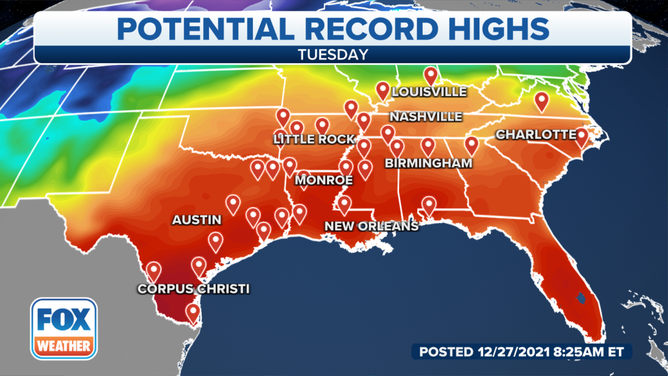 More records are in jeopardy of being broken Tuesday across a larger area of the southern United States. Records could be broken in Virginia and North Carolina, as well as Kentucky, Illinois and Arkansas.