Over 122 million under air quality alerts from Chicago to DC as Canadian wildfire smoke pours into US
Widespread air quality index (AQI) readings above 200 and even higher than 250 in some spots can be found in major metro areas, including Chicago, Milwaukee, Detroit, Cleveland and Indianapolis, denoting "very unhealthy" conditions.
CHICAGO – Skies smothered in thick, acrid wildfire smoke that will eventually cover more than 122 million people across 15 states in the Upper Midwest, Great Lakes, Northeast and mid-Atlantic on Wednesday has resigned residents to another day of unhealthy air quality.
MAP ROOM: TRACK CURRENT AIR QUALITY
Widespread air quality index (AQI) readings above 200 and even higher than 250 in some spots can be found in major metro areas, including Chicago, Milwaukee, Detroit, Cleveland, Pittsburgh and Indianapolis, denoting "very unhealthy" conditions.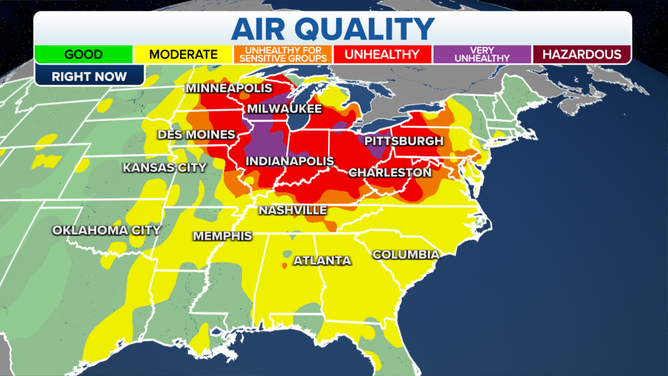 "These (air quality) gauges are showing representations of poisons in the atmosphere, and quite frankly, that's what it is. It's toxins; it's particles of smoke from wildfires," said FOX Weather meteorologist Amy Freeze. "It's awful to see and breath this … this is just bad for you."
The National Weather Service in Milwaukee even warned that air quality levels in some parts of eastern Wisconsin may even fall into the hazardous category Wednesday.

"We're at a level here in Southeastern Wisconsin where exposure to even an hour at these levels is like smoking a cigarette," FOX 6 Milwaukee chief meteorologist Rob Haswell told FOX Weather.  
Visibility dropped to between 0.75 and 1.25 miles in Chicago, Milwaukee, Detroit and Cleveland on Wednesday morning.
Smoke was spreading east into the mid-Atlantic and Northeast later Wednesday into Wednesday night. While air quality was still good by midday Wednesday in those areas, New York City and Washington, D.C., warned that smoke was heading their way again, though not expected at the hazardous levels seen earlier this month that turned skies a surreal orange.
The DC Metro region will be under a Code Red air quality alert on Thursday due to the wildfire smoke possibly bringing levels to "unhealthy" in Washing, Virginia and Maryland, according to the Metropolitan Washington Council of Governments.
Air quality alerts cover the entirety of 12 states out of the 15 where alerts have been issued Wednesday. Minnesota is the only state adjacent to the Great Lakes that isn't completely covered by air quality alerts.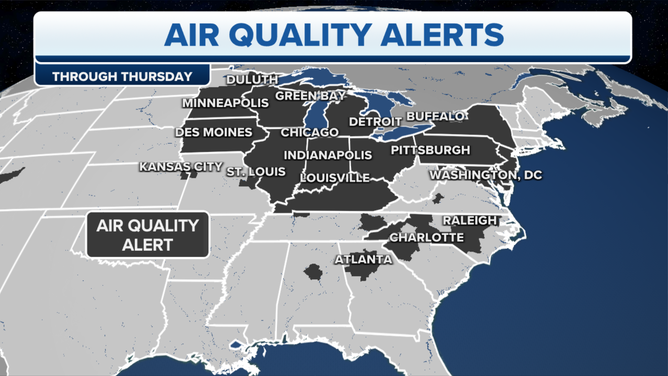 In addition, Iowa, Kentucky New Jersey, Maryland, Delaware and a large part of North Carolina are under air quality alerts. Meanwhile, the state of Pennsylvania issued a Code Red air quality day for the entire state Wednesday, while Maryland issued a similar alert for the western part of the state, and an orange alert for the Washington area.
The Canadian wildfire smoke has impacted professional sports throughout June. MLB officials have been monitoring this round of smoke closely.
The Pittsburgh Pirates posted a statement on Wednesday saying the game against the San Diego Padres will continue. By Wednesday afternoon Air quality index (AQI) readings around the ballpark were near 160 or "Unhealthy." 
WHAT TO DO WHEN WILDFIRE SMOKE SMOTHERS YOUR AREA, AND HOW TO KEEP YOUR HOME'S AIR CLEAN.
Health officials are urging those in the unhealthy or worse air quality categories to refrain from prolonged or heavy exertion, while the message is even stronger for groups sensitive to air quality such as children, older adults or those with heart and lung ailments: Avoid all physical outdoor activities.
Detroit is taking the advice to heart, with the NHL's Red Wings moving their draft party from an outdoor plaza to inside their main arena to keep people out of the smoke.
CANADIAN WILDFIRE SMOKE CAUSING HAZY SKY AS FAR AWAY AS EUROPE
Chicago, Detroit had world's worst air quality Tuesday
It's the second day in a row of terrible air quality in the region. On Tuesday, Chicago and Detroit were deemed to have the worst air quality in the world. Beaches in Evanston, Illinois, were closed due to air quality issues, and city officials told people to remain indoors. In Wisconsin's Menomonee Falls, a medical airlift flight was unable to respond to a crash, due to wildfire smoke restricting visibility, according to FOX 6 Milwaukee.
"There are (visibility) minimums set by the FAA," a Flight for Life spokesperson told FOX 6. "The visibility was not within those limits."
Trade off: Severe weather may improve smoke conditions around Great Lakes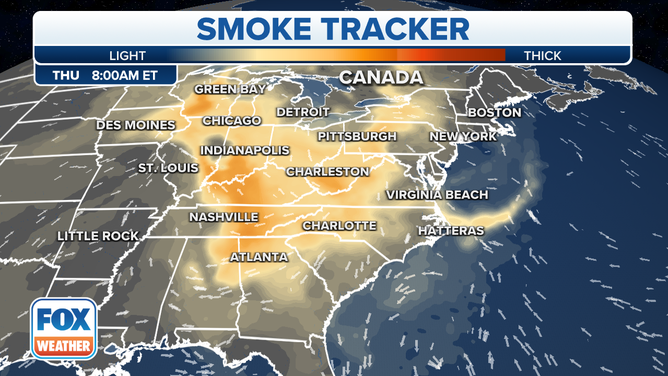 Computer forecast models indicate the smoke may improve a little later Wednesday into Thursday in the Great Lakes and Upper Midwest thanks to an approaching area of low pressure and the potential for severe thunderstorms.
"We will kind of get a changing in air mass, flush out some of this smoke and bring in a cleaner air mass. It won't be perfect, but it'll drop out of that 'very unhealthy' range," Haswell said. "Of course, the tradeoff is that we're under a marginal to slight risk of severe weather during that time period, so we'll shift our focus from the unhealthy weather to the potentially dangerous storms."
As the Great Lakes and Upper Midwest get a bit of a smoke reprieve, the smoke will instead shift into the Ohio Valley and mid-Atlantic States later Wednesday into Thursday.
Nearly 500 wildfires still burning in Canada
This week, more than 490 active wildfires are burning across Canada, and about half of those are considered out of control. The worst wildfire conditions persist in Ontario and Quebec in eastern Canada, causing smoke to flow into the U.S. and as far away as Europe.
WHAT'S BELIEVED TO HAVE SPARKED THE CANADIAN WILDFIRES
So far this year, more than 2,940 wildfires have started in Canada, burning over 7.7 million hectares (19.5 million acres), according to the Canadian Interagency Forest Fire Center. Prince Edward Island is the lone Canadian province yet to see acres burned by wildfire.
Lightning likely sparked many of the hundreds of fires burning.