Chicago, Detroit have some of the world's worst air quality due to Canadian wildfire smoke
Wildfire smoke from near Montreal and Ottawa in eastern Canada is causing unhealthy air across wide swaths of the Upper Midwest and Great Lakes area in the U.S.
Unhealthy air quality has returned to the Upper Midwest and Great Lakes this week as winds continue to push smoke from wildfires in Canada into the northern tier of the U.S., leaving skies covered in a milky haze, degrading air quality and reducing visibility. 
The FOX Forecast Center is tracking wildfire smoke thick enough to reduce air quality across mainly Minnesota, Wisconsin, Michigan, Iowa and Illinois. 
Air quality alerts are in place for more than 24 million people in the U.S., a majority of those are due to wildfires in Canada but also fires in the Southwest and from ozone pollution. 
Current air quality in the U.S.
(FOX Weather)
---
Smoke blankets Chicago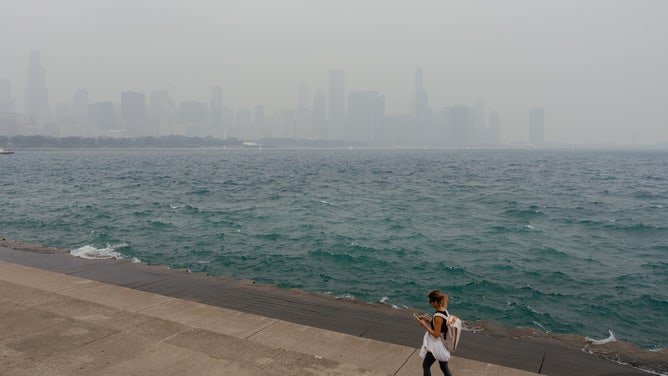 During the peak wildfire smoke, Detroit and Chicago were ranked No. 1 and No. 2 as major cities with the worst air quality in the world Tuesday evening, according to IQAir World Air Quality Ranking. Chicago was "unhealthy" on the Air Quality Index, while Detroit was "very unhealthy." 
FOX 32 Chicago reported visibility in the Chicago area was down to a mile in the early afternoon. The Windy City skyline was obscured by the thick blanket of smoke.
Beaches in Evanston, Illinois, were closed due to air quality issues, and city officials told people to remain indoors.
On Monday evening, the National Weather Service in Green Bay, Wisconsin, reported visibility under 5 miles for many across the area due to smoke. 
Active air quality alerts in the U.S.
(FOX Weather)
---
Hazy skies lingered into Tuesday, with most of Michigan and Wisconsin under air quality alerts. "Unhealthy" air quality from the smoke descended on Chicago and northern Illinois on Tuesday, as well, where low visibility was in the forecast.
An air quality action day has been declared for Tuesday and Wednesday for all of northeast Illinois and northwest Indiana.
In Michigan, many areas between Lake Michigan to Lake Huron are seeing some of the worst air quality on Tuesday evening with AQI levels above 200. The Michigan Department of Environment, Great Lakes and Energy issued an Air Quality Alert, which runs through 11 p.m. Tuesday. The AQI is forecast to range from "unhealthy for sensitive groups" to "unhealthy" at times.
Nearby, the Wisconsin Department of Natural Resources issued an Air Quality Advisory for the entire state lasting through noon Thursday. The heaviest smoke will impact the eastern half of Wisconsin with the potential to reach "very unhealthy" on the AQI. As of Tuesday evening, Green Bay had an AQI reading of 174 — considered to be "unhealthy" air. 
Smoke forecast across the Great Lakes region.
(FOX Weather)
---
In the Great Lakes, air quality alerts are in effect for communities along Lake Superior and Lake Michigan.
What is the status of the Canadian wildfires?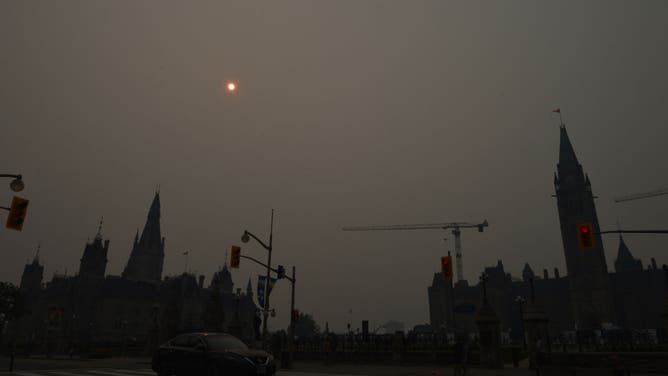 This week, more than 490 active wildfires are burning across Canada, and about half of those are considered out of control. The worst wildfire conditions persist in Ontario and Quebec in eastern Canada, causing smoke to flow into the U.S. and as far away as Europe.
WHAT'S BELIEVED TO HAVE SPARKED THE CANADIAN WILDFIRES
So far this year, more than 2,940 wildfires have started in Canada, burning over 7.7 million hectares (19 million acres), according to the Canadian Interagency Forest Fire Center.
Lightning likely sparked many of the hundreds of fires burning.
The smoke has enveloped the U.S. as far south as the Gulf of Mexico and more recently caused smoky skies across the Atlantic Ocean in northern Spain.