Derecho with 100-mph winds rips across Midwest leaving behind widespread damage
Destructive winds were reported in more than half a dozen states from Nebraska through Kentucky, and the Storm Prediction Center received more than 500 reports of severe weather.
A life-threatening derecho unfolded across the Midwest on Thursday, with severe thunderstorms producing wind gusts upwards of 100 mph.
Millions of Americans were impacted by the line severe thunderstorms that produced large hail, damaging wind gusts and even possible tornadoes across a 500-mile stretch of the country.
Destructive winds were reported in more than half a dozen states from Nebraska through Kentucky, and NOAA's Storm Prediction Center received more than 500 reports of severe weather.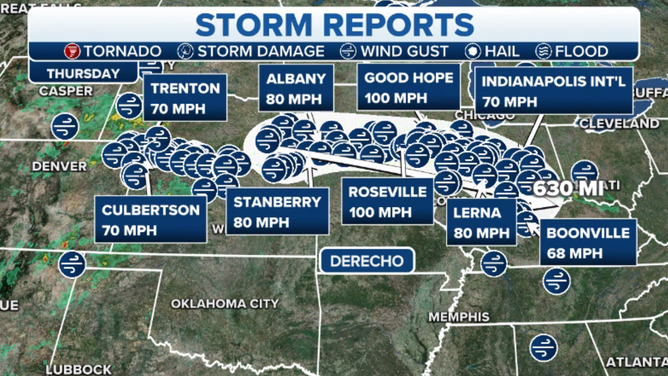 A spotter reported a gust of 90 mph in Adrian, Illinois, just after 11 a.m. CDT from their home weather station, with an estimated gust of 100 mph, according to a National Weather Service storm report. Nearby, another spotter in Adrian reported a full-size barn was destroyed, and full-size trees were blown to the east.
Kahoka, Missouri; Good Hope, Illinois and Swan Creek, Illinois all reported 100 mph wind gusts as the storm blew through.
The Springfield, Illinois, Fire Department warned residents to stay in their homes as wind damage was reported throughout the area, with trees down. Several semis were blown over along Illinois' Interstate 55 near Springfield during the storm, according to the Illinois DOT.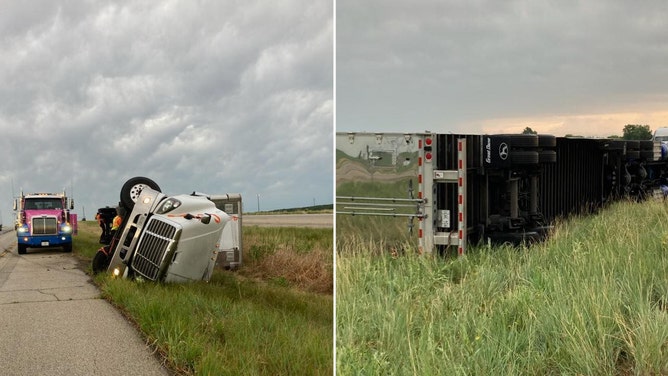 Aaron Arnett was driving his truck from Indiana to Kansas City when the ferocious winds struck.
"It was wild," Arnett said. "It was the worst weather I've driven through."
He said he had received a warning alert to seek shelter.
"I started to look for the biggest building nearby, and right around that time, the wind started to take me off the road," he said, adding he estimated the winds to be around 100 mph.
In Willard, their commercial airport terminal suffered roof damage due to strong winds, while Bloomington Fire Department said they responded to 23 calls for help, including two commercial buildings that suffered significant roof damage and numerous power lines were toppled.
In Indiana, Indianapolis International Airport reported a wind gust of 70 mph as the line of storms moved through. 

Thursday's severe weather outbreak classified as a derecho
A large ridge of high pressure parked across the central U.S. has storms moving along its periphery, laying the foundation for the derecho. This phenomenon is frequently referred to as the "ring of fire."
For meteorologists to classify a system as a derecho, a swath of straight-line wind damage must cover a distance of at least 400 miles and include wind gusts over 58 mph along most of its path, according to NOAA's Storm Prediction Center.
Thursday's event is believed to have started around Omaha, Nebraska, and pushed more than 500 miles into the Ohio Valley, producing damaging winds along the way.
Most of the severe weather reports were from Illinois, Missouri and Indiana.
Meteorologist Andrew Pritchard tracked the storms through the Prairie State and said damage was widespread but not as extensive as the infamous August 2020 Midwest derecho.
"This was not necessarily the same thing that we saw in August 2020, where we had the derecho show come through Iowa and Illinois," Pritchard said. "That was in an entire league of its own where we had those, in some cases, 100-plus-mph winds that lasted for half an hour or more and just really wears down the crops, the trees, and the infrastructure there … Now, the significant winds that I experienced in Farmer City and that we've seen across a lot of central Illinois, they've been much more quick passing."
Pritchard was hopeful that in many cases where crops are laying on the ground now, they'll be able to snap back to life with the help of some calm weather days.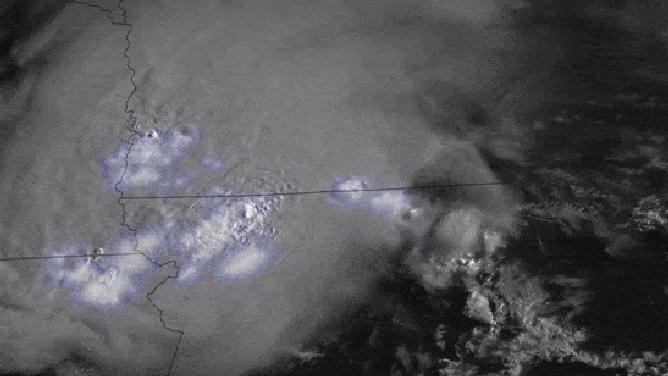 Power outages topped half a million 
During the height of the system, more than 500,000 power outages were reported from Iowa through Kentucky, with Illinois being the hardest hit with more than 200,000 outages in the central and southern parts of the state.
CenterPoint Energy, a utility provider for many communities in Indiana, said many of its crews were assessing damages but warned that estimated restoration times may be unavailable due to the storms.
The event did not produce the amount of extensive outages that a derecho in 2020 caused. During the 2020 event, more than 1,000,000 were reported to be without electricity, across the Midwest, and outages lasted several weeks. 
Here's a look at the current power outages:
A current look at FOX Weather's Power Outage Tracker.
(FOX Weather)
---
Good news from the derecho?
Communities that saw gusty winds and rainfall associated with the derecho event also experienced a clearing of the air from smoke created by Candaian wildfires.
For the last two days, the Great Lakes region was plagued by smoke-filled and poor air qualities with high Air Quality Index values.
Juliet, Illinois, started the day with an AQI value of over 200, which was considered very unhealthy, but by the afternoon the value had fallen to around 100.
Indianapolis reported a drop of nearly 200 on the AQI scale once the thunderstorms pushed through the Indiana.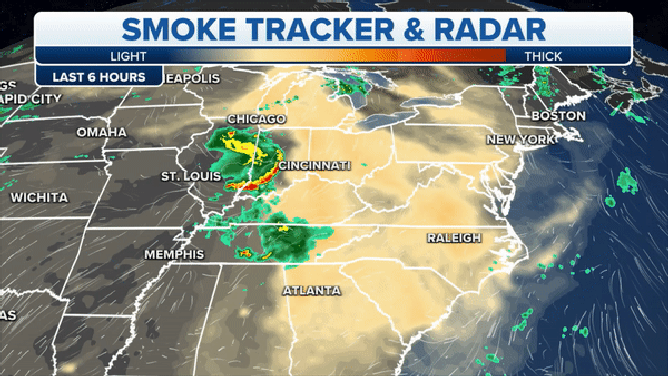 Communities that did not see relief in the form of rain or gusty winds were stuck with smoke-filled skies well into the evening.
Air observations were considered to be very unhealthy across many communities in western Pennsylvania after sunset.
Friday's severe weather threat
There is a risk of severe thunderstorms over portions of the Ohio and Tennessee valleys and the central and southern Appalachians on Friday.
Similar to Thursday's event thunderstorms will develop over the Plains and work eastward putting cities like Kansas City, Missouri; Springfield, Illinois; Louisville, Kentucky; and Knoxville, Tennessee at risk.
According to the FOX Forecast Center, damaging wind gusts and large hail will be the greatest threat from Friday's storms, which could last into the late evening across parts the Appalachians.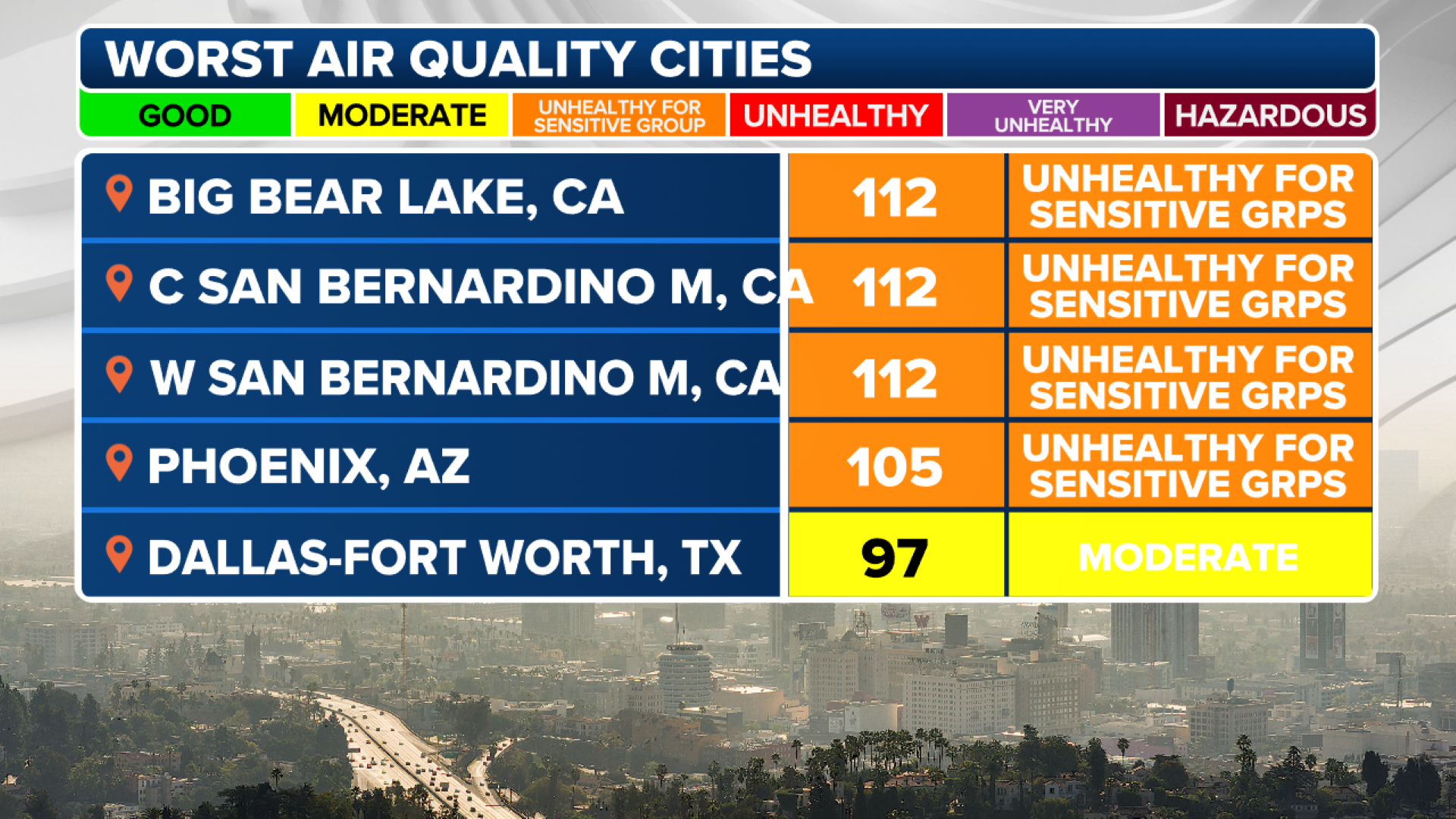 The severe weather threat on Friday, June 30, 2023.
(FOX Weather)
---