Where is the snow? US approaches midpoint of meteorological winter
Jan. 14 serves as the midpoint of meteorological winter, which runs from December through February.
As the country marches into the heart of winter and approaches Groundhog Day on Feb. 2, some communities are asking where the season is at, with a lack of snow and temperatures that would make any snowman cringe.
Asides from an arctic blast in December, overall temperatures have been above average and precipitation below average for parts of the Northeast, Ohio Valley and southern Rockies.
A weather pattern flow that has kept big storms from tapping into abundant moisture is partially to blame for the lack of frozen precipitation.
The Interstate 95 corridor is one of the regions where a deficit of snow is adding up quickly. Boston has seen around a foot of snowfall less than average, and New York City is more than a half-foot in the red.
Tracking snowfall
 
---
The lack of precipitation has caused some popular ski resorts in New England to temporally close due to the minimal snowpack.
Communities along the U.S.-Canada border, in the northern Rockies and in California's Sierra Nevada are experiencing what snow lovers in the Northeast have clamored for – plenty of frozen precipitation.
Cities such as Minneapolis, Salt Lake City and Reno, Nevada, are all reporting above-average snowfall.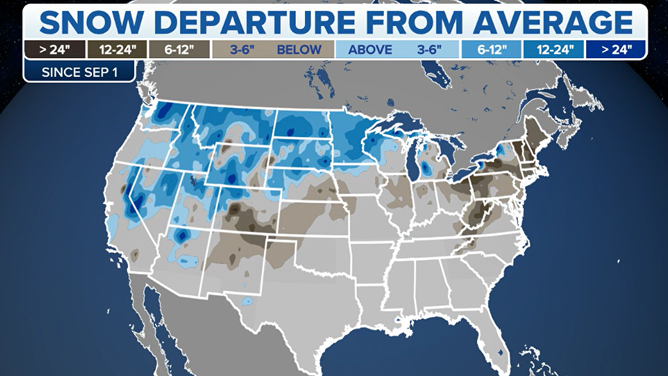 HOW ACCURATE IS PUNXSUTAWNEY PHIL REALLY?
Weekly outlooks released by the National Oceanic and Atmospheric Administration's Climate Prediction Center show no changes in the immediate future, with a continued warm spell impacting the East.
"It's not only for the North and the Northeast, but we will also see more in the way of drier, warmer conditions across a good chunk of the country," said FOX Weather meteorologist Craig Herrera.
A major exception to the eastern snow deficit is along some of the Great Lakes, where the warmer air masses may actually be leading to heavier precipitation.
"We've had a number of lake-effect events, and they have been historic over portions of Buffalo and the Southtowns," Herrera said. "Buffalo is now 60 inches over what they normally see for this time of year. And, of course, Watertown (New York) well over as well."
The overall warmer- and drier-than-average pattern across large parts of the East and South was forecast by NOAA before the beginning of the season.
FIRST-OF-ITS-KIND CAMPAIGN TO EXAMINE WINTER'S IMPACTS ON GREAT LAKES
Tracking warm weather
 
---
Great Lakes ice cover is also running below average
The warmth experienced in the eastern U.S. has also led to a lack of ice on the Great Lakes.
As of early January, lakes Superior, Michigan, Huron, Erie and Ontario only averaged around 4% ice coverage.
A new year usually starts with coverage in the double digits, which steadily grows to around 44% during the peak in late February. 
At last report, Lake Superior led the pack with the most ice, and Lake Ontario had the least with just around 1% of total ice coverage.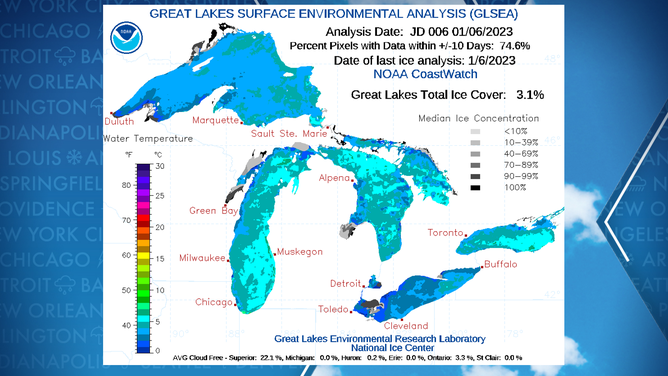 The ice status of the lakes has large implications for how much snow communities around the giant water bodies see.
Experts say when the lakes are mostly free of ice, this allows air to pick up additional moisture and create heavy snowfall events, usually on the eastern and southern shores.
Regions in New York, such as Watertown and Buffalo, have lived through this pattern since late fall with two historical events that temporarily paralyzed the region.
In November, over 80 inches of snow fell in western New York, causing thousands of power outages and the deaths of at least four people. And just a month later, more than three dozen people were killed when hurricane-force winds and feet of snow buried the region.
Historically, the pattern known as lake-effect snow tends to shut down when the lakes freeze over, and available moisture for air masses becomes harder to find.