First-of-its-kind campaign to examine winter's impacts on Great Lakes
The Great Lakes contain 95 percent of all the fresh water in the United States
TRAVERSE CITY, Mich. — Scientists from more than a dozen institutions will embark on what's described as a first-of-its-kind campaign to examine the Great Lakes' evolution through the 'changing face of winter.'
During a campaign dubbed "Winter Grab," experts will collect dozens of samples in mid-February when ice coverage is usually at its highest across the lakes.
Researchers say they will be drilling through the frozen surfaces to collect water samples, measure light levels and analyze tiny organisms, with the hopes of better understanding the massive freshwater bodies.
HOLY ICE BALLS! VIDEO CAPTURES RARE SIGHT ALONG LAKE MICHIGAN
"Winter is rapidly changing on the Great Lakes, but our ability to understand and predict the consequences of those changes is impeded by a shortage of winter-period studies on most aspects of Great Lakes limnology," Ted Ozersky, a lake biologist and Winter Grab project leader, said in a statement.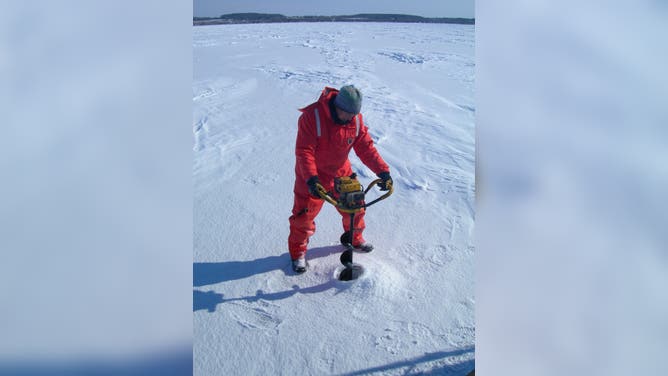 Scientists say the goals are to better understand the effects of changing precipitation patterns, warming temperatures and decreasing ice cover.
"We're taking a snapshot of the Great Lakes at the peak of winter, and we're hoping this will kick-start increased interest in wintertime research," Ozersky stated.
At the start of winter, the five lakes were on track for seeing some of the lowest amounts of ice coverage in history, but because of a frigid January, ice has rebounded to more modest levels.
WATCH ICE MOVE ACROSS LAKE MICHIGAN FROM 22,500 MILES AWAY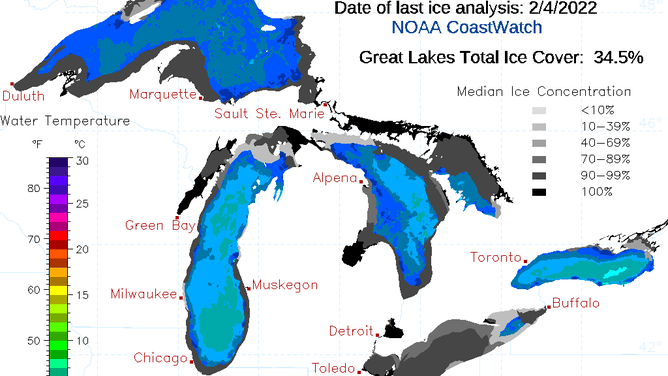 As of early February, 34.5 percent of the surfaces of the Great Lakes were ice-covered. 
The National Oceanic and Atmospheric Administration predicted the Great Lakes could reach a maximum ice extent of 48.7 percent during the 2021-2022 winter.
If the forecast verifies, ice coverage will fall short of the long-term average peak of 54.5 percent.
"With the loss of snow and ice cover, the need for winter research has never been greater, particularly to help inform management decisions," Marguerite Xenopoulos, an ecosystem ecologist at Trent University in Peterborough, Ontario, said.
Researchers hope with additional funding, observations will be expanded in future years, with a goal of better understating the world's largest freshwater ecosystem.