Severe weather was hard to find in February, continuing the lull that began in January
'February's severe weather can be summed up in two words: ho and hum,' said Shane Brown, senior weather data specialist at FOX Weather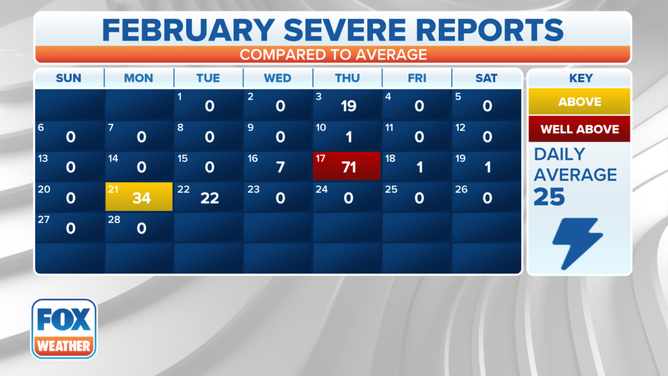 Severe weather has gotten off to a very slow start in 2022, with less than one-quarter of average activity reported in February following a January that featured less than 50% of typical storminess.
According to Shane Brown, senior weather data specialist at FOX Weather, February had just 22% of its typical severe weather load, with only 156 reports of severe weather throughout the month. 
"February's severe weather can be summed up in two words: ho and hum," Brown said.
HERE'S WHERE TORNADOES ARE MOST LIKELY TO OCCUR IN EACH MONTH
Only eight days had any severe weather in February, with just two that exceeded the daily average of 25 severe weather reports. The busiest day of the month was Feb. 17, when severe storms brought damaging winds from Mississippi to New Jersey.
Contrary to January, which had most of its severe weather on Saturdays and Sundays, only one severe weather report was documented on any weekend day in February. 
"On the year, we've only seen about one-third of the typical severe weather activity we would expect to see – making it one of the slower starts to the year for frisky weather," said Brown.
Tornadoes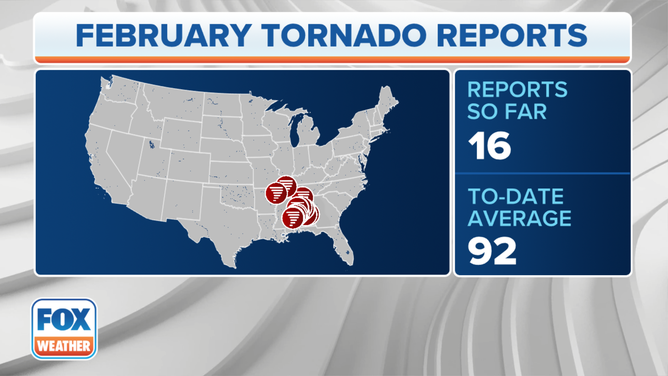 There were 16 reports of tornadoes in February, 10 of which were confirmed by the National Weather Service. Tornadoes were reported in three states: Alabama, Arkansas and Tennessee.
The strongest tornadoes of the month were three EF-2 twisters, which were spawned from the same supercell that raced across western Alabama on Feb. 3. One fatality was reported with this trio, proving that even though it has been a slow start to the year, it only takes one twister to have a devastating impact.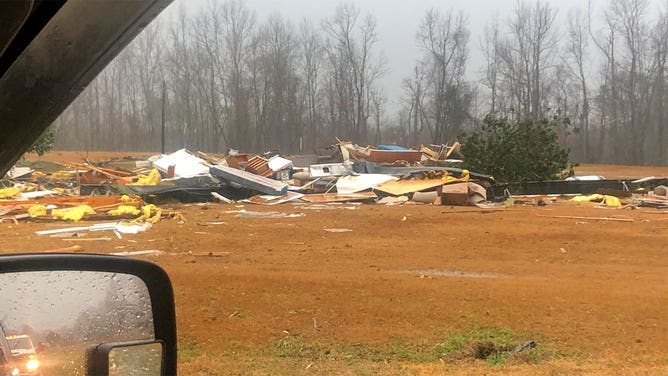 Alabama is the hotspot for tornadic activity so far this year, with 26 total reports. Texas and Florida round out the top three states with 19 and 11, respectively. Our 76 reports of tornadoes this year is below the long-term average of 129 through the end of February.
HOW ARE TORNADOES RATED? THE ENHANCED FUJITA SCALE EXPLAINED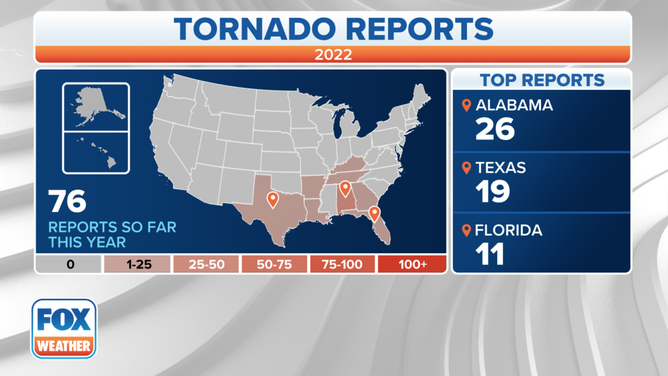 Wind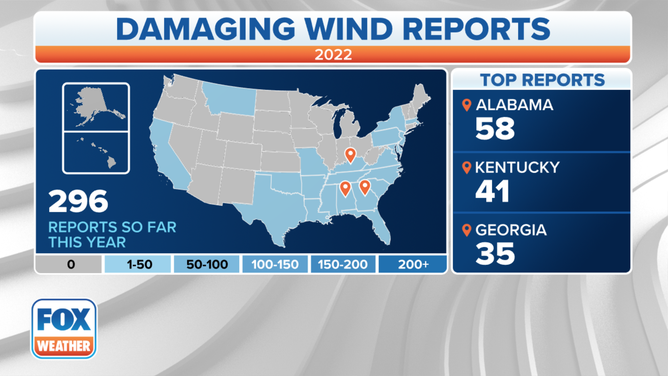 In February, 122 reports of damaging winds were documented, bringing the year-to-date total to just shy of 300 such reports.
Similar to tornado reports, Alabama also leads the way in damaging wind reports this year, with 58 tallied between January and February. Kentucky and Georgia round out the top three states with 41 and 35 reports, respectively.
The strongest wind gust came out of Texas, where a Mesonet station in Andrews clocked a 67-mph gust on Feb. 16.
'DESTRUCTIVE' THUNDERSTORM ALERTS: WHAT THEY ARE AND WHY THE NATIONAL WEATHER SERVICE ISSUES THEM
The 296 total reports of damaging winds is far below the year-to-date average of 822 reports.
Hail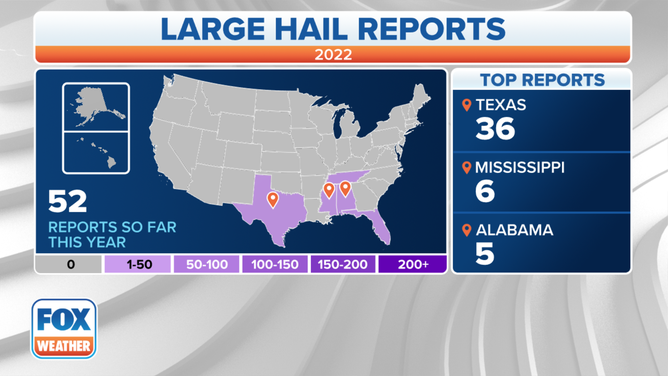 February had 34 reports of large hail, bringing the year's total to 52 such reports. Texas, which Brown says is the hail capital of the U.S., leads the way with 36 large hail reports so far this year.
Texas is also home to February's largest hail report. A 2-inch hailstone (about the size of an eight-ball) was measured in Paradise, Texas, on Feb. 21.
The year's 52 reports of large hail is well below the average of 158 through the end of February.
Flash flooding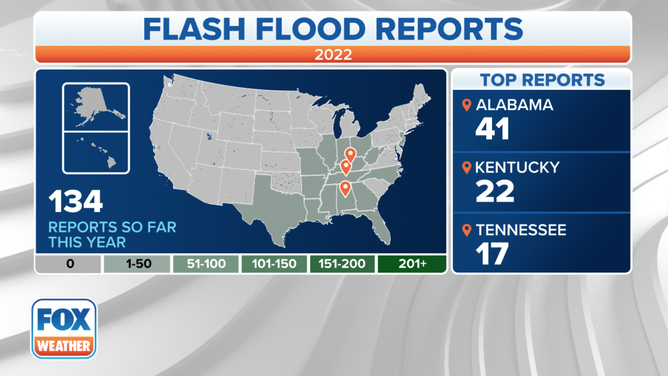 There were 62 reports of flash flooding in February, bringing the total for 2022 so far to 134 reports.
Alabama leads the U.S. with 41 of those flash flooding reports. Kentucky and Tennessee round out the top three states with 22 and 17 reports, respectively.
EXPLAINING FLOOD ALERTS ISSUED BY THE NATIONAL WEATHER SERVICE
The 134 total reports of flash flooding are far below the year-to-date average of 502 reports.