Surveys find 3 tornadoes impacted Alabama during severe storms
Powerful storm crossing US producing both severe weather and winter weather
BIRMINGHAM, Ala. – Damage consistent an EF-1 tornado was found at one of the sites being surveyed Friday after storms ripped through Alabama on Thursday afternoon, triggering several tornado warnings from Tuscaloosa to Birmingham.
The first damage reports were received about 4 p.m. in the town of Boley Springs in Fayette County, about 40 miles northwest of Birmingham. According to the National Weather Service office in Birmingham, a trained storm spotter reported damage to trees and buildings. NWS officials said a preliminary survey Friday has found EF-0 tornado damage, meaning the twister had winds between 65 and 85 mph.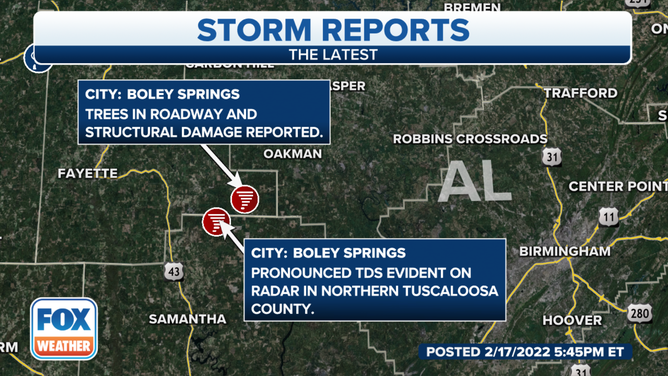 A little more than an hour later, a storm spotter reported an 18-wheeler had been blown over on Interstate 22 near Graysville, about 12 miles northwest of Birmingham. Video from the area also showed at least one gas station with significant awning damage from the storm. Results from this storm survey have not yet been released.
Just after 6 p.m., more damage was reported near Leeds. That was where law enforcement reported that people were trapped inside a mobile home after a tree fell on it, according to the NWS. A preliminary survey Friday found at least EF-1 tornado damage, meaning the twister had winds of between 86 and 110 mph.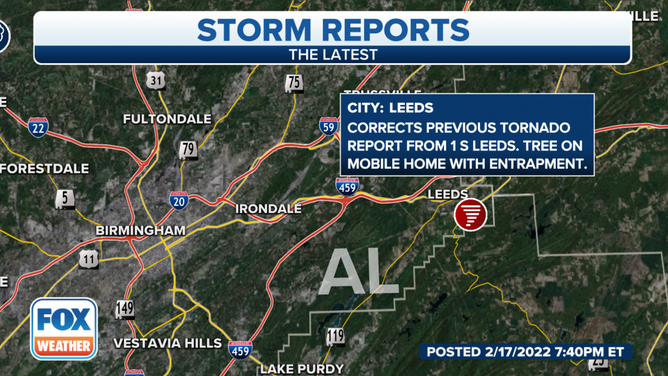 Tornado warnings were in effect in all three places at the time the damage happened.
There were no immediate reports of injuries.
At the height of the storm, more than 10,000 customers in the state were without power.
This storm is part of a large storm system that is traversing the U.S. this week and producing severe thunderstorms, wintry weather and high winds.