Heavy rains swamp cars, flood fire station in Alabama
Heavy rains fell for hours across the Gulf Coast ahead of the cold front bringing ice and snow to much of the nation.
Heavy rains drenched areas from New Orleans to Atlanta on Thursday. One of the worst hit regions was south-central Alabama. Local media reports from Monroeville, Alabama said that flash flooding overwhelmed ditches and swamped cars. One car overturned in a creek just north of town, trapping the driver and passenger.
Firemen had to wear their gear inside the downtown Monroeville Fire Department.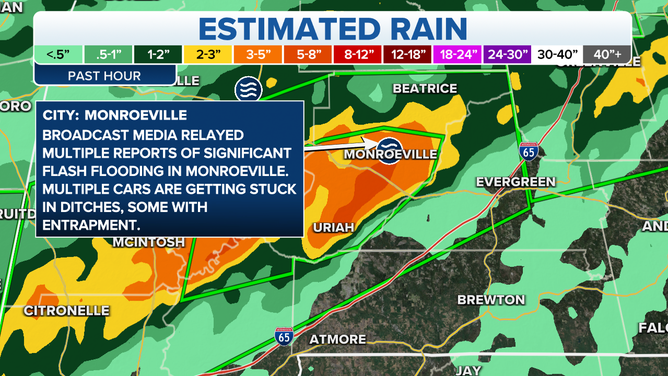 Roads flooded across southern Louisiana and Mississippi as well. In just 12 hours 3.8 inches of rain fell in Enon, Louisiana and 4.8 inches fell in La Place, Louisiana. Dixie, Mississippi saw 3.8 as well.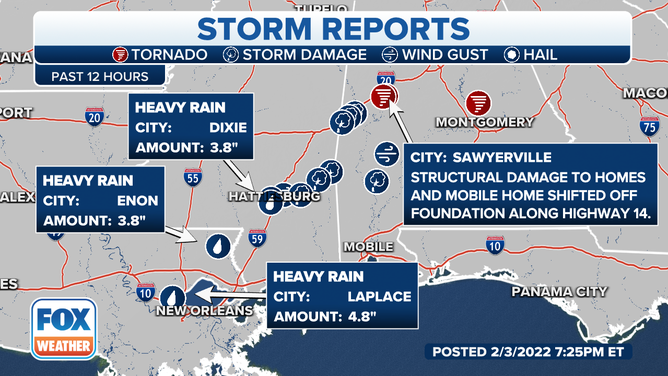 The line of storms that brought flooding rain also spawned a confirmed tornado in Hale County, Alabama that killed a woman and critically injured three others. The twister damaged homes and blew a mobile home off its foundation.
Heavy snow and ice impacting millions from Texas to New England
The National Weather Service will survey damage from two other possible tornadoes in Sumpter and Elmore Counties in Alabama.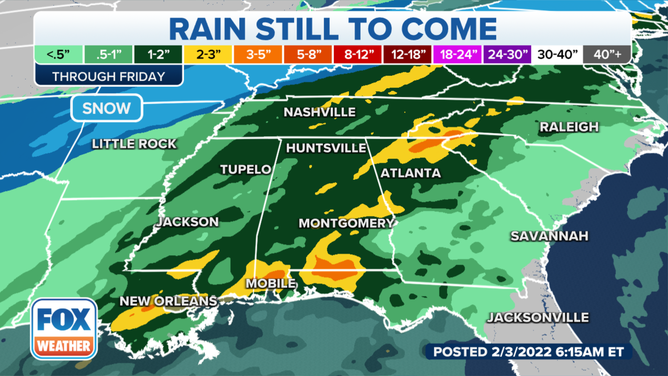 The storms march east prompting Flood Watches across Birmingham and Montgomery, Alabama; Atlanta; Nashville and Knoxville, Tennessee; London, Kentucky; and Charleston, West Virginia Friday.