Severe weather off to a slow start in 2022
The only five days with above-average severe weather activity in January occurred on weekends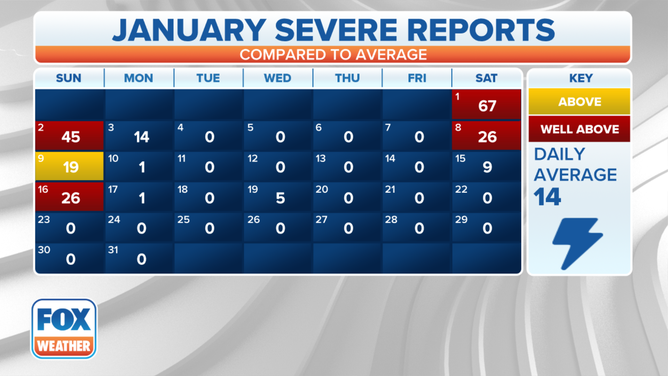 With less than 50% of average activity in January, severe weather got off to a very slow start in 2022.
According to Shane Brown, senior weather data specialist at FOX Weather, the takeaway from January was the preference for severe weather to occur on weekends.
"All five days of above-average severe activity occurred on a Saturday or Sunday," Brown said. "This gives a pretty good indication on how long storm systems took to trek across the Lower 48 and how frequent the next arrived."
Tornadoes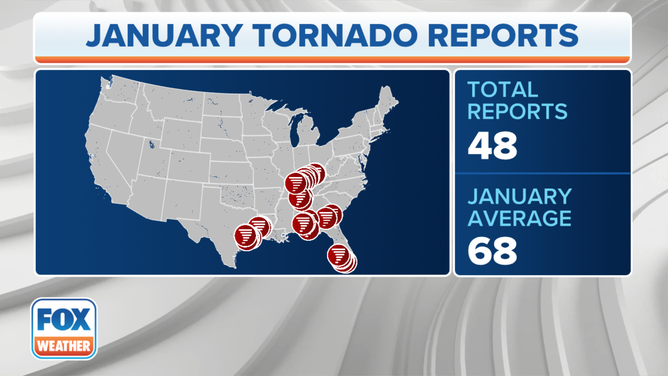 January's 48 reports of tornadoes were just shy of the month's long-term average of 68 reports.
Tornadoes were reported in seven states, led by Texas with 19 of those reports. The strongest twisters of the month were three separate EF-2 tornadoes.
HOW ARE TORNADOES RATED? THE ENHANCED FUJITA SCALE EXPLAINED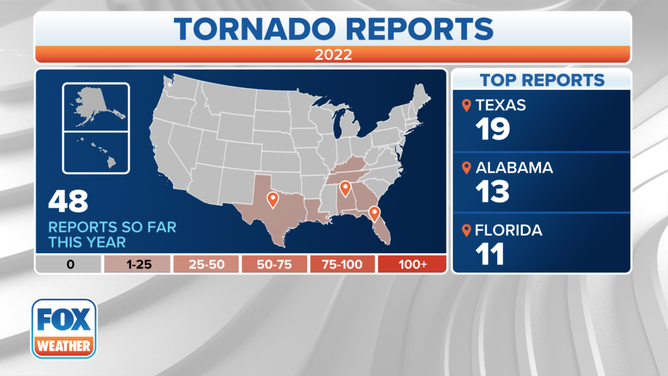 The first EF-2 tornado struck the town of Hopkinsville, Kentucky, on New Year's Day and was responsible for minor structural damage and uprooted trees.
The next EF-2 twister occurred on Jan. 9 in Florien, Louisiana, which damaged 30 homes and injured 15 people.
The final EF-2 came on Jan. 16 and struck just southwest of Fort Myers, Florida. It was a waterspout that moved onshore, causing damage to 108 homes and hitting three different mobile home parks.
Wind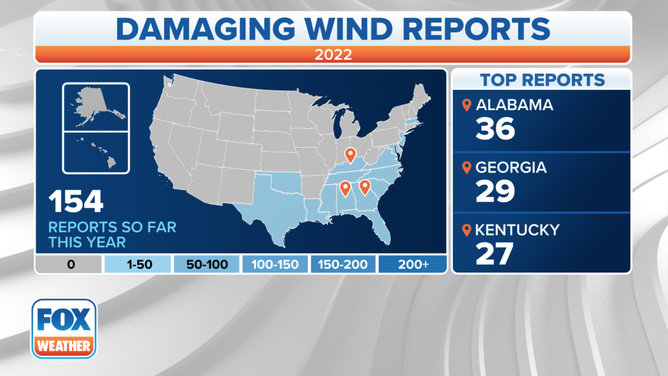 In January, 154 reports of damaging winds were documented across 15 states. Alabama saw the most, with 36 such reports last month.
'DESTRUCTIVE' THUNDERSTORM ALERTS: WHAT THEY ARE AND WHY THE NATIONAL WEATHER SERVICE ISSUES THEM
The strongest wind gust clocked in at 72 mph near Wakulla Beach in Shell Point, Florida.
Hail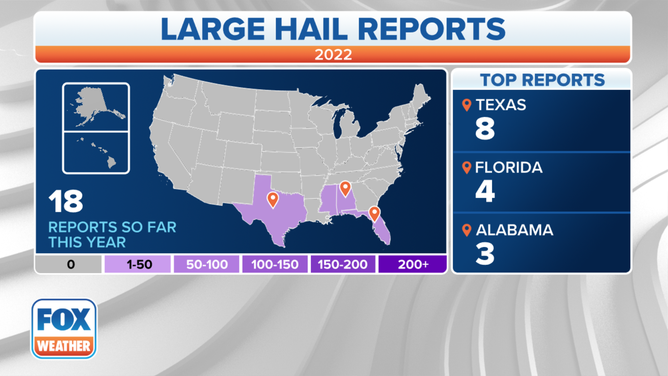 January had just 18 reports of large hail across only four states. Texas led the way, with eight total reports of large hail.
The largest hailstone was recorded in the town of Burnt Corn, Alabama, where 2.5-inch (near tennis ball-sized) hail was measured on Jan. 9.
Flash flooding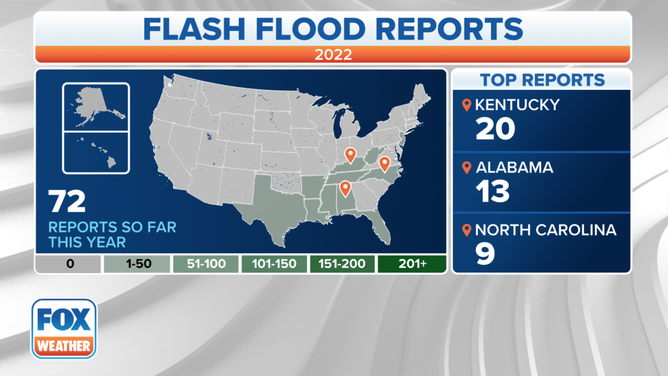 There were 72 reports of flash flooding across 10 states in January. That was just slightly below the long-term average.
EXPLAINING FLOOD ALERTS ISSUED BY THE NATIONAL WEATHER SERVICE
Kentucky came out on top, with 20 reports of flash flooding in the first month of the year.