Severe thunderstorms and a possible tornado tore through the Southeast on Sunday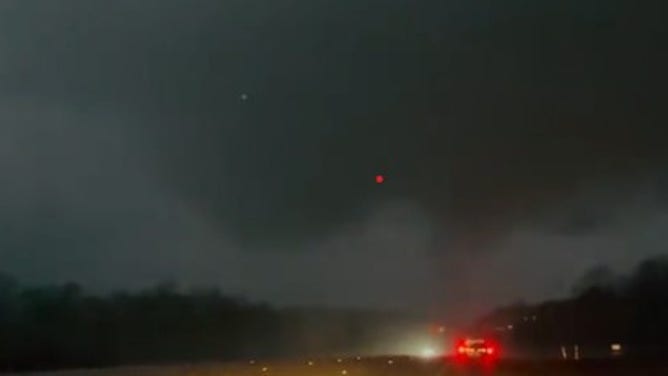 A possible tornado tore down trees and power lines from Evergreen to McKenzie, Alabama Sunday afternoon. The National Weather Service is sending survey crews out to confirm the damage was done by a tornado on Monday.
A storm chaser caught a possible tornado near Evergreen, Alabama which crossed I-65 into McKenzie Alabama. The chaser said all traffic stopped when the tornado crossed the highway. 
FOX Weather tracked possible tornado debris through McKenzie, Alabama. 
Here is another view of the possible tornado on the ground in McKenzie, Alabama. The NWS will send out survey teams to examine storm damage to determine if it was caused by a tornado or straight-line winds.
Another eyewitness spotted a funnel cloud tornado near Jackson, Alabama during a Tornado Warning.
Weather radar indicated hail up to an inch across Southern Mississippi into Alabama. Residents in Monroe County, Alabama reported golf to tennis ball sized hail according to the National Weather Service. 
Winds from severe thunderstorms knocked down a barn, overturned a trailer and damaged a home near Ansley, Alabama. Heavy rain accompanied the severe storms. The NWS New Orleans warned residents from Eastern Louisiana to Western Georgia of flooding.
The same system that dropped tornadoes across Louisiana Sunday morning and around Houston late Saturday.
MULTIPLE PEOPLE INJURED AFTER TORNADO MOVES THROUGH LOUISIANA EARLY SUNDAY
NWS CONFIRMED FIVE TORNADOES AROUND HOUSTON METRO AREA
A cold front made its way from Texas across the Gulf Coast states Saturday and Sunday touching off those thunderstorms and tornadoes. Cooler and more stable air fills in behind the front to usher in the start of the work week.