Maui church serves as beacon of hope standing unscathed amid charred rubble caused by deadly wildfires
It's still not known what sparked the wildfires on Maui, but what is known is that extremely dry conditions were prevalent and winds gusting between 70 and 80 mph fueled the flames once the fires were ignited
LAHAINA, Hawaii – A catastrophic fire that swept through the town of Lahaina, Hawaii, last week is now being called the deadliest wildfire in modern U.S. history, and although thousands of homes and businesses have been burned beyond recognition, one building stands tall among the ruins – a beloved church.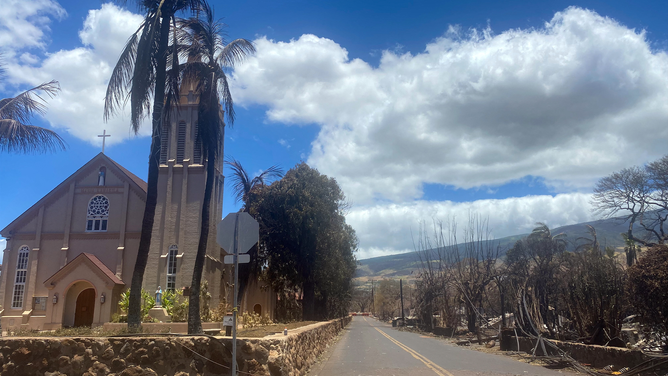 It's still not known what sparked the wildfires on Maui, but what is known is that extremely dry conditions were prevalent, and winds gusting between 70 and 80 mph fueled the flames once the fires were ignited.
HAWAII BRUSH FIRES BY THE NUMBERS: THE SCOPE OF THE CATASTROPHIC DAMAGE
Lahaina's Maria Lanakila Catholic Church: A beacon of hope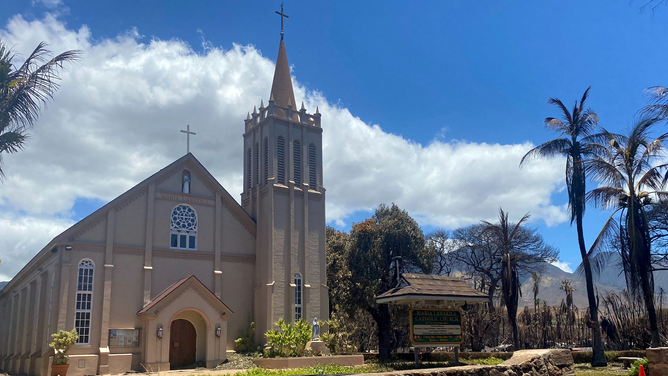 When the smoke finally cleared and residents were slowly allowed to return to the hardest hit areas, they were met with a beacon of hope - the Maria Lanakila Catholic Church on Waine Street was still standing and seemingly untouched by the raging fires while other buildings and trees surrounding it were destroyed by the ferocious flames.
So far, 93 people are confirmed to have been killed in the fires, and more than 5,000 structures have been destroyed, with early damage estimates topping $5.5 billion, according to officials.
AERIAL FOOTAGE SHOWS SHEER DESTRUCTION AFTER DEADLY HAWAII FIRES ACROSS MAUI
A sense of community amid sheer destruction
Lokalia Farm lost her home in Lahaina, a place in her family for at least five generations.
She evacuated before the flames reached her home, not knowing how extensive the damage would be.
"I was just avoiding having to breathe in the heavy smoke because of my experience from brush fires that happened in 2018," Farm said, noting that the brush fires of 2018 covered every surface in her house with ash.
She saw aerial footage of her neighborhood, and by using her neighbor's house for reference, she realized that her home was gone.
RESIDENTS PLEAD FOR HELP AS HAWAII WORKS TO REBUILD AFTER WILDFIRES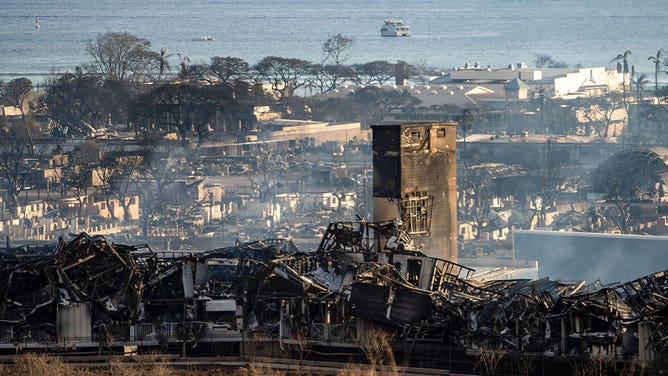 "It has never been anywhere near this bad," Farm said. "The thought of losing three homes in 2018. That was devastating. This is an entire town and community that lost their homes."
Despite the devastation, a strong sense of community remains.
Farm said her family, friends and community members had contacted Farm, offering assistance and shelter for her.
Farm said she praises the close-knit and beautiful pride of her community in Lahaina but asked that visitors to Lahaina and Maui refrain from coming to the island for now due to the incredible destruction.
"We need months and years to really feel and get back to some sort of normal life," she said.
FOX CORPORATION PARTNERS WITH AMERICAN RED CROSS TO HELP HAWAII FIRE VICTIMS
How to help victims of the Hawaii fires
Hawaii Gov. Josh Green announced a new relief program to re-house the thousands who now have no home.
"This means we will be able to get people into hotel rooms, Airbnbs and so on so that they are safe," he said. "Look out for your neighbors. Love them. That's what we will be defined by in the future. How we take care of our ohana (family)." 
If you would like to help the people of Lahaina and Maui, check out this page.