Hawaii fires death toll hits 96 and is expected to rise, making it deadliest US wildfire in over 100 years
The fire in Lahaina is now the deadliest American wildfire in more than 100 years, with more than 5,000 structures being damaged or destroyed. In a Facebook post, officials said that of the affected buildings, nearly 90% have been reported as residential structures.
LAHAINA, Hawaii – The death toll from the catastrophic and historic wildfire that destroyed most of Lahaina, Hawaii, last week has risen to 96, with officials warning that the number will increase as crews continue to search through charred remains of buildings.
The fire in Lahaina is now the deadliest American wildfire in over 100 years of modern U.S. history, with more than 5,000 structures being damaged or destroyed. In a Facebook post, officials said that of the affected buildings, nearly 90% have been reported as residential structures.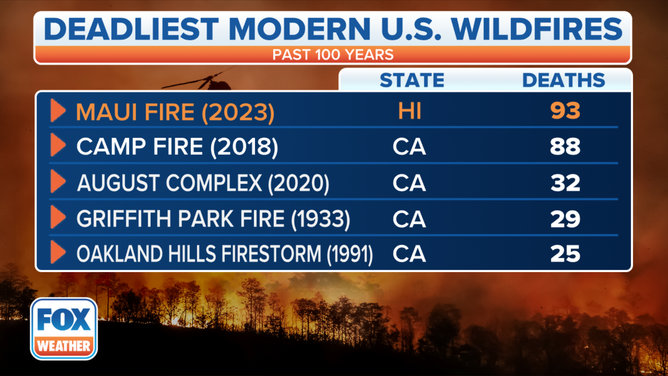 According to the Pacific Disaster Center, at least 2,170 acres have been burned, and the damage is estimated to be more than $5.5 billion.
The latest information on the Hawaii wildfire
State and local officials have been providing updates since the fire raged through Lahaina last week, and on Saturday, they said fire crews were continuing to extinguish flare-ups in the Lahaina and Upcountry Maui fires. Three buildings in Olinda and 16 in Kula were destroyed in the Upcountry Maui fire.

The Pulehu/Kīhei fire was declared 100% contained on Saturday.
FOX CORPORATION PARTNERS WITH AMERICAN RED CROSS TO HELP HAWAII FIRE VICTIMS
Officials said the American Red Cross emergency evacuation shelter at Maui High School in Kahului is being moved on Sunday to the South Maui Gymnasium in Kihei. Activities at Kihei Regional Park have now been canceled due to the gym being used as the new evacuation shelter.
About 180 people staying in emergency evacuation shelters were able to obtain driver's licenses and state identification cards, and fees to obtain those had been waived.
It's still unknown how the fires started. But when they did ignite, extremely dry conditions combined with 70- to 80-mph wind gusts fueled the flames as they spread rapidly.
Hawaiian Electric has been working to restore power, and company officials have not addressed questions on whether a utility line contributed to any of the fires. Instead, company officials directed FOX Weather to a statement regarding ongoing outages, saying they have "all hands on deck in supporting and responding to Maui communities affected by the outages, active wildfires, and sustained high wind damage."
Large Xs now mark mailboxes and cars to let rescue teams know if those places had been searched for bodies, and a significant number of remains were discovered in Lahaina, according to officials.
"This crisis is far from over," said Hawaii's former U.S. Rep. Tulsi Gabbard. "There's so much frustration. There's so much suffering. The real mourning has not even been able to begin to start because of people really looking to, 'How do I get me and my family to tomorrow?'"
Maui residents pleading for help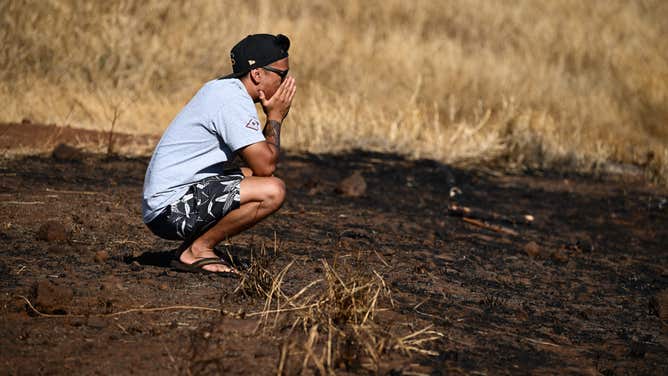 Rescue crews are still searching the rubble for more victims, and residents who fled to shelters desperately need donations.
Two donated Wi-Fi trucks have been stationed at Napili Park and Honokowai Park to provide Wi-Fi service and allow displaced residents to charge cellphones.
Officials say the Lahaina Gateway Center and the Napili Plaza are open to distribute water, food and other supplies. A portable water tanker is also at the Lahaina Gateway Center.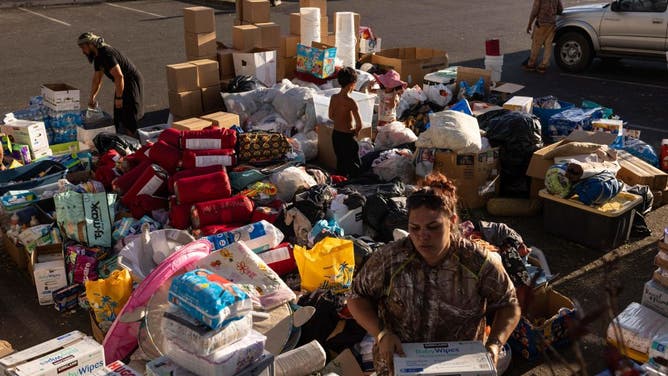 Donations of non-perishable food, bottled water and hygiene products are being accepted at the War Memorial Complex field off Kanaola Avenue until 6 p.m. local time on Sunday, and officials say that West Maui residents have been requesting coolers, slippers, underwear, flashlights and generators.
Evacuees are waiting to be allowed back into the burn area. Maui's residents are being told not to return home until the area is cleared by authorities. Some evacuees have camped out along Honoapiilani Highway leading into Lahaina as they wait.
Hawaii Red Cross posted a warning of dangers hiding among the debris, including ash pits containing extremely hot embers under ash and mud. 
Those impacted by the fires can begin applying for FEMA Disaster Assistance. 
'There are people out here suffering'
More than 1,400 people reportedly stayed at shelters as of Friday, and residents say they need help.
"I want people to know that there are people out here suffering," Lahaina resident Bryce Baraoidan said to FOX Weather correspondent Max Gorden. "We need donations. We need people shipping things out here. We need families fed. We need – yeah, we need so much help."
How to help victims of the Hawaii fires
Hawaii Gov. Josh Green announced a new relief program to re-house the thousands who now have no home.
HAWAII FIRES BY THE NUMBERS: THE SCOPE OF THE CATASTROPHIC DAMAGE
"This means we will be able to get people into hotel rooms, Airbnbs and so on so that they are safe," he said. "Look out for your neighbors. Love them. That's what we will be defined by in the future. How we take care of our ohana (family)." 
If you would like to help the people of Lahaina and Maui, check out this page.