We've entered America's most active time for damaging winds from severe thunderstorms, including derechos
June and July are the most active months for damaging thunderstorm winds in the US
While thunderstorms can impact parts of the U.S. at any time throughout the year, there is a distinct seasonal peak for damaging winds from severe storms, and it's in early summer.
Long-term weather records show June and July are America's most active months for damaging thunderstorm winds, which sometimes include widespread, destructive damaging-wind events called derechos.
According to data from NOAA's Storm Prediction Center, an average of 3,153 reports of damaging winds are logged across the nation each June, followed by another 2,989 such reports each July.
The third- and fourth-most-active months are August and May, respectively, but with averages of less than 2,000 damaging wind reports, neither of those months comes close to the roughly 3,000 such reports seen in a typical June or July.
HOW TO WATCH FOX WEATHER ON TV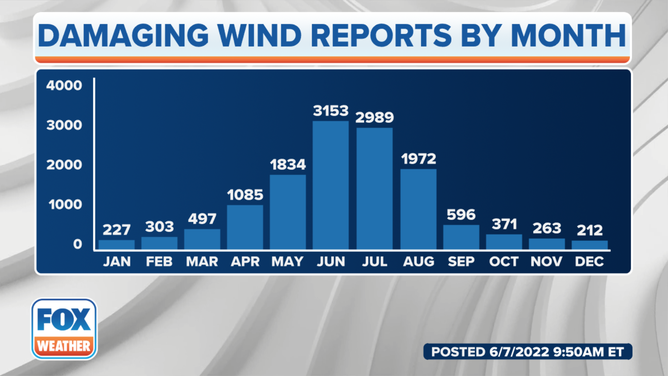 Damaging thunderstorm wind reports include any recorded gusts of 58 mph or higher, as well as any reports of damage to structures, trees or power lines caused by a thunderstorm's strong winds.
June is the only month on record with more than 5,000 damaging wind reports. That happened in 2008 when a total of 5,445 such reports were documented, the most of any month since at least 2000.
While July has never logged 5,000 reports of damaging winds in 20-plus years of records, it did come close in 2016 when 4,642 damaging wind reports were tallied. That ranks in second place for the most such reports in a single month.
'DESTRUCTIVE' THUNDERSTORM ALERTS: WHAT THEY ARE AND WHY THE NATIONAL WEATHER SERVICE ISSUES THEM
Why are June and July the most active months?
In early summer, widespread warm and humid air is typically found in many areas east of the Rockies. The warmth and humidity provide some of the instability needed for thunderstorms to develop.
Additionally, the jet stream is typically parked near the U.S.-Canada border in June and July, and upper-level disturbances often get steered by the jet stream over the top of the warm, humid air engulfing parts of the central and eastern states. These disturbances can act as a trigger for the formation of thunderstorms.
The three-month period from May through July is also the most favorable time of year for derechos to develop. These clusters of thunderstorms produce destructive wind gusts for hundreds of miles and can impact millions of people along their path.
Derechos can form every year, but they don't happen very frequently.
One to two derechos per year is considered average for the region spanning southwestern Missouri, northwestern Arkansas and northeastern Oklahoma. But a larger area from the Southern Plains to the lower and mid-Mississippi Valley, the southern Great Lakes and the Ohio Valley typically sees about one per year.
The rest of the Plains, Midwest, South and East might only see a derecho once every 2 to 4 years.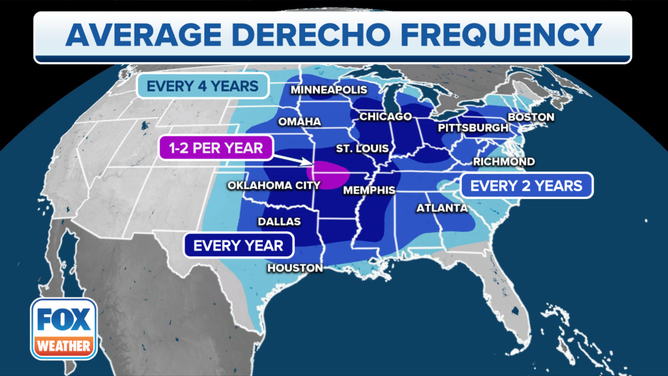 For meteorologists to classify a windstorm as a derecho – from the Spanish word for "straight" – the swath of straight-line wind damage it causes must cover a distance of at least 400 miles and include wind gusts over 58 mph along most of its path, as well as several, well-separated 75-mph or higher gusts, according to the SPC.
One of the most significant derecho events in U.S. history occurred throughout much of the Midwest during the summer of 2020. During the event, winds gusted upward of 140 mph, causing more than $7.5 billion in damage.
About 63% of all derechos occur between May and July, essentially coinciding with the most active months for damaging thunderstorm winds (June and July).
THIS IS AMERICA'S MOST ACTIVE TIME OF YEAR FOR TORNADOES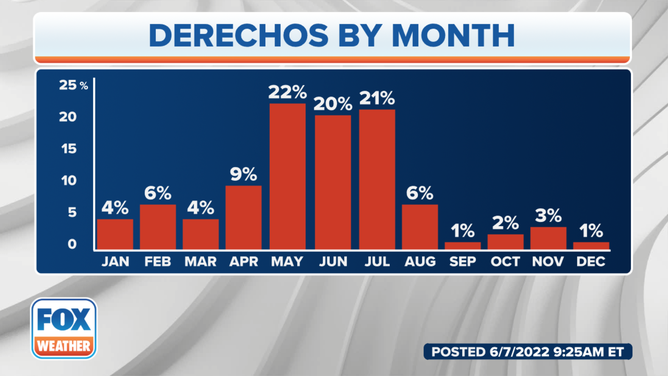 You should always take severe storms seriously, not just in the summer, but at any time of the year.
According to the National Oceanic and Atmospheric Administration, severe thunderstorm winds killed 36 people in 17 different states across the nation in 2020. Thirty-eight people across 22 states were killed by severe thunderstorm winds in 2019.
In fact, more people died from severe thunderstorm winds than tornadoes in both 2018 and 2016.
In 2018, 24 people were killed by severe thunderstorm winds, but only 10 were killed by tornadoes. In 2016, there were 20 severe thunderstorm wind-related deaths but only 18 tornado-related deaths.
CLICK HERE TO GET THE FOX WEATHER UPDATE PODCAST
Be sure to download the FOX Weather app to track any storms in your area and receive potentially life-saving weather alerts issued by the National Weather Service. The free FOX Weather livestream is also available 24/7 on the website and app and on your favorite streaming platform. The FOX Weather Update podcast also provides weather information for the entire country.