June packed with seasonal weather firsts as summer begins
Several notable things happen in the weather in June, such as the start of hurricane season, the start of summer, the peak time for damaging winds and flash flooding, the first 90-degree day for many and the earliest sunrises of the year.
Get your bingo cards ready. We are about to enter a busy month of notable weather firsts for the year.
To help out, FOX Weather provides you with your free space as we detail what you can expect in June's weather.
Atlantic hurricane season begins
The Atlantic hurricane season officially starts June 1 and runs through Nov. 30 each year. This six-month period was chosen by the National Hurricane Center (NHC) because it accounts for about 97% of all Atlantic tropical storms and hurricanes, according to NOAA's Hurricane Research Division.
That means only 3% of Atlantic tropical cyclones occur outside those hurricane season forecast dates, with the majority of out-of-season activity occurring in May or December. However, there has been either an Atlantic tropical storm or hurricane in every month of the year.
The NHC says the peak of hurricane season is from mid-August to mid-October, with Sept. 10 marking the official peak date of the season.
HERE'S WHY ATLANTIC HURRICANE SEASON RUNS FROM JUNE TO NOVEMBER
This year, NOAA expects 12 to 17 named storms, five to nine hurricanes and one to four major hurricanes (Category 3 or higher on the Saffir-Simpson Hurricane Wind Scale). Forecasters said they have 70% confidence in these ranges. The outlook includes the subtropical storm that already formed off the East Coast in January.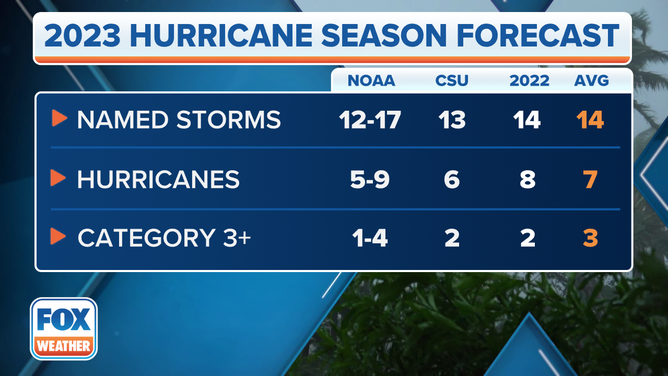 Summer starts
Summer officially begins in the Northern Hemisphere on June 21 with the summer solstice, the day with the greatest amount of possible daylight and the shortest night.
For ease of recordkeeping, meteorologists and climatologists consider June 1 the first day of "meteorological summer," but astronomically speaking, the Tropic of Cancer (23.5 degrees north latitude) is aligned directly with the sun on the summer solstice. In 2023, that occurs June 21 at 10:58 a.m. EDT.
WHY SUMMER SHOULD ACTUALLY BEGIN ON JUNE 1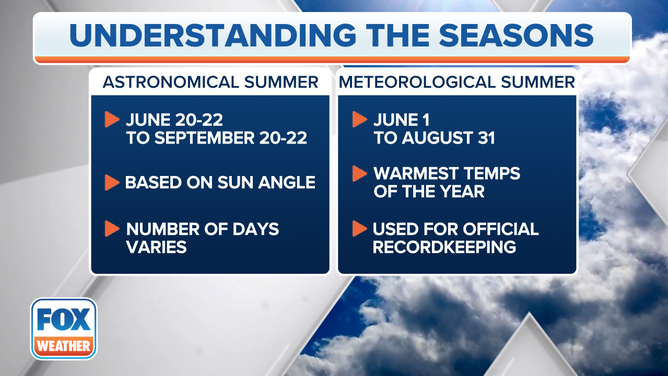 Damaging winds from severe thunderstorms reach seasonal peak
Long-term weather records show June and July are America's most active months for damaging thunderstorm winds, which sometimes include widespread, destructive damaging-wind events called derechos.
According to data from NOAA's Storm Prediction Center, an average of 3,153 reports of damaging winds are logged across the nation each June, followed by another 2,989 such reports each July.
The third- and fourth-most-active months are August and May, respectively, but with averages of less than 2,000 damaging-wind reports, neither of those months comes close to the roughly 3,000 such reports seen in a typical June or July.
Damaging thunderstorm wind reports include any recorded gusts of 58 mph or higher, as well as any reports of damage to structures, trees or power lines caused by a thunderstorm's strong winds.
WE'VE ENTERED AMERICA'S MOST ACTIVE TIME FOR DAMAGING WINDS FROM SEVERE THUNDERSTORMS, INCLUDING DERECHOS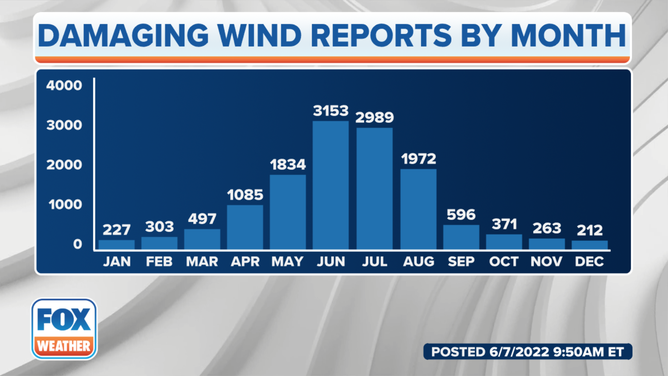 Flash flood season enters peak
The U.S. is entering the peak of its so-called "flash flood season" as the calendar flips to June.
Flash flooding refers to floods that develop quickly, typically within three to six hours of heavy rainfall, and occur over a relatively small area. This type of flooding is different from longer-duration river flooding that can persist for days or even weeks.
According to statistics compiled by NOAA's Weather Prediction Center, 75% of flash flood reports in the U.S. occur between April 23 and Sept. 14, but there is a notable peak in flash flooding in June and July when more than one-third of the total reports occur.
Among all the types of extreme weather that claim dozens of lives each year, flooding ranks as the second deadliest in the nation, according to NOAA. Only heat kills more Americans than flooding.
PEAK FLASH FLOOD SEASON IN US BEGINS IN JUNE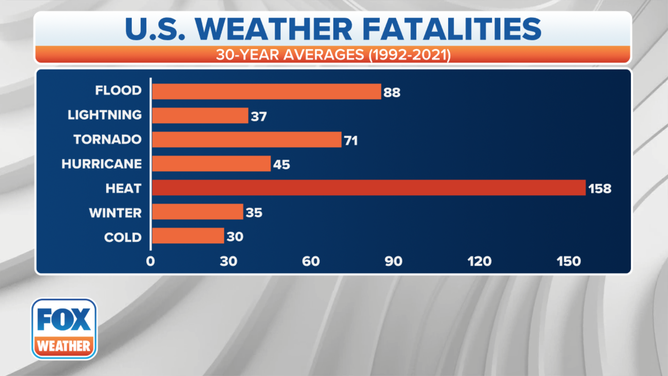 First 90-degree day for many
As the days get longer in June, temperatures begin to heat up.
FOX Weather crunched 30 years of weather data (1991-2020) to find when various cities across the U.S. hit 90 degrees for the first time in an average year. 
Atlanta, Boston, Chicago, Denver and Detroit are among the cities that typically see their first 90-degree day in June.
Below is a series of tables illustrating the usual dates that other cities across the U.S. hit 90 degrees for the first time and the earliest they've done so.
WHEN TO EXPECT THE FIRST 90-DEGREE DAY IN YOUR CITY

Earliest sunrises of year occur
For most of America, the earliest sunrises of the year occur before the June summer solstice, while the latest sunsets don't happen until after the solstice.
The primary reason the earliest sunrises and latest sunsets don't coincide with the solstice is best explained by the equation of time. (The explanation gets quite complex. If you want to dive into the astronomical details, check out this well-written explanation by Harvard-graduate Dr. Larry Denenberg.)
These minor variances in Earth's orbit result in the displacement of the earliest sunrises and latest sunsets in the weeks surrounding June's summer solstice. So while mornings might be getting noticeably shorter by the Fourth of July, the evening light continues to hang on later than it does all year.
WHY LATEST SUNSETS DON'T OCCUR UNTIL AFTER SUMMER SOLSTICE
Did I hear someone say 'BINGO!' already?