Hurricanes often ruin end-of-summer holiday plans on Labor Day weekend
The 1935 Labor Day Hurricane remains the strongest tropical cyclone to ever make landfall in the US.
As many Americans celebrate the unofficial end of summer on Labor Day weekend, the tropics can be quite active with one or more hurricanes or tropical storms often roaming the Atlantic Basin as hurricane season approaches its annual peak on Sept. 10.
It's been several years since a hurricane last made landfall in the U.S. on Labor Day weekend, but there have been some close calls recently.
In 2019, on the Sunday of Labor Day weekend, Category 5 Hurricane Dorian ravaged the Bahamas, making landfall on Great Abaco in the northwestern Bahamas with maximum sustained winds of 185 mph. Dorian tied the 1935 Labor Day Hurricane in the Florida Keys for the strongest Atlantic hurricane landfall on record in terms of sustained wind speeds.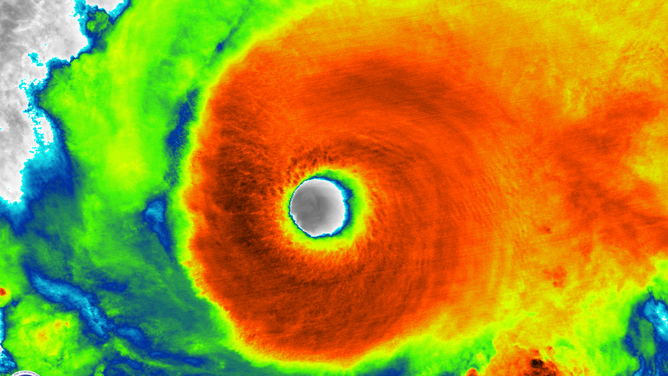 Hurricane Dorian made a second landfall on Grand Bahama Island that night, becoming the first Category 5 hurricane to ever make landfall on Grand Bahama.
HOW MANY CATEGORY 5 HURRICANES HAVE MADE LANDFALL IN THE U.S.?
While Dorian didn't make an official U.S. landfall until after Labor Day, tropical-storm-force winds (at least 39 mph) were recorded at Juno Beach, Florida, beginning on the Labor Day holiday as the hurricane approached the southeastern U.S. It eventually made landfall on Cape Hatteras, North Carolina, as a Category 2 hurricane on Sept. 6 after crawling north just off the Southeast coast for multiple days.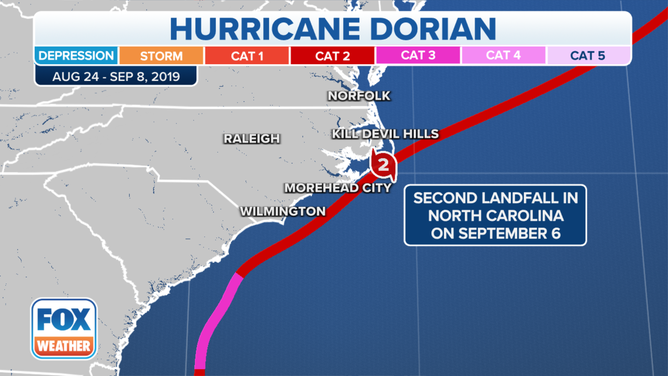 One year before Dorian, there wasn't a hurricane landfall on Labor Day weekend, but a tropical storm did make landfall in the Florida Keys. Tropical Storm Gordon developed on Labor Day in 2018 and made landfall around sunrise that morning near Tavernier in the Keys. Gordon then made a second landfall two hours later near Flamingo on the southern tip of the Florida Peninsula.
Labor Day weekend was free of tropical cyclones in the U.S. in 2017, though South Florida was placed into the "cone of uncertainty" for Hurricane Irma on Labor Day when the National Hurricane Center issued its 5 p.m. Eastern time advisory.
WHAT IS THE "CONE OF UNCERTAINTY" IN HURRICANE FORECASTS?
In 2016, Hurricane Hermine made landfall along the Florida Big Bend coast on the Friday leading into Labor Day weekend, but it weakened rapidly as it moved inland and transitioned to an extratropical cyclone by early Saturday morning over the Outer Banks of North Carolina.
Hermine was the first hurricane to make landfall in Florida since Wilma in 2005, and although it was far away from the Sunshine State by the start of Labor Day weekend, many residents of the Big Bend region had a mess to clean up instead of enjoying the unofficial end of summer.
So while none of these recent close calls made an official U.S. landfall as a hurricane on the Saturday, Sunday or Monday of Labor Day weekend, history shows that hasn't always been the case.
Let's take a look back at some of the most notable hurricanes that have ruined end-of-summer holiday weekend plans in the U.S.
1935 Labor Day Hurricane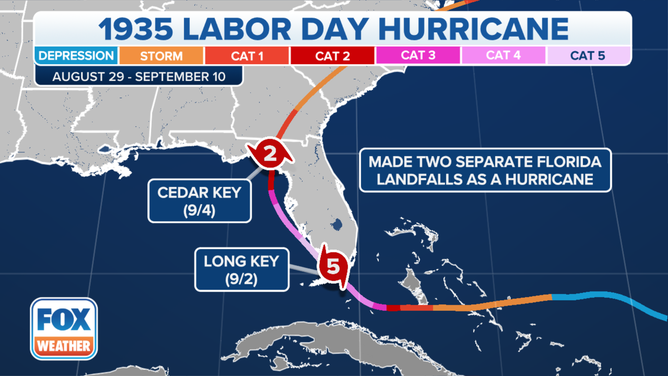 The 1935 Labor Day Hurricane remains the strongest tropical cyclone to ever make landfall in the U.S.
A National Oceanic and Atmospheric Administration reanalysis of the hurricane found that it had maximum sustained winds of 185 mph when it made landfall in the central Florida Keys late on Sept. 2, 1935, which happened to be Labor Day. It made a second landfall as a Category 2 hurricane two days later near Cedar Key on Florida's Gulf coast.
The historic hurricane was never given a formal name because it occurred before the National Hurricane Center's naming convention was established in 1950.
The Category 5 monster was blamed for killing more than 600 people and completely destroyed buildings, roads and other infrastructure.
WEATHER HELPS CREWS REOPEN FLORIDA'S OLD 7-MILE BRIDGE AHEAD OF SCHEDULE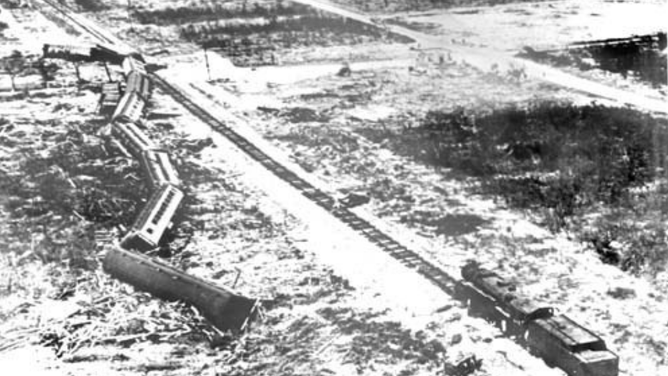 The compact storm's size helped it to rapidly strengthen in the Straits of Florida after impacting the Bahamas.
Without satellites and widespread weather observations, tracking the hurricane was difficult.
A Hurricane Warning was issued by the United States Weather Bureau hours before landfall, but unfortunately, the message was too late for some to take precautions.
WHAT TO DO WHEN HURRICANE OR TROPICAL STORM WATCHES AND WARNINGS ARE ISSUED FOR YOUR TOWN
Damage was estimated at around $6 million (equivalent to around $130 million in today's dollars).
1950 Hurricane Easy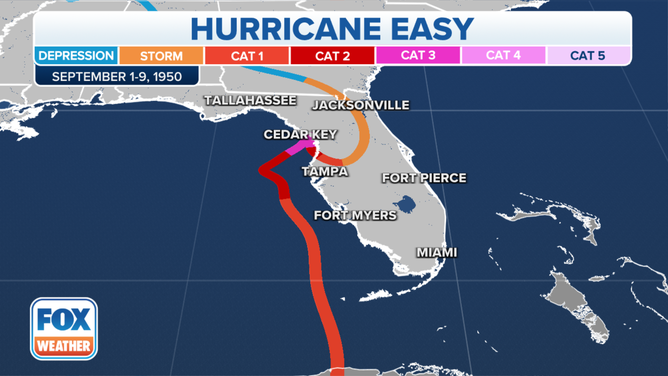 Residents of western Florida had their Labor Day plans upended in 1950 as an intensifying Hurricane Easy crawled northward just off the Sunshine State's Gulf coast.
HOW TO WATCH FOX WEATHER ON TV
In the days that followed the holiday, Hurricane Easy completed a pair of bizarre loops in the northeastern Gulf of Mexico, including one near Cedar Key – where the 1935 Labor Day hurricane made landfall 15 years earlier. The town was raked by Easy's eye for two and a half hours, with winds gusting as high as 125 mph.
More than half of the homes in Cedar Key were destroyed by the hurricane, while 90% of the houses that remained were severely damaged. 
Despite more than 2 feet of rain causing major flooding in Cedar Key, there were only two deaths blamed on Hurricane Easy due to a relatively low population living along Florida's Nature Coast in 1950.
1952 Hurricane Able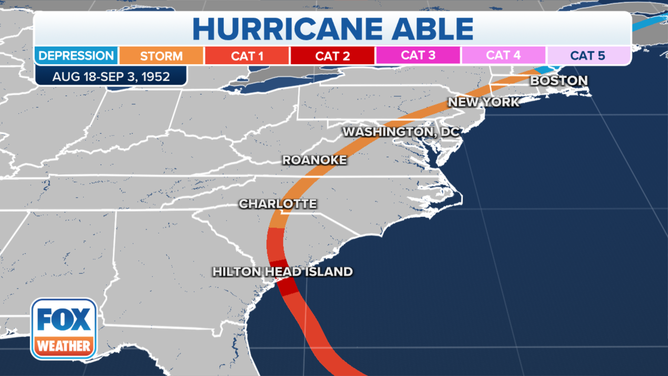 Hurricane Able made landfall along the South Carolina coast on Labor Day weekend in 1952. At Category 2 intensity, the hurricane's eye moved onshore near Beaufort on the evening of Saturday, Aug. 30, two days before the federal holiday.
As Hurricane Warnings were issued along the southeastern U.S. coast, residents and tourists were forced to evacuate instead of spending Labor Day weekend relaxing at the beaches.
HURRICANE, TROPICAL STORM WATCH VS. WARNING: WHY IT'S IMPORTANT TO KNOW THE DIFFERENCE
Able was the only hurricane to make a U.S. landfall in 1952. It brought 90-mph winds to Beaufort and soaked eastern South Carolina with heavy rain that resulted in flooding.
Damage from Hurricane Able was estimated at $2.75 million (equivalent to $28.1 million in today's dollars).
1979 Hurricane David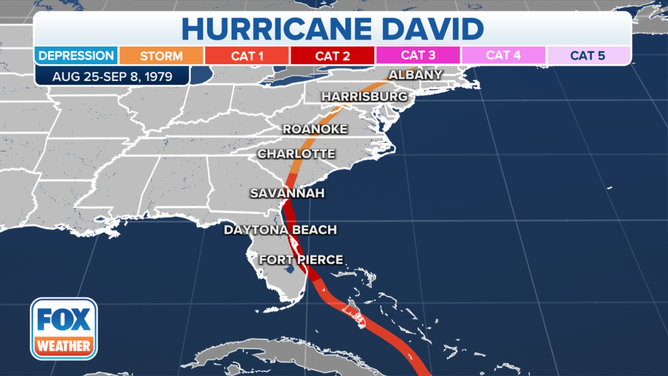 Hurricane David made landfall on Sept. 3, 1979 – Labor Day – near West Palm Beach, Florida, as a Category 2 storm.
Fort Pierce, some 60 miles north of West Palm Beach, reported the strongest winds during the hurricane, clocking gusts as high as 95 mph.
WHERE TROPICAL STORMS AND HURRICANES TYPICALLY OCCUR DURING EACH MONTH OF ATLANTIC HURRICANE SEASON
More than 10 tornadoes touched down in Florida in association with Hurricane David, though none of them were known to have caused any deaths or injuries.
The following day, David made a second landfall as a Category 2 hurricane near the border of Georgia and South Carolina, where it spawned more tornadoes and caused heavy beach erosion.
1985 Hurricane Elena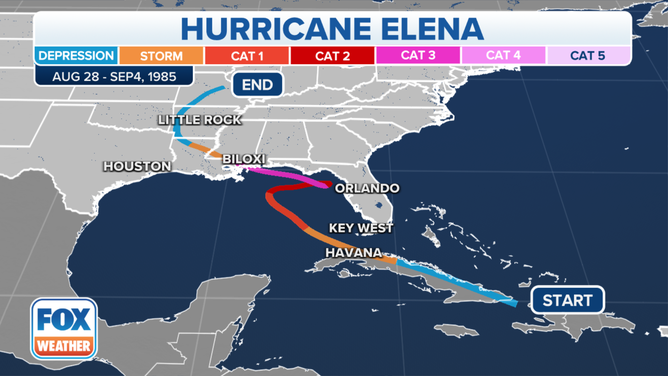 The Labor Day holiday in 1985 was severely disrupted along the Gulf Coast by Hurricane Elena, which made landfall near Biloxi, Mississippi, at Category 3 intensity on Sept. 2.
Dauphin Island, Alabama, recorded wind gusts over 130 mph as it was raked by the eyewall of Hurricane Elena.
HOW ARE HURRICANES RATED? THE SAFFIR-SIMPSON HURRICANE WIND SCALE EXPLAINED
The hurricane's impacts stretched all the way to Florida, where more than a dozen tornadoes touched down and nearly a foot of rain was reported.
More than a half-million people were forced to evacuate along the Gulf Coast since it was certainly not beach weather for the holiday weekend.
Four indirect deaths were attributed to Hurricane Elena due to falling trees, automobile accidents and heart attacks, though no one was killed in the area where it made landfall, likely due to the mass evacuation.