Weather helps crews reopen Florida's Old Seven Mile Bridge ahead of schedule
The Old Seven Mile Bridge runs through the waters which some consider hurricane alley, but the area has been spared during recent years.
MARATHON, Fla. -- A section of the 110-year-old Old Seven Mile Bridge, which has endured the impacts of some of the strongest Florida hurricanes in memory, is now back open for all to enjoy, thanks in part to some luck and good weather from Mother Nature.
Transportation officials say they spent around $44 million to renovate the 2.2-mile section that runs from Marathon to Pigeon Key.
The bridge was originally constructed in the early 1900s by Henry Flagler as part of his Florida East Railway, but because of the disastrous Labor Day hurricane of 1935, which brought winds of around 200 mph and an 18-foot storm surge, the bridge was converted to automobile use around 1938.
The bridge was used for vehicles until the early 1980s when a nearby bridge became the designated thoroughfare, and the Old Seven Mile Bridge became the home for recreational activities.

WHEN DO IGUANAS FALL FROM TREES IN FLORIDA?
Over time, because of the Florida climate, residents said the bridge began to deteriorate and was closed in 2016.
Monroe County officials say the renovation project began in earnest after the departure of Hurricane Irma in 2017 and was able to beat the completion date thanks to the apparent lack of tropical activity ever since.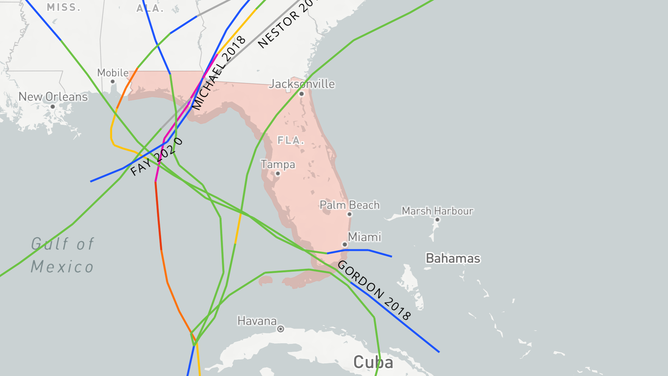 Despite several record-breaking hurricane seasons, South Florida has escaped nearly scot-free with only minor brushes by tropical systems.
A spokesperson for the county says the upgrades to the bridge should help ensure the structure remains viable for visitors to use for decades to come.
"The Old Seven Mile Bridge is very important to the Keys, the history of the Keys and a viaduct to get to Pigeon Key," said Monroe County Administrator Roman Gastesi.
The bridge is open for cycling, walking, running, watching sunrises and sunsets and provides the only access road to Pigeon Key.
The private five-acre island is home to a museum and marine learning experiences.
The reopening was good news to staff and visitors for the island, who say they commuted to the Pigeon Key via boat for the last several years.
There are no plans to reopen the more than 5 miles of the old bridge south of Pigeon Key, which has been inaccessible to humans for decades.