Hurricane Ida: A look back at the monstrous storm that killed over 50 people
From a ferocious landfall in Louisiana to devastating flooding in the Northeast, impacts from Hurricane Ida were far-reaching.
A year ago, one of the most devastating hurricanes to ever hit the U.S. made landfall on the northern Gulf Coast. However, the impacts of this terrible storm reached locations more than a thousand miles away and killed more than 50 people. 
Hurricane Ida was a terrifying Category 4 storm when it slammed into Grand Isle, Louisiana, on Aug. 29, 2021. That is an ominous day in the state's weather history as it marks the same day Hurricane Katrina hit New Orleans in 2005.
HOW TO WATCH FOX WEATHER ON YOUR TV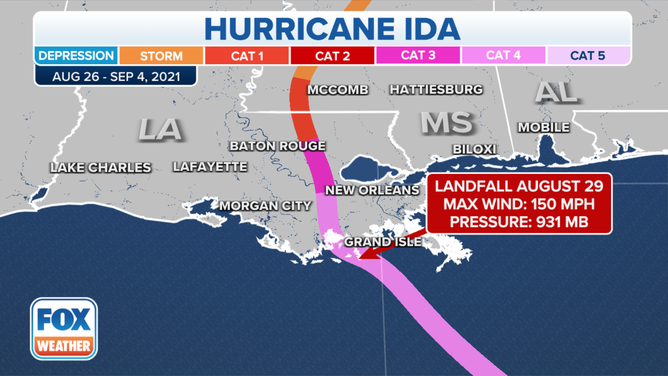 The storm walloped coastal Louisiana with winds near 150 mph and a 14-foot storm surge. Island towns and fishing villages were left in shambles.
FOX Weather's Robert Ray was in New Orleans as the city was battered with high winds and heavy rain while Ida came ashore.
Seven months post-Ida, Ray returned to Louisiana, which was still reeling from the storm. David Camardelle, the mayor of Grand Isle, told Ray that he was frustrated with the response after the storm but was determined to get the town back on its feet. 
"As long as there's one grain of sand to plant the American flag, we ain't going nowhere," Camardelle said.
Upwards of 15 inches of rain fell in a swath that stretched from New Orleans east to far western parts of coastal Alabama.
HOW IDA'S SMALL EYE COMPARES TO OTHER MAJOR HURRICANES THAT HAVE STRUCK THE US

Ravaging remnants
After leveling coastal Louisiana, the storm moved north along the eastern U.S. Along the way, it dropped tornadoes and torrential rain.
Once the remnants of Ida arrived in the Northeast, the storm produced rainfall rates of more than 3 inches an hour. Eventually, more than 10 inches of rain fell across parts of Pennsylvania, New Jersey, New York.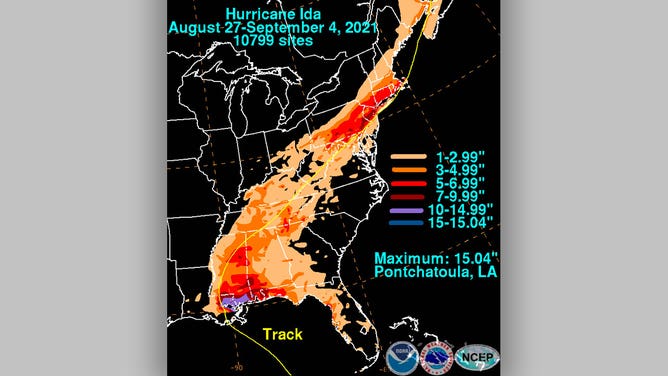 All of that rain led to extensive flash floods in the most populous region of the country. It flooded basement apartments and subway stations in the New York City area and forced people from their homes in New Jersey.
BEWARE THE 'I' STORM: IT HAS MORE RETIREES THAN ANY OTHER LETTER USED FOR ATLANTIC HURRICANE NAMES
In the top-five
At least 55 deaths were caused by Hurricane Ida directly, according to the National Hurricane Center's post-storm analysis. The deaths of 32 people were indirectly related to the storm.
According to the NHC report, the storm caused a total of $75 billion in damages. This puts Hurricane Ida in fifth place on the list of costliest landfalling hurricanes on record.
The name Ida was retired from the hurricane naming lists, meaning there will never be another tropical storm or hurricane with that name.
HOW TO DOWNLOAD THE FOX WEATHER APP