Great Lakes brace for another blast of snow, cold temperatures through Saturday
The cold front is forecasted to move through the region on Friday and Saturday, with winds shifting to the northwest and bringing in colder air.
A strong cold front associated with a powerful cross-country storm is expected to move across the Great Lakes region this weekend, leading to the development of lake-effect snow.
The cold front is forecast to continue moving through the region on Saturday, with winds shifting to the northwest and bringing in colder air.

While most of the northern Plains and Upper Midwest had a little snow from this system, the highest totals Friday into Saturday morning will be seen in northern Wisconsin and Michigan's Upper Peninsula, along with some lake-effect snow in western Michigan.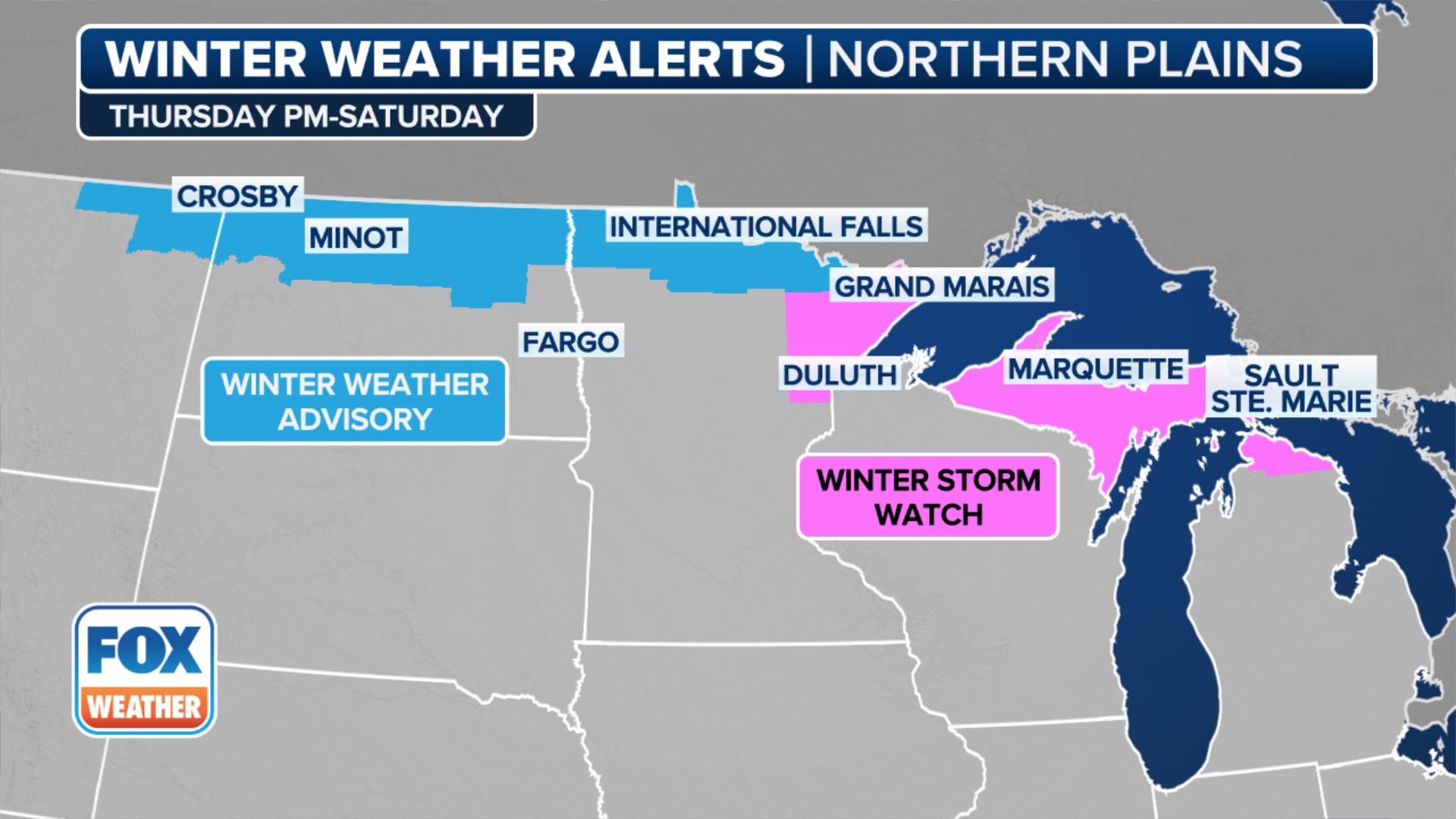 Winter weather alerts in effect until at least Saturday.
(FOX Weather)
---
THESE ARE THE 7 SNOWIEST CITIES IN THE US
Northeastern Minnesota could pick up between 8 and 12 inches of snow, while northern Wisconsin and the Upper Peninsula of Michigan will see even higher totals.
The Marquette, Michigan, area could pick up more than 2 feet of snow by the time the system exits the region over the weekend.
HOW MUCH SNOW DOES YOUR CITY NORMALLY GET IN A YEAR?
The snow forecast in the Plains and Upper Midwest through Saturday.
(FOX Weather)
---
Lake-effect snows to blanket Buffalo, Watertown areas this weekend 
Once the storm moves east over the Great Lakes this weekend, significant snow totals are expected to occur downwind of Lake Erie and Lake Ontario, particularly in areas around Buffalo and Watertown.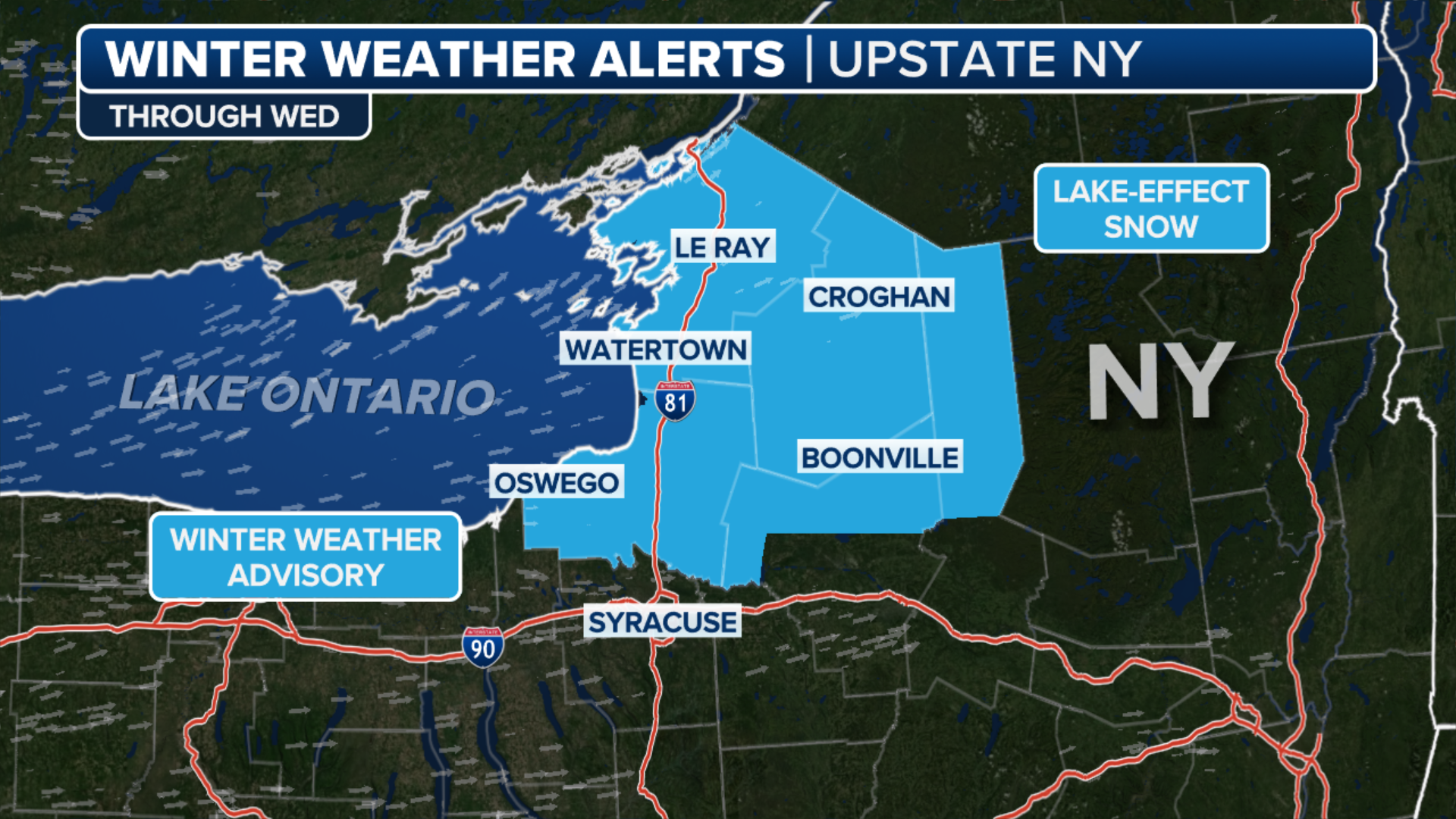 Northeast Winter Alerts.
(FOX Weather)
---
Forecast models suggest that some areas may receive 6-plus inches of snow, particularly where the heaviest bands of snow setup and Winter Storm Watches are in effect for much of Saturday and Sunday.
Dangerous travel is likely in the most intense bands. There will be a potential for travel disruptions and power outages, particularly in areas that are prone to lake-effect snow. 
The severe weather outlook for March 16, 2023.
(FOX Weather)
---
The combination of heavy snow and strong winds can create hazardous conditions, including reduced visibility and drifting snow. 
Additionally, dangerous snow squalls will be possible Saturday in the Northeast. This could lead to rapidly changing conditions for travelers, according to the FOX Forecast Center. 
6 BASIC STEPS FOR PROPERLY MEASURING SNOW
And while snow will fall on the north side of the system, the warm side of the potent storm system is bringing severe weather with thunderstorms capable of producing large hail, damaging winds and a few isolated tornadoes across the Gulf Coast.