6 basic steps for properly measuring snow
The National Weather Service and local media outlets rely heavily on the public to provide snowfall measurements during winter weather events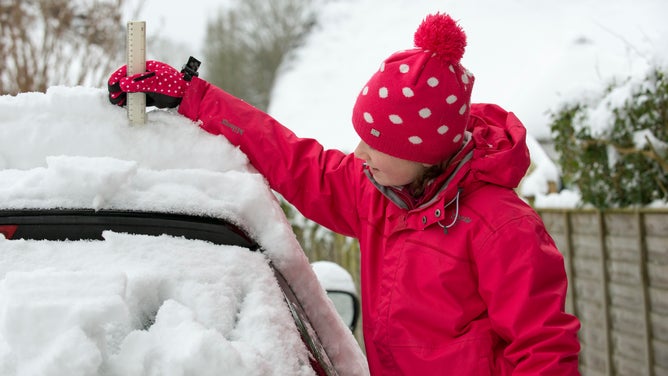 KANSAS CITY, Mo. – Accurately-measured snowfall is vital for meteorologists, and here's how you can help.
The National Weather Service and local media outlets rely heavily on the public to provide snowfall measurements during winter weather events. There are six basic steps you need to know to adequately measure snow.
Gather your supplies
For the most accurate snowfall measurements, a snow board should be used. A piece of wood, painted white about 24 inches by 24 inches, will work well. You will also need a ruler or yardstick and a marker flag.
The planning
According to the NWS, you should take your measurements at a location where drifting does not usually occur. You should find an open area away from tall objects but sheltered from the wind, and areas near buildings or under trees must be avoided. It is not a good practice to measure the snow directly in the grass as the snow amount will be inflated by the blades of grass.
Setup
Put your board out and mark it with the flag before the snow begins. If you aren't using a snow board, then a flat surface such as a picnic table or deck will also work.
Measuring
You want to push the yardstick straight into the snow, perpendicular to the ground until it reaches the snow board. You should record your total to the nearest tenth of an inch. Remember to wipe the board off after each measurement. You should only measure once daily at the same time. After measuring, be sure to place the board on top of the snow. Also, keep track of all your measurements for the duration of the storm so you can report the storm's total amount.
After the storm
When the snow stops, you will want to get a measurement to avoid lower totals due to melting, settling and drifting.
Reporting
Once you've measured the snowfall, the NWS encourages you to send them your report. You can do so in an online form or via Facebook or Twitter. When you share a report, you should include your location, whether your report is a measurement or estimate and what time you took it.