Deadly floodwaters receding in Vermont after near-historic river crests topped only by Great Flood of 1927
Catastrophic flooding continued Tuesday in Vermont after up to 9 inches of rain fell in parts of the state, sending rivers to crests higher than Hurricane Irene levels in August 2011 and topped only by the Vermont flood of 1927 – the greatest natural disaster in the state's history.
MONTPELIER, Vt. – Water levels at a dam in Vermont appeared to have peaked Tuesday just hours after Montpelier's city manager issued an ominous warning alerting residents that the site could reach capacity and spill over, sending large amounts of water rushing into the state's already-flooded capital and turning it into a "potentially dangerous situation."
Early Tuesday morning, emergency managers said the Wrightsville Dam had risen 3 feet above record levels and had only 6 feet of storage capacity remaining. As the hours ticked by, the Montpelier Police Department said in a Facebook post that the dam continued to inch closer to the top, coming within a few feet of the spillway.
But by Tuesday evening, town officials said water levels had receded, and a breach was no longer anticipated.
VERMONT'S LATEST FLOODING DISASTER APPROACHES LEVELS NOT SEEN SINCE THE GREAT FLOOD OF 1927
Tracking water level status
(FOX Weather)
---
Emergency managers worried about the scale of disaster if the dam were to have been breached.
"This has never happened since the dam was built, so there is no precedent for potential damage," Montpelier city manager William Fraser warned in the Facebook post. "There would be a large amount of water coming into Montpelier, which would drastically add to the existing flood damage."
Fraser said the situation would have been most dire along the North Branch River corridor and into the downtown area.

'PRETTY SCARY': VERMONT RESIDENT TALKS TO FOX WEATHER LIVE ON-AIR AS CATASTROPHIC FLOODING RAGES BEHIND HER
At least one dead from the flooding
The Vermont Department of Health has confirmed the first death related to the recent storms and flooding. 
Authorities said Stephen Davoll, 63, died as a result of a drowning in the town of Barre, outside of Montpellier.
Davoll is the only known fatality in the state as recovery efforts are still ongoing.
President Biden approves Vermont emergency declaration
Vermont Gov. Phil Scott held a news conference with other state and local leaders to provide updates on the ongoing situation and described it as "historic" and "catastrophic."
Scott announced during the news conferences that while overseas, President Joe Biden approved the state's emergency declaration request, which would now help mobilize federal resources to support the response and recovery efforts for the ongoing disaster.
While the rain has now exited Vermont, more rain later this week could lead to more flooding as the state tries to continue with recovery efforts.
"Even though the sun may shine today and tomorrow, we expect more rain later this week, which will have nowhere to go in the oversaturated ground," Scott said. "So I want to be clear – we are not out of the woods. This is nowhere near over, and at this phase, our primary focus continues to be on life and safety before we can shift into a recovery phase."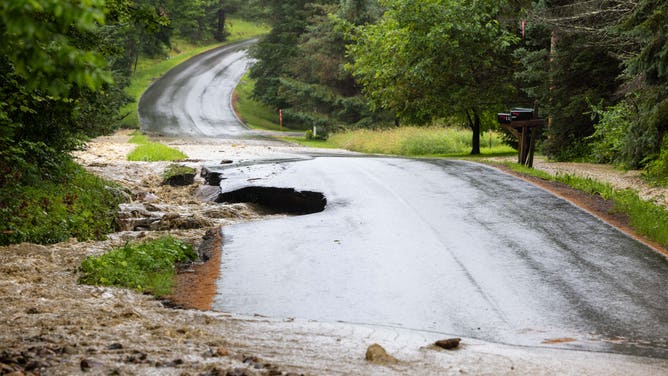 Montpelier scrambles to move essential equipment
The city of Montpelier has moved its dispatch center to the water treatment plant, where joint operations were made with Barre City. The city will also move its full Emergency Operations Center to the treatment plant.
"Computer and radio systems at the police station may become incapacitated if floodwaters increase," Fraser said. "Again, this could be a dangerous situation."
Montpelier Police Chief Eric Nordenson also provided an update to Facebook and said the department had relocated dispatch and police and fire operations to the water treatment plant in Berlin because of flooding in the department's basement, city hall and fire department.
"Three radio towers positioned in Washington County used to dispatch fire and ambulances are currently not functional, and Washington Electric has been notified to attempt repairs," he said in the Facebook post. "Multiple water rescue teams are positioned in Montpelier, and we urge the public to please stay out of the downtown and off city roads. Our rescue crews, DPW staff, dispatchers and first responders are spread very thin and will need time to assess the damages."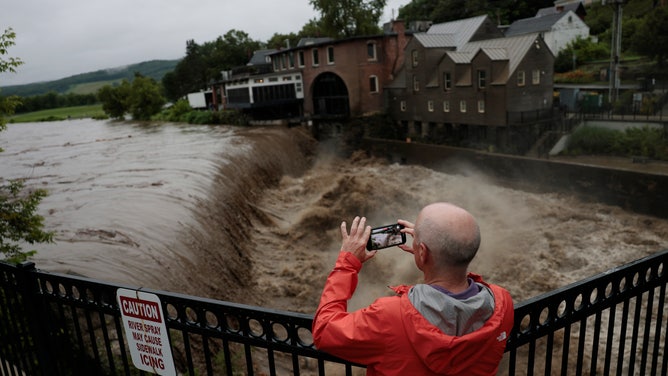 Nordenson said the Wrightsville Dam water levels are being monitored on-site by the Vermont Dam Safety Management group.
"There is the possibility that the dam has some spillover, which can affect our current water levels downtown," he said.
The water level in downtown Montpelier continued to rise Tuesday morning but slightly started to recede by Tuesday afternoon. However, the level reduction has been slower than anticipated, and the city had extended the downtown travel ban until at least 3 p.m. EDT Tuesday.
The Main Street Middle School gym has been opened as a temporary shelter until buses can pick up residents and take them to the Barre Auditorium, which is being staffed by the American Red Cross.
Vermont State Police said the state's swift water rescue teams performed more than 100 rescues across the state and are still busy performing rescues. Additional rescue teams from Connecticut, Massachusetts and North Carolina were also in Vermont to help, and others are on their way.
Helicopters from the National Guard are also being deployed to assist with evacuations in the hardest-hit communities and the most remote areas that are not accessible by swift water teams.
DRONE VIDEO SHOWS DISASTROUS FLOODING IN LUDLOW AFTER TORRENTIAL RAIN HITS VERMONT
Vermont rivers reach near-historic crests as floods turn deadly in New York
Torrential rain began on Sunday in New York's lower Hudson Valley, forcing the National Weather Service to issue a Flash Flood Emergency for parts of Orange, Putnam, Rockland and Westchester counties due to ongoing catastrophic flooding.
At least one person was killed, and numerous water rescues were conducted after rain caused the rivers and streams to overflow their banks, leading to roadways being washed away.
The rain shifted into New England on Monday, with more flooding occurring in Connecticut, western Massachusetts and Vermont, which saw the most severe flooding.
At one point on Monday, nearly the entire state of Vermont was under a Flash Flood Warning, and a Flash Flood Emergency was in effect for some areas throughout Monday morning.
The catastrophic flooding is expected to continue Tuesday in Vermont after up to 9 inches of rain fell in parts of the state, sending rivers to crests higher than Hurricane Irene levels in August 2011 and topped only by the Vermont flood of 1927 – the greatest natural disaster in the state's history.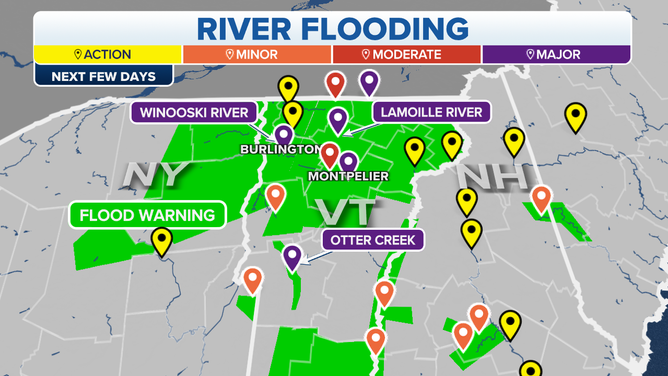 The Winooski River at Montpelier reached 21.35 feet Tuesday morning, surpassing the 19.05-foot crest set during Irene in 2011 to become the second-highest crest on record. This water flooded the streets of downtown Montpelier.
The Winooski River at Essex Junction, just east of Burlington, crested at 22.56 feet Tuesday afternoon, which made it the third-highest crest at that location.
As of late Tuesday, the water level at both sites had started to quickly recede.
Many areas of Vermont picked up more than a half-foot of rain, which is why there have been so many reports of flooding.
Plymouth received more than 9 inches of rain between Sunday and Monday, with Mount Holly Heights receiving around 8.66 inches. Montpelier and Barre picked up more than 7 inches of rain.