Typhoon Mawar leaves Guam with widespread damage after raking US territory with 100+ mph winds
Super Typhoon Mawar is now the strongest tropical cyclone of 2023 so far. According to data from Colorado State University, Super Typhoon Mawar's 175 mph winds made it stronger than Freddy and Mocha, which roamed the Indian Ocean earlier this year.
Super Typhoon Mawar has intensified to the equivalent of a Category 5 hurricane with winds of 175 mph in the open Pacific Ocean waters Thursday after lashing Guam with destructive winds and torrential rain on Wednesday.
Those powerful winds caused major structural damage to buildings and brought down trees and power lines, leaving 98% of the island without power as the tropical cyclone made a direct strike on the U.S. territory.
The National Weather Service in Guam said all Typhoon Warnings have been discontinued as the monster storm slowly moves away from the battered region. 
The island's Joint Information Center said no major injuries or deaths have been reported so far as of Thursday evening, local time. Guam is 14 hours ahead of U.S. Eastern daylight time.
Guam Gov. Lou Leon Guerrero announced Thursday that their recovery efforts began earlier in the morning, and conditions had subsided enough by evening to allow residents to leave their shelter and assess any damage.
WHAT'S THE DIFFERENCE BETWEEN A TYPHOON AND SUPER TYPHOON?
As the sun rose over Guam Thursday, the extent of damage left from Typhoon Mawar was seen for the first time as most of the island was left without power because of the typhoon's ferocious effects.
Videos showed trees that fell onto cars, as well as laying across roads after they were no match for the storm's winds.

Photos posted to Twitter by user @Sean13213341 showed extensive damage to several shopping centers on Guam.
HOW TYPHOON MAWAR'S LAST-MINUTE SWERVE SPARED GUAM FROM AN EVEN WORSE FATE
Siding was ripped away from building facades, and copious amounts of debris littered the roadways in the jaw-dropping images.
"We are waking up to a rather disturbing scene out there across Guam," an NWS meteorologist said during a video update posted to Facebook. "We're looking out our door, and what used to be a jungle looks like toothpicks."
The meteorologist then compared the ominous scene to that from the movie Twister with "trees just thrashed apart."
WHAT IS AN 'EXTREME WIND WARNING'?
Typhoon Mawar damage assessments, reconstruction begin on Guam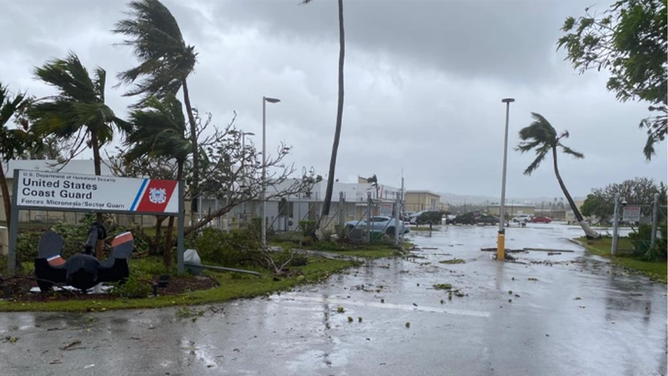 The U.S. Coast Guard has started to spread out across the island of Guam to begin damage assessments and cleanup efforts following the devastating effects of Typhoon Mawar.
"As of this morning, May 25, responders are aware of three barges, two mobile crane barges and a derelict vessel that broke free from commercial piers and are now aground in the channel," U.S. Coast Guard Chief Warrant Officer Sara Muir said in a news release.
She added that there might be damage to the mobile pier facility, but responders were able to confirm that valves were shut, eliminating any fire hazards.
"We're fortunate that these groundings are not blocking the potential for other traffic to enter the pier," she said.
The dry dock at Cabras also appeared to have been sunk or partially submerged in water during the storm near Pier F3, and Muir said two tug boat crews were forced to abandon ship during Typhoon Mawar as they took on water.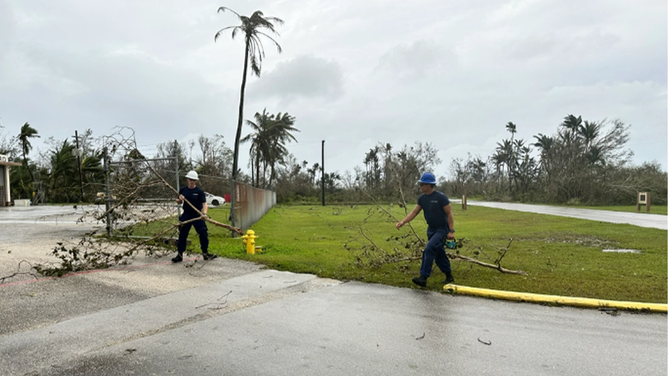 Those crews were rescued by other tug crews in the area, she added.
Concerns are growing about the state of the piers in Sumay Cove Marina on Naval Base Guam. Muir said the small boat harbor suffered damage that potentially could pose challenges for launching vessels that are to be used for search and rescue operations.
U.S. Coast Guard helicopters have arrived from Hawaii and are conducting flyovers of the island to get a better assessment of the damage associated with Typhoon Mawar, and more support and supplies are en route to Guam from Hawaii.
Additionally, Muir said, the Port in Guam is closed to traffic and will remain closed until crews can complete further damage assessments.
What are the latest statistics for Super Typhoon Mawar?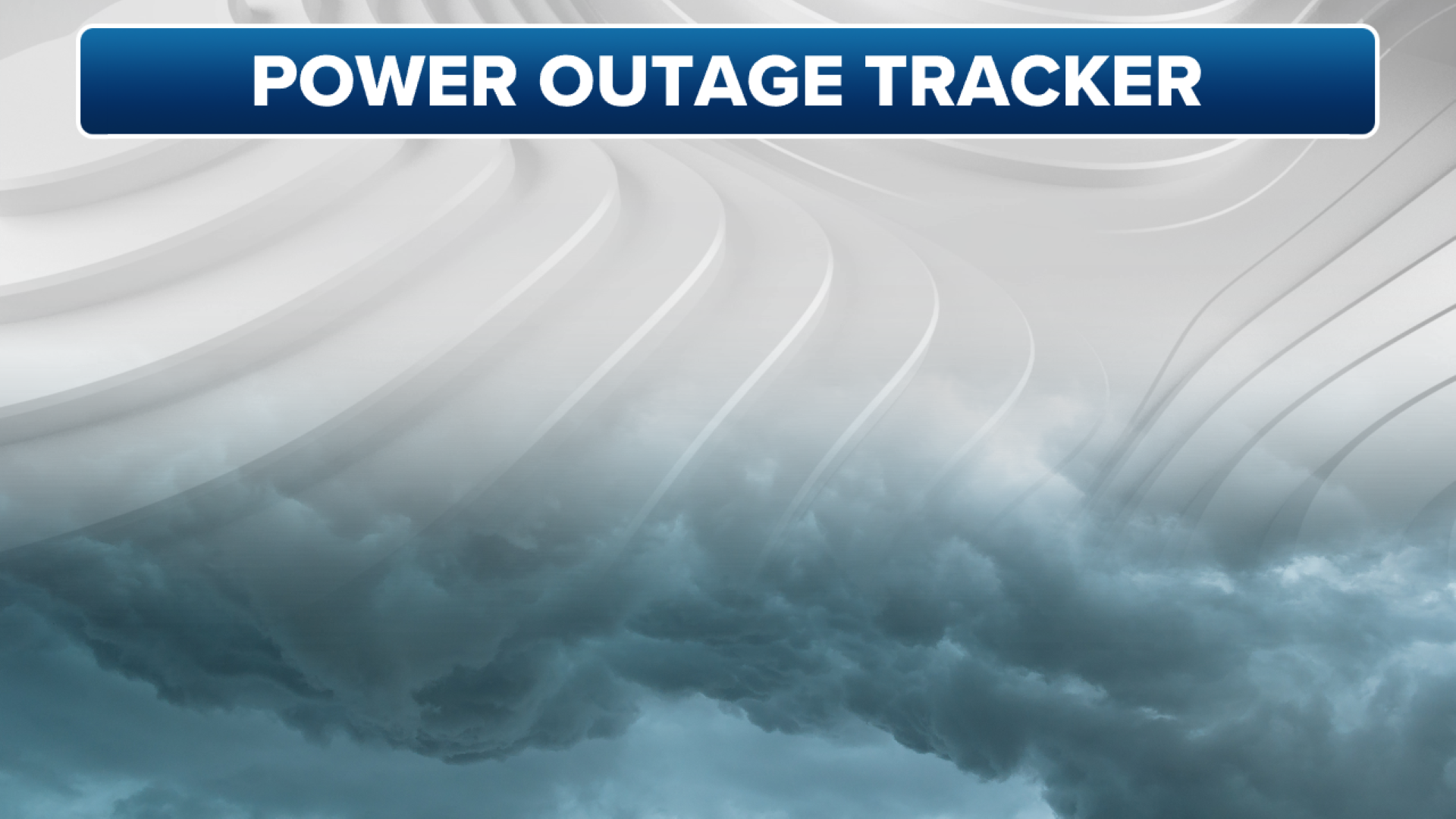 The latest statistics for Super Typhoon Mawar.
(FOX Weather)
---
As of 2 -.m. EDT, Super Typhoon Mawar had sustained winds of 180 mph, and the typhoon was moving away from Guam to the west at 13 mph.
Super Typhoon Mawar is now the strongest tropical cyclone of 2023 so far. According to data from Colorado State University, Super Typhoon Mawar's 180 mph winds made it stronger than Freddy and Mocha, which roamed the Indian Ocean earlier this year.
Not only is Super Typhoon Mawar the strongest typhoon of 2023 so far, but forecasters at Colorado State University say it's also the strongest in the western North Pacific Ocean in May since Damray in 2000 and the second-strongest typhoon ever during the month of May.
NOAA's Weather Prediction Center said even though Super Typhoon Mawar is moving away from Guam, rain is persisting over the island.
"Rainfall has been quite heavy, with several sites measuring over 20"/508 mm of rainfall," the WPC said in a tweet. "At Dededo, much of it fell in 3 hours, with 5"+ an hour rain totals."
5 DIFFERENT NAMES FOR HURRICANES AROUND THE WORLD
Where is Super Typhoon Mawar headed next?
Super Typhoon Mawar's forecast track.
(FOX Weather)
---
Super Typhoon Mawar is expected to continue to spin out across the open waters of the Western Pacific Ocean and could further intensify.
While a more westward motion is expected over the next day, a gradual turn to the west-northwest is expected by Friday and Saturday before a turn more toward the northwest on a path closer to the Philippines and Taiwan.