Typhoon Khanun kills one in Japan, continues to ravage nation with strong winds, heavy rains
Typhoon Khanun has weakened from the equivalent of a Category 4 hurricane but continues to batter Japan with heavy rains and high winds.
OKINAWA, Japan – At least one man died after Typhoon Khanun slammed the southern Japanese island of Okinawa. The island between the East China and Philippine Seas is a tourist destination at peak season right now, as well as home to U.S. military bases.
The slow-moving storm at one point was a "violent" typhoon, according to the Japan Meteorological Agency, with winds equivalent to a Category 4 hurricane. Several Okinawa weather sensors recorded winds up to 124 mph, according to Reuters. And the island was hit with almost 10 inches of rain in 24 hours, according to the JMA.
The combination of rain and storm surge put lower levels of most neighborhoods under water. One of the few who did not evacuate captured photos showing deep water across streets, parking lots and yards, while strong winds uprooted large trees.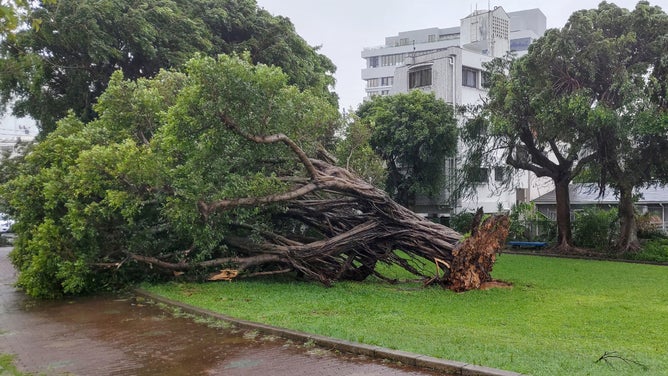 Over 700,000 people were evacuated on Okinawa and another 5,000 were evacuated from Kagoshima on the southern tip of the main island, according to the European Union's relief agency. Local utility companies reported that over a third of the island lost power during the peak of the storm.
7 FACTS TO KNOW ABOUT HURRICANES
At least 25 people have been injured, according to Reuters. The one death was a man who went into cardiac arrest after a garage collapsed on him, according to the Fire and Disaster Management Agency.
The massive storm even took a toll on China, even though the storm was well offshore. Waves crashed on the shore of Taizhou, Zhejiang Province of China and towered over 5-story buildings. 
TYPHOON KHANUN TO SLAM US MILITARY BASES IN OKINAWA WITH TORRENTIAL RAINS, DANGEROUS WINDS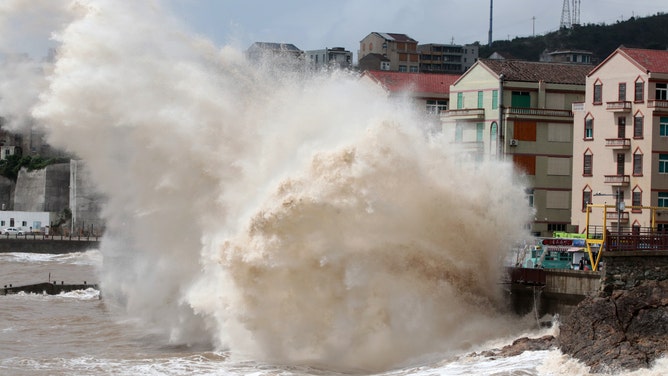 "It's the worst storm, forecasted, we've had in five years," Air Force Capt. William Hanson, weather flight commander, told Stars and Stripes by phone Monday.
Third typhoon in three weeks
On the way to Japan, Khanun compounded flooding issues across the Philippines by churning up monsoon moisture. This was the third tropical system to blow through the area in three weeks.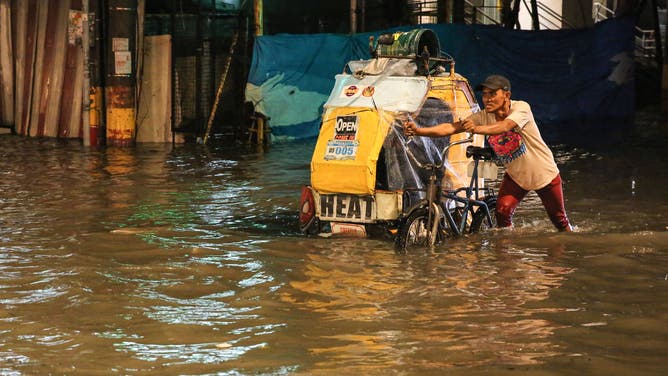 AT LEAST 35 DEAD AFTER TYPHOON DOKSURI PUNISHES PHILIPPINES
Typhoon Doksuri's winds and rain previously killed at least 35 people in the Philippines, according to the National Disaster Risk Reduction and Management Council. Flooding from the same system killed at least 34 in China, according to the BBC.
Tracking Typhoon Khanun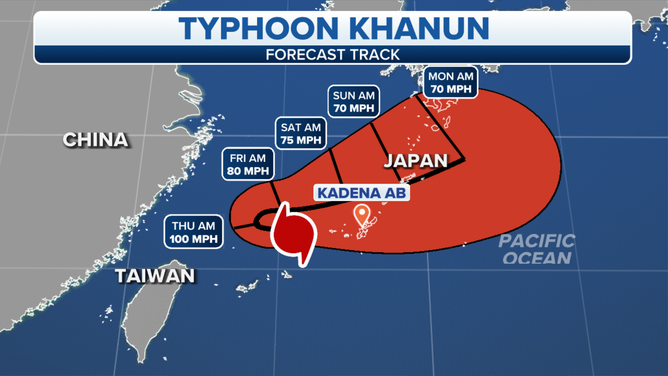 Khanun will continue to lash the southern Japanese islands through the weekend as upper level winds make the storm nearly reverse course and blow back toward the islands by the end of the week. However, by Sunday, the Joint Typhoon Warning Center forecasts Khanun to weaken to a strong tropical storm.