At least 35 dead after Typhoon Doksuri punishes Philippines
A typhoon, with winds equivalent to a Category 4 hurricane, pounded the Philippines as it skirted the main island of Luzon. The storm is now headed for China.
Typhoon Doksuri killed at least 35 people as it passed north of the main island of Luzon on Tuesday morning, reported the National Disaster Risk Reduction and Management Council.
The very strong tropical cyclone, which was called Egay in the Philippines, approached the island nation with winds of 140 mph, the equivalent of a Category 4 hurricane.
The storm weakened slightly while being influenced by land, but the slow mover still subjected residents to hours of 120-mph sustained winds. Over a foot of rain fell, forcing the Philippine Coast Guard to rescue villagers by boat.
HERE ARE THE BUZZWORDS YOU'LL BE HEARING DURING HURRICANE SEASON
While evacuating one village, crews found the body of a woman who apparently drowned. A landslide in another village buried four people.
More than 328,000 people were evacuated, according to the NDRRMC. Days later, nearly 20,000 people are still in evacuation centers while the government is providing for almost 7,000 more in outdoor centers.
TROPICAL DISTURBANCE IN EASTERN ATLANTIC FACES OBSTACLES BEFORE DEVELOPMENT CHANCES INCREASE
The deadliest tragedy occurred after the storm passed. A boat near Manilla was about 50 feet from the shore when a strong gust of wind hit the vessel, according to the Manilla Bulletin. Officials told the news agency that the 70 passengers panicked and rushed to one side of the boat, causing it to capsize. The Coast Guard reported that 30 peopled died while the other 40 were rescued.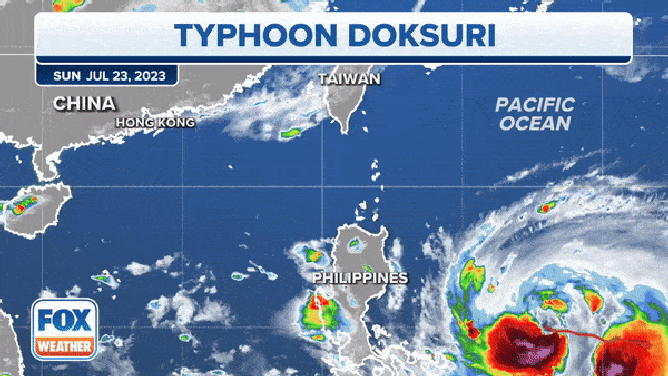 Taiwan and China also impacted
The Taiwan government evacuated about 300 people from the southern coast as Doksuri dealt a glancing blow, according to Reuters. Those sheltering in place cleared out grocery shelves and markets.
The storm churned high waves, and local weather reports warned of more than 3 feet of rainfall.
The storm is strengthening as it closes in on China. Fishing boats crowded ports after state TV reported that officials were urging fishermen to take shelter and farmers to speed up their harvest.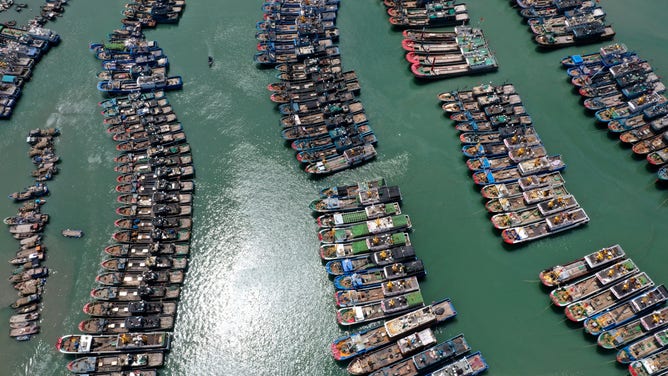 Doksuri is forecast to be the strongest typhoon to make landfall in China so far this season.
MANY MORE COUNTRIES THAN U.S. COUNT ON NATIONAL HURRICANE CENTER'S WATCHFUL EYE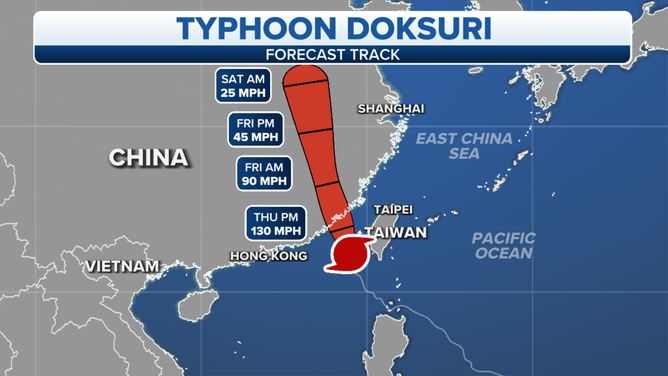 On the typhoon's tail, the Joint Typhoon Warning Center is tracking Tropical Depression Six. It is expected to reach typhoon status on Saturday and trek north of both the Philippines and Taiwan.