Lisa downgraded to tropical depression over Mexico after landfall in Belize as Category 1 hurricane
Lisa made landfall in Belize as a Category 1 hurricane on Wednesday and brought threats of flooding rainfall, life-threatening storm surge and high winds.
Lisa weakened to a tropical depression as it moved  inland across southeastern Mexico after making landfall as a Category 1 hurricane with 85-mph winds near Belize City on Wednesday.
Flash flooding will be the main threat as Lisa continues to pull away from Belize and northern Guatemala and move over southeastern Mexico.
Lisa was the first hurricane to make landfall in Belize during the month of November since 1942.
"This was a substantial Category 1 hurricane, bringing storm surge, heavy rain and, of course, some winds," FOX Weather meteorologist Britta Merwin said.
CENTRAL AMERICA IS PRONE TO HURRICANE DISASTERS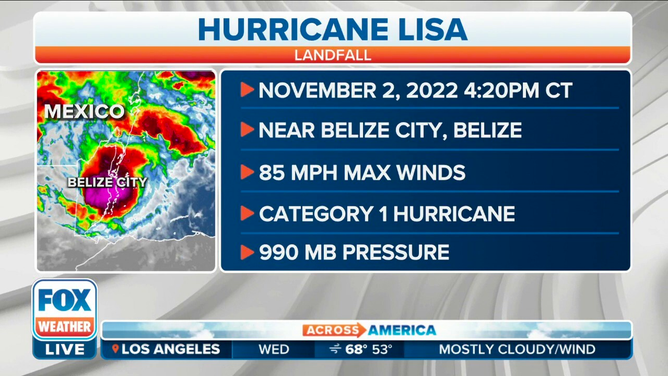 Where is Lisa?
As of Friday, Tropical Depression Lisa was located about 145 miles west of Ciudad del Carmen, Mexico, and was slowly making its way westward about 10 mph. 
Due to the rugged terrain and land interaction with Central America and southeastern Mexico, Lisa continues to degrade slowly and is only packing maximum sustained winds of 30 mph, which is why it was downgraded to a tropical depression. A slight strengthening is possible during the next 24 hours. 
TROPICAL DEPRESSION VS. TROPICAL STORM VS. HURRICANE: WHAT'S THE DIFFERENCE?
Tracking Lisa.
(FOX Weather)
---
What is the forecast for Tropical Depression Lisa?
The FOX Forecast Center expects that Lisa will continue to weaken as it tracks northwestward and moves into the Bay of Campeche.
The good news is that Lisa is not expected to re-strengthen while it emerges over water, and a cold front sweeping into the Gulf of Mexico will keep Lisa suppressed to the south until it falls apart by early Monday.
Therefore, Lisa will not pose any threat to the U.S. Gulf Coast.
WHEN IS THE TYPICAL LAST HURRICANE STRIKE ON THE U.S. COAST?
The projected path and intensity of Lisa.
(FOX Weather)
---
What are the expected impacts from Tropical Depression Lisa?
According to the FOX Forecast Center, between 4 and 6 inches of rain is expected across the Mexican states of Tabasco, northwestern Chiapas and far eastern Veracruz. Localized areas could see up to 10 inches of rainfall.
The rain gradually tapered off across Belize, northern Guatemala and Mexico's Yucatán Peninsula on Thursday. Additional rainfall totals of 1 to 2 inches are possible before it ends early Friday.
This heavy rainfall could lead to flash flooding along the path of Lisa, particularly in portions of southeastern Mexico.
WHERE TROPICAL STORMS AND HURRICANES TYPICALLY OCCUR DURING EACH MONTH OF ATLANTIC HURRICANE SEASON
The FOX Weather FutureTrack for Lisa.
(FOX Weather)
---
2022 Atlantic hurricane season running close to average
Lisa was the 12th named storm and the sixth hurricane of the 2022 Atlantic hurricane season. Martin became the season's 13th storm on Tuesday in the central North Atlantic and later became the seventh hurricane on Wednesday.
This was only the third time since 1900 that there had been two November hurricanes simultaneously in the Atlantic. The previous years were 1932 and 2001.
An average season in the Atlantic features 14 named storms and seven hurricanes, so the season is running very close to average as of early November.
The Atlantic hurricane season doesn't officially end until Nov. 30, which means there's still some time for an additional storm to develop. In fact, two areas in the western Atlantic Ocean are currently being monitored for possible tropical development over the next several days.