Tropical Storm Howard expected to dissipate off Mexican coast by Thursday
The Eastern Pacific has been unusually busy, producing more tropical cyclones than average during the first 3 months of the season.
Howard intensified into a Category 1 hurricane on Monday, making it the seventh hurricane in the Eastern Pacific this season, but it weakened back to a tropical storm late Tuesday as it moved over cooler waters, and additional weakening is expected in the coming days.
As of Wednesday morning, Howard was a 60-mph tropical storm more than 600 miles west of the southern tip of Mexico's Baja California Peninsula. It was moving west-northwestward at about 10 mph.
HOW TO WATCH FOX WEATHER ON TV
The projected path and intensity of Howard.
(FOX Weather)
---
Howard will move toward the west or west-northwest over the next couple of days, steered by a ridge of high pressure over North America.
Direct impacts will remain well off the coast of Mexico, and Howard will likely only threaten marine interests.
However, beachgoers will likely experience increased swells and rough surf from Manzanillo through southern parts of the Baja California Peninsula for much of this week.
HERE'S HOW TO PREPARE FOR HURRICANE SEASON NOW
The current status of Howard.
(FOX Weather)
---
Howard will continue weakening as it moves over cooler waters and is forecast to dissipate to a remnant area of low pressure by early Thursday. 
Elsewhere in the Pacific, the National Hurricane Center is monitoring an area of disturbed weather several hundred miles south of Hawaii.
The National Hurricane Center is monitoring the circled area for the development of a tropical depression this week.
(FOX Weather)
---
Environmental conditions are only marginally conducive for tropical development, but the system could become a tropical depression later this week as it moves safely south of the Hawaiian Islands.
No impacts are expected other than the chance of a minor increase in swells late in the week.
The Eastern Pacific has been unusually busy, producing more tropical cyclones than average during the first three months of the season.
Including Howard, nine storms have reached tropical storm status, and seven have strengthened into hurricanes.
WHAT'S THE DIFFERENCE BETWEEN A TROPICAL DEPRESSION, TROPICAL STORM AND HURRICANE?
During an average year, the Eastern Pacific only sees around four named storms and one hurricane during the same period.
Before the hurricane season started, the National Oceanic and Atmospheric Administration believed the Eastern Pacific was likely heading for a below-average season due to La Niña.
La Niña typically leads to cooler water temperatures and hostile conditions for tropical cyclone development in the Eastern Pacific.
During the past few months, pockets of warmer water existed, and wind shear – the change in wind speed and/or direction with height – and dry air were not as significant of hindrances for tropical cyclone development.
The Eastern Pacific hurricane season runs through Nov. 30.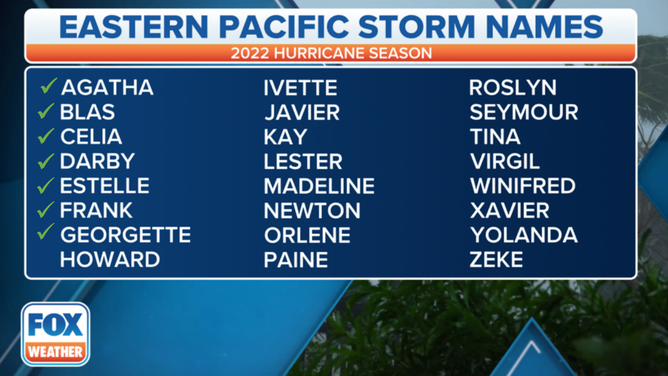 CLICK HERE TO GET THE FOX WEATHER UPDATE PODCAST
FOX Weather Hurricane Specialist Bryan Norcross has a podcast, Tracking the Tropics with Bryan Norcross, available now on FOX News Audio. You can get it on your device by clicking here.