Third Alberta Clipper in 4 days brings more rain, snow from Great Lakes to Northeast
This latest Alberta Clipper in the parade is expected to be more wet than white
The third Alberta Clipper since Sunday will sweep across the Great Lakes and Northeast with more rain and snow Wednesday into Thursday.
Alberta Clippers are fast-moving weather systems that receive their name from where they originate in western Canada. They sweep across the northern tier of the United States rather frequently during the late-fall and winter months and provide quick bursts of snowfall.
The first clipper system raced through the Great Lakes and Northeast Sunday into early Monday, dropping accumulating snow from Michigan to Pennsylvania to Maine. Flurries were reported as far south as New Jersey. Then, a second clipper dove into the Great Lakes late Monday and swept through the Northeast on Tuesday, with dustings of snow reported in many areas.
SNOW PROVIDES WINTRY BACKDROP IN GREAT LAKES, NORTHEAST AS ALBERTA CLIPPER SWEEPS ACROSS REGION
However, this latest Alberta Clipper in the parade is expected to be more wet than white as warmer-than-average temperatures engulf most of the United States.
On Wednesday, some light rain will slide across the Ohio Valley. The rain will then spread into the Northeast Wednesday night.
The higher terrain of the Poconos, Catskills and Adirondacks might see a wintry mix of snow, sleet and freezing rain, but any snow and ice accumulations will be minor.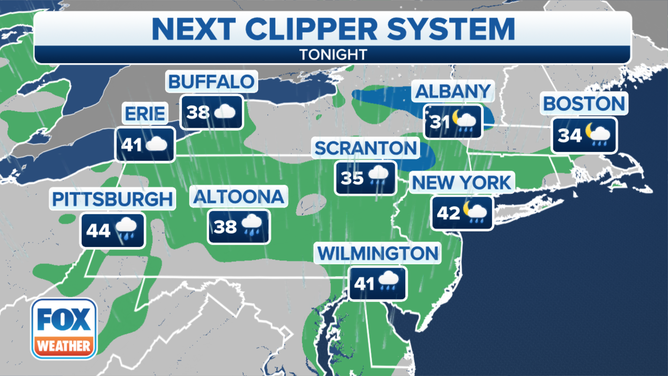 Additional rain will develop over much of the Northeast on Thursday as a cold front approaches the region.
Temperatures will be well above average out ahead of the front, so there are no concerns for wintry precipitation in most of the region. The only exception is far northern New England along the U.S.-Canada border, where periods of snow are expected on Thursday.
WINTER COMES IN LIKE A BLOWTORCH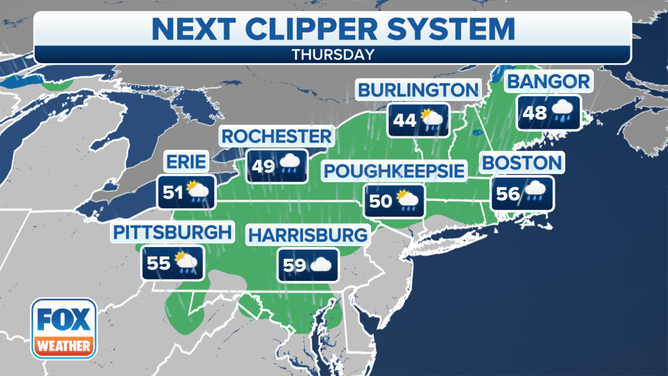 Thursday night, lake-effect snow is expected to develop downwind of lakes Erie and Ontario in western and central New York as colder air arrives behind the cold front. Snow may also continue in far northern New England. Any lingering snow showers will come to an end by Friday afternoon.
The higher terrain of New York's Adirondacks, Vermont's Green Mountains and New Hampshire's White Mountains might pick up 3 to 6 inches of snow Thursday into Friday, while 1 to 3 inches is expected at the lower elevations from western New York to northern Maine.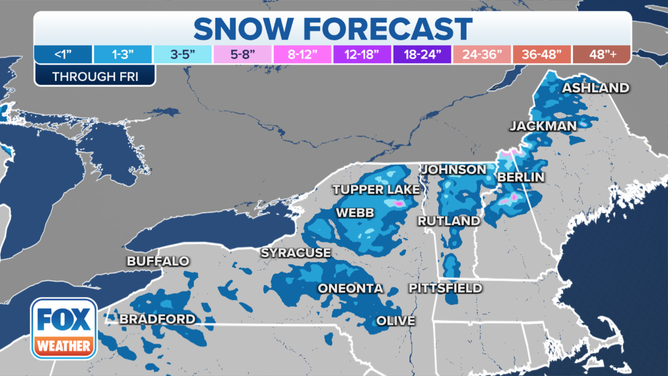 We are tracking the possibility of a fourth Alberta Clipper Friday into Saturday that could bring another round of light snow or rain to the Great Lakes and Northeast. Any snow accumulations with that system would likely be minor.