New York City snow flurries sets holiday mood ahead of Rockefeller Christmas Tree lighting
Christmas tree lighting happens Wednesday night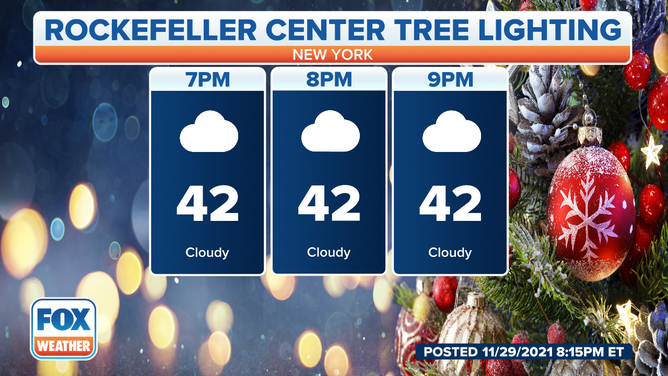 NEW YORK CITY – The first snowflakes of the season fell in New York City ahead of the Rockefeller Center Christmas Tree lighting, making it feel and look like Christmas.
The National Weather Service in New York reports the first snow flurries fell Sunday in the Tri-State area. Most areas only saw a trace of snow which is too little to measure. According to the NWS, Newark, New Jersey, was the only area that earned a measurement of .1 inches.
Flurries could be seen falling in Midtown Manhattan and parts of Queens Monday afternoon just a few blocks from where the Rockefeller Center Christmas Tree stands waiting to be lit. 
The nearly 85-year-old Norway Spruce arrived in Manhattan last week escorted by New York police officers. This year's Rockefeller tree comes from Elkton, Maryland, a first for the state.
On Wednesday evening, the official tree lighting happens. More than 50,000 LED lights will shine bright for the first time. After the initial tree lighting, the tree will be lit daily from 6 a.m. to 12 a.m. and for 24-hours on Christmas Day. 
LEARN: How to set up events in your plan tab on the FOX Weather App
Anyone attending the tree lighting in person Wednesday should dress warmly. The ceremony starts at 8 p.m., but the sun goes down at 4:36 p.m. as some of the earliest sunsets of the year happen this week.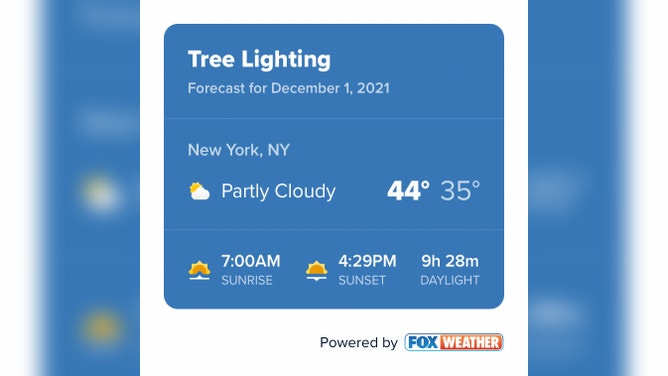 According to the FOX Weather app, the high temperature is 44 degrees with a low of 35 on Wednesday. It will be around 42 degrees for the tree lighting event.
Using the plan feature in the FOX Weather App, you can add dates up to a year away to get the forecast. 
More snow could be on the way for the Tri-State area as sweeping weather systems known as Alberta Clippers will be moving over the Great Lakes and Northeast this week.