Parade of Alberta Clippers to spread more snow across Great Lakes, Northeast this week
The highest snow amounts will be downwind of the Great Lakes due to lake-effect enhancement
A parade of Alberta Clippers will sweep across the Great Lakes and Northeast with additional rounds of snow this week.
Alberta Clippers are fast-moving weather systems that receive their name from where they originate in western Canada. They sweep across the northern tier of the United States rather frequently during the late-fall and winter months and provide quick bursts of snowfall.
The first clipper system raced through the Great Lakes and Northeast on Sunday, dropping accumulating snow from Michigan to Pennsylvania to Maine. Flurries were reported as far south as New Jersey.
A second Alberta Clipper will sweep across the Great Lakes and Northeast Monday into Tuesday, followed by a third that will develop late Tuesday and make its way through those regions Wednesday into Thursday.
WHEN CAN YOU EXPECT THE FIRST SNOW OF THE SEASON?
Snow amounts are expected to be light in most areas with these next two clipper systems, but locations downwind of the Great Lakes might receive higher amounts due to lake-effect enhancement.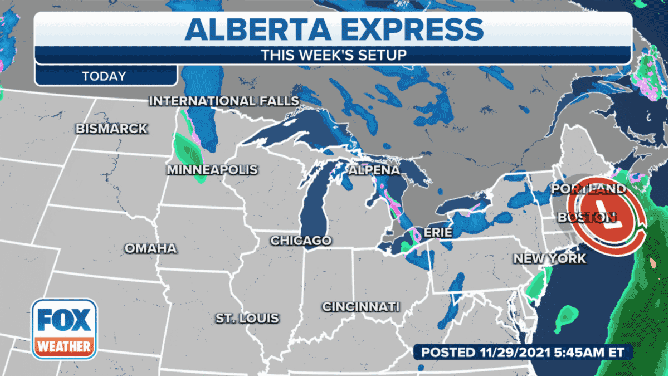 In general, 1 to 3 inches of snow is forecast through Tuesday from northern Minnesota and northern Wisconsin to Michigan, northern Ohio, eastern West Virginia, western and northern Pennsylvania, upstate New York and the higher terrain of northern New England.
However, lake-effect enhancement will result in 3-plus-inch totals in localized portions of northeastern Wisconsin, western Michigan, northwestern Pennsylvania and east of Lake Ontario in central New York.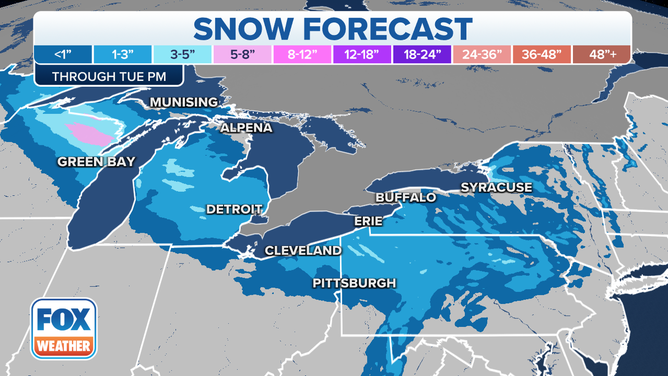 The third Alberta Clipper will produce additional areas of light snow across these same regions Wednesday into Thursday.
Similarly, the highest snow amounts with that system will likely be found downwind of the Great Lakes, while lighter accumulations are expected to blanket the rest of the Great Lakes and interior sections of the Northeast.