What is an Alberta Clipper?
It can also be called a Saskatchewan Screamer or Manitoba Mauler
An Alberta Clipper is a sweeping weather system from Canada that can bring accumulating snow to the Northeast, Great Lakes and Midwest.
Alberta Clippers are fast-moving low-pressure systems that receive their name from where they originate in western Canada. They sweep across the northern tier of the United States rather frequently during the late-fall and winter months and provide quick bursts of snowfall and strong winds.
These systems develop when moisture from the Pacific Ocean is directed toward the mountains of Canada's Alberta and British Columbia provinces. This moisture-mountain interaction causes an area of low pressure to form over this region.
When the weather pattern features a southward plunge of the jet stream east of the Rockies in the winter, it's relatively common for a clipper system to develop in this portion of western Canada.
THESE ARE THE 7 SNOWIEST CITIES IN THE U.S.
Upper-level disturbances within that jet stream dip will dive down from Canada across the Midwest and shove the Alberta Clipper rapidly eastward with snow, gusty winds and falling temperatures along its path.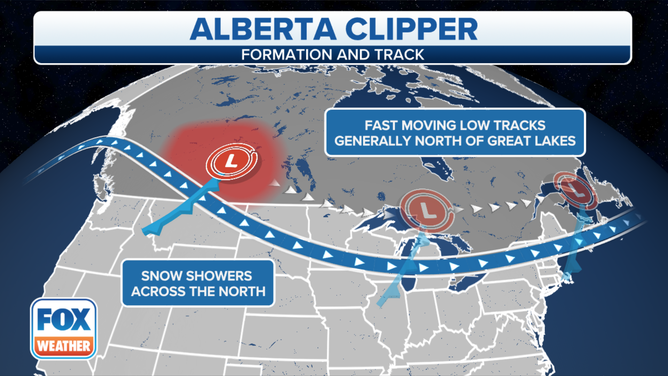 While most clipper systems are called Alberta Clippers because of their origination in that province, they can also develop over Saskatchewan and Manitoba, to the east of Alberta.
Those that call Saskatchewan home are referred to as Saskatchewan Screamers, while clippers that can trace their origins back to Manitoba are called Manitoba Maulers.
Besides their alliterative nature, the terms "Screamer" and "Mauler" are also meant to refer to the fast movement of clipper systems because they are steered by the jet stream's strong winds aloft.
Alberta Clippers don't typically organize into major winter storms, though they can produce localized areas of heavier snow and strong winds, resulting in poor visibility and hazardous travel conditions for motorists.
The cold air mass ushered in by a clipper system often causes lake-effect snow to develop over the Great Lakes snowbelts, so the highest snowfall accumulations are usually found downwind of the lakes, with lighter snow totals expected elsewhere along the clipper's path.