102 million Americans to depend on life-saving weather alerts from this office in Oklahoma
The Storm Prediction Center tracks severe weather threats across 48 states
NORMAN, Okla. - Forecasters will be keeping a close eye on another multiday severe weather outbreak this week, and an office filled with experienced meteorologists in Norman, Oklahoma, will be responsible for providing more than 102 million Americans with life-saving weather alerts.
HOW TO WATCH FOX WEATHER ON TV
The current threat comes as a sharp southward dip in the jet stream will move out of the Rockies and into the central United States.
That will then cause an area of low pressure to gain strength as it pulls in the warm, humid air from the Gulf of Mexico.
HOW ARE TORNADOES RATED? THE ENHANCED FUJITA SCALE EXPLAINED

Some severe weather is expected on Monday, but the conditions will be more favorable for strong tornadoes, large hail and strong winds on Tuesday and Wednesday.
FOX Weather multimedia journalist Hunter Davis was in Norman to speak with forecasters about the current threat for millions of Americans through the middle of the week.
NOAA's Storm Prediction Center monitors severe weather in 48 states across the country and is responsible for informing the public of severe weather watches or warnings.
To prepare for severe weather and to gather more information to be used in forecasts, the National Weather Service launches two weather balloons every day.
ACCURATE FORECASTS WOULD BE ALMOST IMPOSSIBLE WITHOUT WEATHER BALLOONS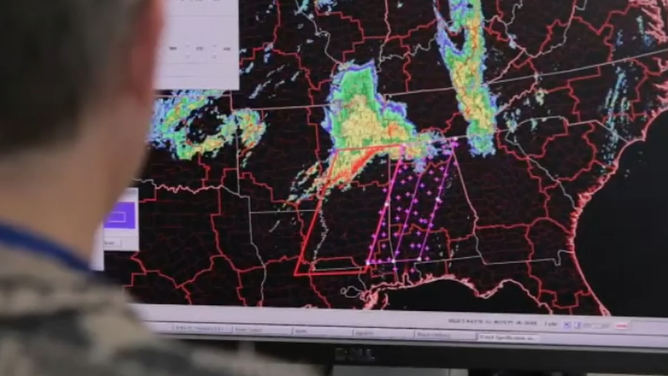 "We'll be launching (a balloon) not only for the potential of severe weather here but interestingly, all the weather service offices in the southern United States are launching special weather balloons the next two days in support of a big severe weather research project that's going on in the Southeastern United States," said National Weather Service warning coordination meteorologist Rick Smith.
That research project, Smith said, will study tornadoes in that region. 
"So, we're supporting not only our local forecasting efforts but also a special project that researchers here from the National Severe Storms Laboratory are using to learn more about tornadoes and how to better forecast them."
Weather balloons are an important piece of equipment for not only the SPC but for National Weather Service offices across the country.
But there's a problem.  The majority of NWS offices use hydrogen to launch their weather balloons, but offices that still rely on helium for their balloons hit a snag.
There's a helium shortage that has forced some offices to reduce launches from twice a day to only once.
"Of course, we would like to have the data twice a day," said Felecia Bowser, Meteorologist-in-Charge for the National Weather Service in Tallahassee. 
But that won't affect forecasting.
"How that will affect accuracy? Not completely," she said. "And that has a lot to do with the fact that we have very skilled meteorologists at the office. We have the experience, and we have the skill set. We will still be able to provide the up-to-date weather information that's needed to protect the citizens of our area."
In some situations, such as the multiday severe weather outbreak, NWS offices will be able to launch their balloons twice a day.
And the Storm Prediction Center doesn't only monitor severe weather.
The office is also responsible for monitoring winter weather conditions and fire weather conditions across the country and will issue appropriate watches, warnings and advisories if any are needed.
In fact, the SPC on Monday issued several Fire Weather Warnings across the Plains and Southwest as critical fire weather conditions are expected to continue through at least Tuesday.