I-95 corridor under threat for storms on Thursday
Isolated severe thunderstorms might linger from parts of New England and the mid-Atlantic to the Southeast
The final day of a low pressure's trek across the country will conclude with showers and thunderstorms along the I-95 corridor on Thursday.
Some storms could be strong to severe with gusty winds and hail being the main concerns, but an isolated tornado cannot be ruled out.
The outbreak kicked into high gear late Tuesday when more than 200 reports of severe weather were tallied by the National Weather Service.
A tornado that touched down southwest of Salado, Texas, Tuesday evening reportedly caused substantial damage and injured at least 23 people. That same storm in Central Texas also produced gigantic hail, with one hailstone measuring about 5.5 inches in diameter – larger than a grapefruit.
HAIL LARGER THAN GRAPEFRUITS FALLS OVER CENTRAL TEXAS

Storms caused damage throughout the mid-South on Wednesday and were blamed for the death of a woman in Arkansas. 
HERE'S WHERE TORNADOES ARE MOST LIKELY TO OCCUR IN EACH MONTH
The town of Mayfield, Kentucky, which saw significant damage during a tornado outbreak in December, was also put under a Tornado Warning during the late afternoon. Damage was not reported to be widespread but hundreds in the storm-weary town took shelter ahead of the storm.
Three-hour radar loop of the United States.
(FOX Weather)
---
Here's what to expect on Thursday:
Thursday-Thursday night
The severe weather threat will diminish on Thursday as the low-pressure system responsible for this outbreak reaches the East Coast.
However, isolated severe thunderstorms might linger from parts of New England and the mid-Atlantic to the Southeast. Damaging wind gusts are the main concern, though hail is also possible in some areas.
HOW TO WATCH FOX WEATHER ON TV
Severe storm threat on Thursday, April 14, 2022.
(FOX Weather)
---
The Storm Prediction Center has highlighted the area from the mid-Atlantic to New England as possibly seeing the greatest likelihood of severe storms.
Meteorologists expect plenty moisture to be in place and enough instability for the storms to have the chance to briefly turn severe.
Cities such as Philadelphia; Trenton, New Jersey; New York and Hartford, Connecticut, are in the enhanced zone for seeing storms.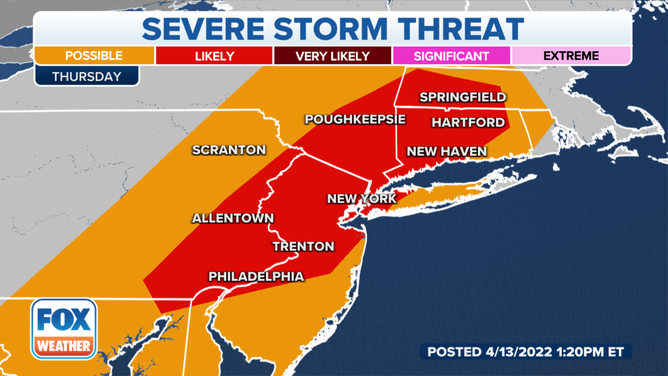 STAY OR GO? TRUSTING YOUR GUT CAN BE LIFESAVING WHEN MULTIPLE WEATHER WARNINGS ARE ISSUED