Still reeling from severe weather power outages Midwest faces scorching temperatures
Heat strains the power grid amid power outage restoration efforts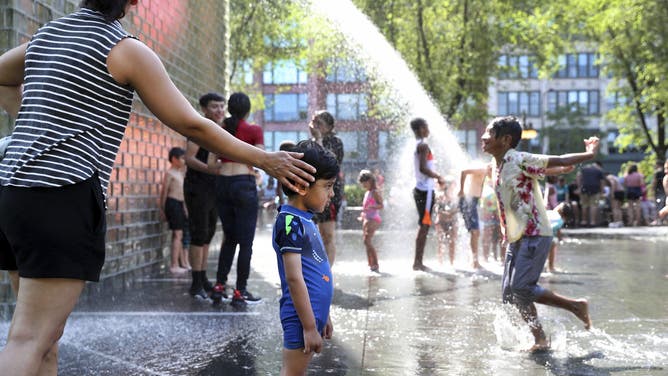 Areas of the Midwest, Ohio Valley and Southeast have recently faced severe weather causing power outages. At the same time, a near-record heat has settled over communities still recovering from wind and tornado damages. 
On Monday, a derecho left more than 500,000 people in the Midwest and Ohio Valley without power. The severe wind event brought wind gusts stronger than 58 mph across more than 340 miles, as well as large hail and tornadoes. 
The recent string of severe weather combined with record-high temperatures expected across parts of the country on Friday has caused increasing power outages due to strain on the power grid. Some power companies have reported record electricity demand during this week's heat wave. 
HOW TO WATCH FOX WEATHER ON TV
Indiana and Ohio
The widespread wind event knocked out power to parts of Indiana as dangerous gusts moved over the Mid-Atlantic.
A 98-mph wind gust was reported at Fort Wayne International Airport in Indiana during the event. The derecho knocked down trees and utility lines in Waynedale, Indiana.
Heading into the weekend, more than 40,000 are without power in southern Indiana. Most outages were among Duke Energy, CenterPoint Energy Indiana and WIN Energy REMC customers.
The heat index was 90 degrees in Indianapolis on Friday. A front will move in this weekend, cooling temperatures back to the low-80s.
In Ohio, more than 43,000 customers were without power by Friday. However, most outages are now in central and eastern parts of the state due to being overloaded or repair work. 
According to Duke Energy, the derecho has caused the most power outages in the Cincinnati region since 2012. More than 166,000 customers were without power during the peak of the storm Monday. 
"This is the most significant outage event to impact Duke Energy's Cincinnati and Northern Kentucky service areas in over a decade," Duke Energy incident commander Anthony Brown said in a statement.
American Electric Power (AEP) Ohio customers make up less than half of the current outages, according to Poweroutage.us. 
SOME PARTS OF US SET POWER-DEMAND RECORDS DURING THIS WEEK'S HEAT WAVE
AEP Ohio said 2,500 workers have been rebuilding the electrical system after trees toppled transmission towers and left conductors pinned under trees. 
After the storm-related outages, AEP said it disconnected some customers in the Columbus area to prevent more widespread damage.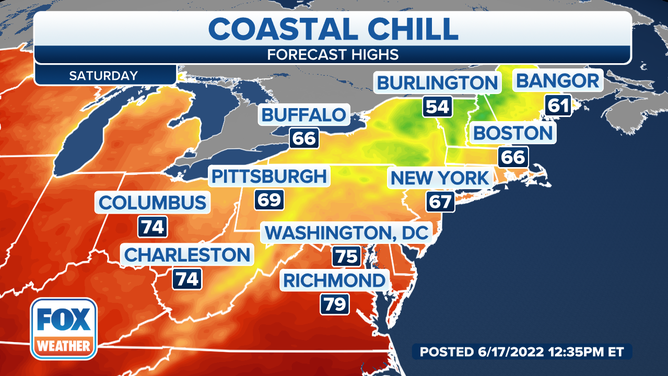 On Friday, the high in Columbus was 84 degrees, a 4-degree drop from earlier in the week when highs have been closer to 90. 
There will be some relief for Ohio this weekend, with temperatures dropping back into the mid-70s by Saturday. 

Illinois and Missouri
Early on Friday, 60,000 customers in Illinois were without power Friday, according to Poweroutage.us. Most of those outages are in the southern part of the state. About a quarter of those outages were Ameren Corp. customers. 
Ameren Illinois activated its Emergency Operations Center Friday morning to assess damages caused by severe weather throughout southern and central Illinois. 
Ameren Corp. provides natural gas and electricity to parts of Illinois and Missouri, which are also experiencing thousands of outages following severe weather. 
SEARING TEMPS IN STORE FOR MILLIONS AS FATHER'S DAY WEEKEND COMES IN HOT OFF GRILL
Over the last week, Ameren Missouri reminded customers in the St. Louis region to conserve energy with near triple-digit temperatures forecast.
Ameren teams are also working across Missouri to restore service to areas where severe weather overnight into Friday knocked out power.
More than 30,000 customers are without power Friday amid sweltering temperatures. About half of those are Ameren customers. 
On Friday, St. Louis was forecast to have a heat index of 99 with a temperature of 94 degrees. 
Wisconsin
Parts of Wisconsin have seen a string of severe weather this week and high temperatures. 
WISCONSIN'S WILD WEDNESDAY: 7 VIDEOS OF THE STORMS' FURY
On Wednesday, wild weather and tornadoes swept the state, knocking out power to nearly 160,000 WPS and We Energies customers. According to the utility providers, communities around Green Bay and the Fox Valley were hardest hit by the storms. WPS and We Energies crews have restored power to over half of those customers by the weekend.
The National Weather Service reported tree damage and downed power lines across Monroe County. A tornado is believed to have touched down in Tomah. Wind damage was reported across Langlade, Marathon, Portage and Waushara counties.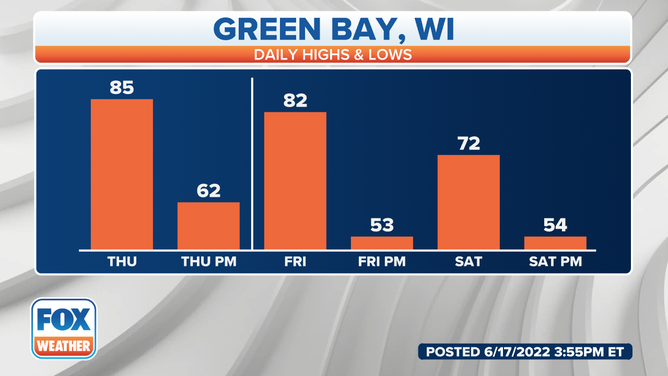 CLICK HERE TO GET THE FOX WEATHER UPDATE PODCAST
NWS Green Bay teams had been surveying the damage and have confirmed at least three tornadoes from Wednesday's severe weather.
On Thursday as cleanup was underway across Wisconsin, the temperature reached 85 degrees. Cooler temperatures will provide some relief through this weekend. 
Be sure to download the FOX Weather app to track any storms in your area and receive potentially life-saving weather alerts issued by the National Weather Service. The free FOX Weather livestream is also available 24/7 on the website and app and on your favorite streaming platform. The FOX Weather Update podcast also provides weather information for the entire country.