Heat Alerts in effect for millions across the northern tier
Heat Alerts are in effect across the Plains, upper Midwest
The heat and humidity will continue to fry millions in the northern Plains and Midwest as we start the work week. 
Nearly 100 record-high temperatures have already been shattered this past week, some over a century old, and additional records are expected to fall as a building heat dome slowly pushes east. 
Heat alerts are in effect in the Plains and upper Midwest on Sunday.
(FOX Weather)
---
The stifling heat in the Plains and upper Midwest has led the National Weather Service to issue heat alerts for millions of Americans.
Heat Advisories extend from parts of Minnestota, Nebraska and the Dakotas.
However, Excessive Heat Warnings have also been issued, including cities like Grand Forks and Fargo in North Dakota, as well as the Minneapolis-St. Paul area.
The National Weather Service says dangerous heat conditions with heat index values up to 106 degrees are expected Monday.
WHAT IS THE HEAT INDEX AND WHY IS IT IMPORTANT TO YOUR HEALTH?
High temperatures on Monday, June 20.
(FOX Weather)
---
The hot temperatures are also expected to break some records.
Most of the records could fall in Minnesota, including Minneapolis.
SIZZLING HEAT KILLS 2,000 CATTLE IN SOUTHWESTERN KANSAS
Record high temperatures could be broken on Monday, June 20.
(FOX Weather)
---
Duluth, near the Canadian border, will reach about 91 degrees, breaking its old record.
HOW TO TELL THE DIFFERENCE BETWEEN HEAT EXHAUSTION AND HEATSTROKE
Heat precautions
Extreme heat and humidity significantly increase the potential for heat-related illnesses, particularly for those working or participating in outdoor activities. The best time to be outdoors would be early in the morning or later in the evening.
HOW TO WATCH FOX WEATHER ON TV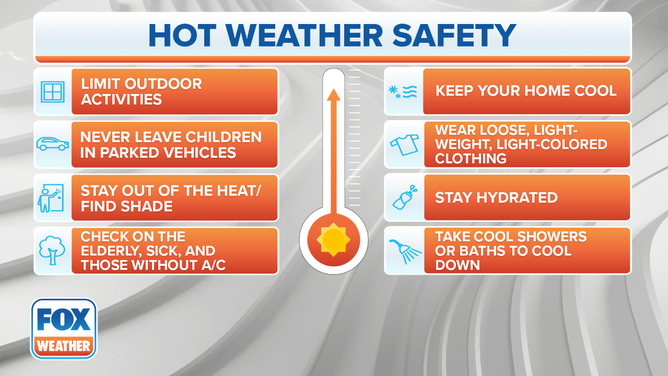 If you need to go outdoors during the day, wear loose, lightweight and light-colored clothing and drink plenty of fluids.
WHEN SECONDS MATTER: CHILDREN EXPERIENCE HEATSTROKE SYMPTOMS WITHIN MINUTES OF BEING IN A HOT CAR
Always "look before you lock" to ensure you have not left any children or pets inside a car. Temperatures inside a locked vehicle with the windows rolled up can be deadly.
While fewer than 1,000 children have died over the past 20 years from heatstroke after being left in cars, medical experts say these deaths are entirely avoidable. 
CLICK HERE TO GET THE FOX WEATHER UPDATE PODCAST
Track the temperatures in your area with the FOX Weather app. The free FOX Weather livestream is also available 24/7 on the website and app and on your favorite streaming platform. The FOX Weather Update podcast also provides weather information for the entire country.