Sizzling heat kills 2,000 cattle in southwestern Kansas
Heat stress is caused in cattle when you combine high temperatures and humidity, no wind, and warm temperatures at night
ULYSSES, Kan. – The dangerous and relentless heat wave gripping a quarter of the country right now has left thousands of cattle dead in the Midwest.
The Kansas Department of Health and Environment told FOX Weather that they are aware of at least 2,000 cattle deaths that have occurred in the southwest part of the state. 
"This number is representative of the facilities that have contacted our agency to assist with disposal," KDHE Communications Director Matt Lara said.
HOW TO WATCH FOX WEATHER ON TV
Heat stress is caused in cattle when you combine high temperatures and humidity, no wind, and warm temperatures at night.
"That's why you would see the majority of feed yards located in the western region of the state because normally it's a more arid part of the state," said Scarlett Hagins, vice president of communications for the Kansas Livestock Association.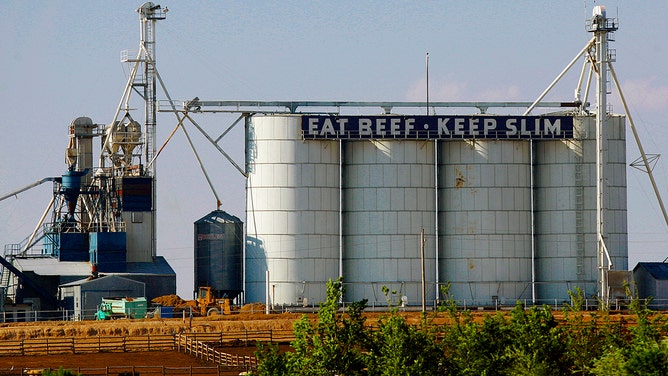 Cattle can acclimate to anything given time, but recently there was a sudden change in weather almost overnight. 
"They saw a 10- to 14-degree increase in temperature last weekend from that Friday into Saturday," Hagins said. "They had been in the 80s and 90s and then all of a sudden it was 107, 108 and the humidity was high, which is not normal for that region of the state."
There was also no wind at night, and temperatures weren't dropping below 70 degrees. It's a crucial time when cattle dissipate their heat load.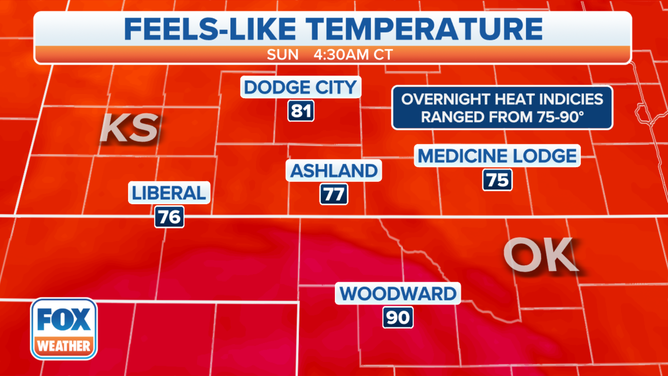 "And if they can't dissipate that at night, then it continues to accumulate into the next day and the next day. And that leads to heat stress," Hagins said.
HOW THE WEATHER YOU'RE ACCUSTOMED TO AFFECTS NATIONAL WEATHER SERVICE HEAT WARNINGS, ADVISORIES
Heat stress is a concern this time of year for cattle producers, and farmers have protocols in place to lessen the stress. That includes everything from providing extra water, to altering feeding schedules and rations. Some have even implemented sprinkler systems to make sure that their cattle are cool.
"This was an unfortunate and unique weather event. And cattle producers work really hard to mitigate any kind of situation like this. They want to make sure that their animals are comfortable, safe and healthy. And they work to do that every day," Hagins said.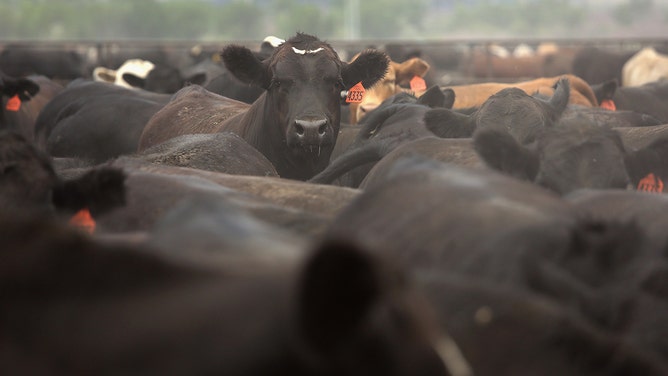 Nightly heat bursts top 103 degrees
Extremely high cattle stress was reported last weekend in southwest Kansas, according to the Kansas Mesonet, a series of weather stations across the state.
Heat bursts were reported in Ashland where temperatures reached 103 degrees at 10:30 p.m. on June 12. The station was down to 90 degrees right before the heat burst occurred, the mesonet reports.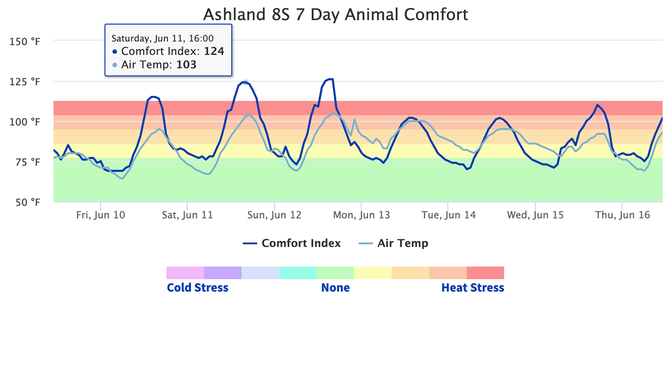 This rare phenomenon is associated with dying thunderstorms. As a thunderstorm falls apart, the air rushes out of it and descends toward the ground, drying out and warming up by compression as it does so.
Eventually, that hot, dry air hits the ground as a blast of gusty winds, sending temperatures soaring to levels you'd expect to find on a hot afternoon.
RARE OKLAHOMA HEAT BURST VAULTS TEMPERATURES TO 90 DEGREES AT SUNRISE
"Basically that combined with the heat and humidity over the previous three, four days was, in my hypothesis, kind of the last straw for those cattle," said Greg Peterson who owns about 1,000 head of cattle on his farm in central Kansas near Salina. "And the reason why it didn't happen to a whole bunch of different feedlots, at least at that volume, was because those heat bursts are very localized."
On the opposite side of the state, Kansas City is expected to hit 98 degrees Monday and Tuesday next week. The last time they hit 100 was in 2018. Another indicator that this prolonged heat shows absolutely no signs of letting up anytime soon.
"I don't know for sure what happened … but we were having some of the most extreme heat and heat changes that we had seen in the last 5, 10, 15 years this week. And so it was very likely that the heat was to blame," Peterson said.
The most cattle Peterson has ever heard about dying at once is maybe 1 or 2% of someone's herd. 
"For a 1,000 herd, we never have more than four or five die in a day. That would be the worst-case scenario," Peterson said.
The state would not detail the exact feedlot in this case, but Peterson said there's a good chance it has 100,000 head.
"It sounds like it's like 2,000 is a lot. But if they had 100,000 head, it's 2%. It's still very sad and very tragic."
Success of Kansas beef cattle industry
More than 45.7 million acres of farm ground are sprawled across the state, however, not all of this land can be used to grow crops. Cattle are the ideal mechanism for efficiently utilizing grasses and plants growing on the 15.5 million acres of Kansas pastureland. 
The beef cattle sector has been and continues to be the single largest sector in the Kansas agriculture industry. Last year, cattle generated $9.85 billion in cash receipts, the state reports.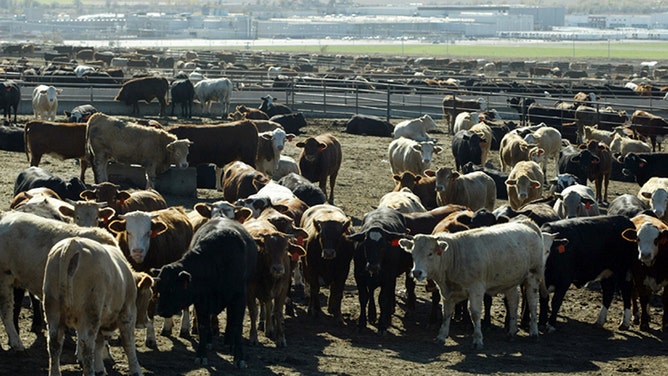 The Sunflower State also ranked second in fed cattle marketed with 5.41 million in 2021 representing 24% of all cattle fed in the United States, according to the Kansas Livestock Association. 
However, the success of the Kansas beef cattle industry has had some significant challenges including weather extremes and natural disasters.
While the death of these animals will be an economic loss for the producer, it is not going to impact the supply chain. Hagins estimates the market-value for the cattle killed was about $4 million.
"Consumers should not see an increase in the price of beef in their meat case because of this unusual and unfortunate event," she said.
CLICK HERE TO GET THE FOX WEATHER UPDATE PODCAST
Track the temperatures in your area with the FOX Weather app. The free FOX Weather livestream is also available 24/7 on the website and app and on your favorite streaming platform. The FOX Weather Update podcast also provides weather information for the entire country.