Rare Oklahoma heat burst vaults temperatures to 90 degrees at sunrise
Temperatures skyrocketed by more than 20 degrees as the sun was coming up
While thunderstorms are more commonly known to produce frequent lightning, heavy rain, high winds, hail and tornadoes, sometimes they can spawn a heat burst.
This rare phenomenon is associated with dying thunderstorms. As a storm runs into a layer of dry air aloft, it will begin to decay due to the loss of moisture previously fueling it.
As a thunderstorm falls apart, the air rushes out of it and descends toward the ground, drying out and warming up by compression as it does so.
Eventually, that hot, dry air hits the ground as a blast of gusty winds, sending temperatures soaring to levels you'd expect to find on a hot afternoon.
HOW TO WATCH FOX WEATHER ON TV
But oftentimes, these heat bursts happen overnight or early in the morning when you'd expect temperatures to be dropping – not rising – such was the case just before sunrise Wednesday morning in Oklahoma.
Beginning around 6 a.m. Central time, the temperature in Lahoma, Oklahoma, began to rise, even though Wednesday's sunrise wasn't for another 30 minutes.
The day's low temperature of 68 degrees was recorded at 5:55 a.m. Over the next 85 minutes, the temperature skyrocketed, peaking at 90 degrees by 7:20 a.m., according to data from the Oklahoma Mesonet weather station in Lahoma.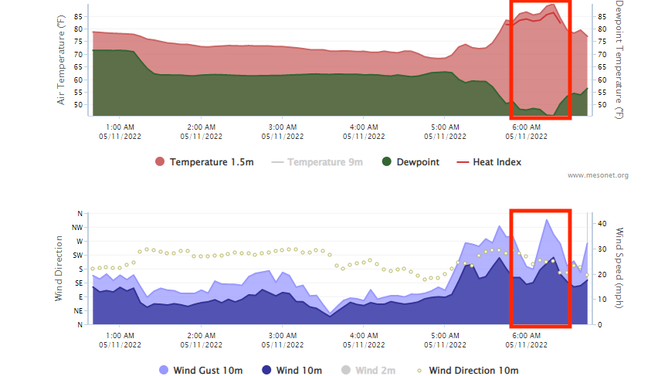 That's an increase of 22 degrees in less than an hour and a half – when the sun was barely above the horizon and, therefore, providing virtually no heating of the ground.
At the same time, the dew point, which measures how much moisture is in the air, plummeted from a humid 63 degrees to a much drier 46 degrees.
WHY DEW POINT IS THE BEST WAY TO CLASSIFY HOW MUCH HUMIDITY IS IN THE AIR
The rise in temperature and drop in humidity were also accompanied by a peak wind gust of 41 mph.
By about 8 a.m., the heat burst was over. The temperature dropped back to 69 degrees by 8:30 a.m. as the dew point climbed back up to 62 degrees.