Wisconsin's wild Wednesday: 7 videos of the storms' fury
Tornado Warnings lit up the weather map Wednesday. FOX Weather takes you to the hardest hit areas.
It was a wild Wednesday across Wisconsin. Tornados swept across the state in the afternoon and evening knocking over trees, destroying barns and bringing traffic to a standstill.
A storm chaser found this monster lurking near Oakdale, Wisconsin in Monroe County. The National Weather Service reported tree damage and downed power lines county wide. A tornado is believed to have touched down in Tomah where storm chaser Scott Peake found fresh damage.
Some pines snapped in half, others were ripped from the ground. Power lines lay across roads obstructing traffic.
THIS IS THE LIFECYCLE OF A TORNADO
Also in Tomah, the twister flattened this barn, like so many others. The sheriff's office surveyed damage well into the night.
Crews quickly got to work clearing the splinters of trees off roads. The Monroe County Sheriff's Office posted that the tornado appears to have traveled 15 miles and caused widespread power outages. At one point almost 140,000 homes and businesses across Wisconsin lost power, according to PowerOutage.us.

"Multiple semis were blown over onto their sides causing I-90 to be shut down for more than three hours," the sheriff posted on Facebook. "Miraculously, no deaths or major injuries have been reported."
City managers of Mauston, Wisconsin urged residents to stay home.
HOW PUBLIC SAFETY OFFICIALS NOTIFY YOU DURING SEVERE WEATHER EMERGENCIES
"While human nature might urge you to go check out the damage, PLEASE STAY HOME! There are trees and power lines down, along with debris littered about," the city posted on Facebook. "Don't risk an injury, and don't inhibit the ability of our first responders to do their job! Stay safe!"
CLICK HERE TO GET THE FOX WEATHER UPDATE PODCAST

Mauston's City Administrator told FOX Weather that he could see debris rotating in the air as he and several evacuees from a trailer park watched from city hall's safety. Law enforcement reported damage at the local hospital.
'YOU COULD HEAR THE ROAR': TORNADOES LEAVE TRAIL OF DAMAGE IN WISCONSIN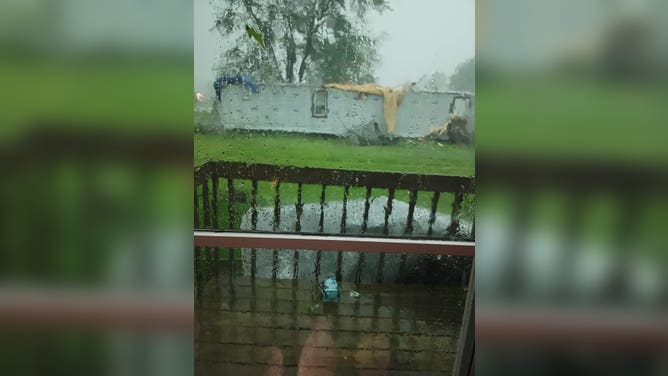 One resident in central Wisconsin was brave enough to take video of the powerful winds, sheets of rain and lightning in his yard. The storm was tornado-warned, so he said he was ready to head to the basement at the first sign of rotation.
Another photographer kept a healthy distance from an impressive storm near Wausau, Wisconsin.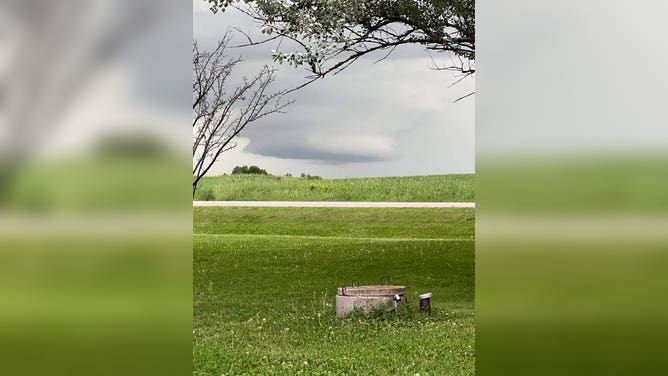 The view from Wausau was even scarier. The Mayor of Wausau tweeted the scene from her backyard. Winds picked up as tornado sirens roared.
Severe storms threaten the Midwest again across northern Missouri and southern Illinois for Thursday. The Ohio Valley through Pennsylvania and western New York may also see hail, flooding rain and strong winds
Thursday's severe storm threat.
(FOX Weather)
---
SEVERE STORMS POSSIBLE FROM PLAINS INTO NORTHEAST ON THURSDAY
Stay ahead of the storms with the most up-to-date forecast for where you live on the app, FOXWeather.com or watch FOX Weather on TV.