3 injured, over 400,000 lose power as severe storms sweep into Virginia, North Carolina
Over 110,000 people were without in Virginia, while over 75,000 were without power in West Virginia and nearly 69,000 in North Carolina, according to Poweroutage.us.
DURHAM, N.C. – Multiple severe thunderstorms injured at least three people and knocked out power to hundreds of thousands as a potent cold front swept out of the Ohio Valley and through Virginia and into the Southeast Friday afternoon.
At the height of the storms Friday evening, over 240,000 people were without power in North Carolina, with another 131,000 people out in Virginia, and over 70,000 in West Virginia, according to Poweroutage.us, as gusts reached 60-70 mph in some areas. The outages were slowly dwindling through the overnight hours.
Nearly 20,000 businesses and homes were still without power late Saturday.
Current Power Outages
(FOX Weather)
---
Dozens of damage reports ensued as a potent cold front pushed the storms into Virginia, North Carolina and southern Maryland. Ocean City, Maryland hit a gust of 70 mph, while Blacksburg, Virginia reported a peak gust of 65 mph and a gust hit 63 mph in Durham, North Carolina, according to the National Weather Service. 
Charleston, West Virginia recoded a gust of 48 mph with reports of trees blown down in the city, including one into a home in the neighboring town of Pinch.  A roof was blown off a home in the town of Mallory.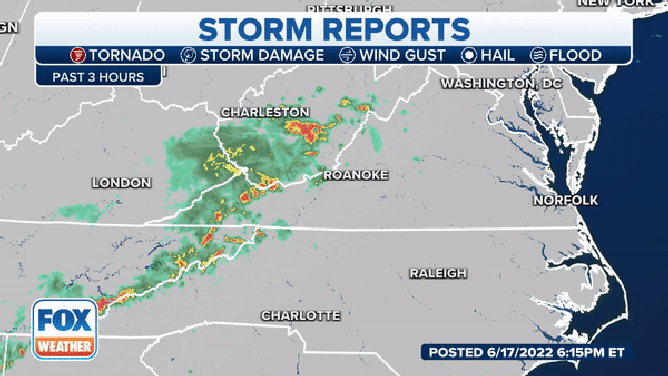 One person was injured when they were struck by a falling tree in Wirtz, Virginia, according to the National Weather Service. The extent of their injury was not given. 
Tree falls were reported in other Virginia towns like Stewartsville, Oakville, Glenora and Willis, to name a few.  A spotter in Lynchburg reported shingles were blown off roofs along with tree damage. A tree fell through the roof of a home in King William. And in Ladysmith, multiple large trees were uprooted and one damaged an outbuilding. A trampoline blew away in Franklin County.
In neighboring North Carolina, a man was struck by lightning while working outside in Nash County, according a National Weather Service storm report. The man was taken to a local hospital, but his condition was not given. 
In Wake County, home to Raleigh, the county sheriff said their office had received several reports of downed trees on the southern end of the county. In nearby Cary, a person was injured when a tree fell onto their car, according to the National Weather Service. Their condition was also not given. 
In Garner, a tree fell onto a retirement community building, according to an NWS storm report. 

Firefighters in Winston-Salem reported multiple trees on houses and power outages. A tree damaged a garage at a home in Durham.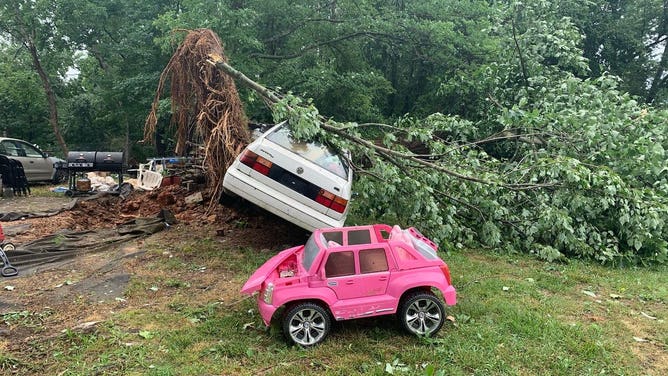 In Mebane, North Carolina, a tree fell into an apartment building, an emergency manager reported to the National Weather Service. Nearby, multiple trees fell near the interchange of Interstates 85 and 40. 
A spotter reported 15 trees were toppled along with numerous power lines in Harmony.  Other spotters reported trees down into multiple homes in Spencer, northeast of Charlotte in Rowan County.
"Widespread damage is being reported across our forecast area," said National Weather Service forecasters in Raleigh.
To the east of Raleigh, Wilson County 911 dispatchers reported receiving 131 separate calls about trees down across their county.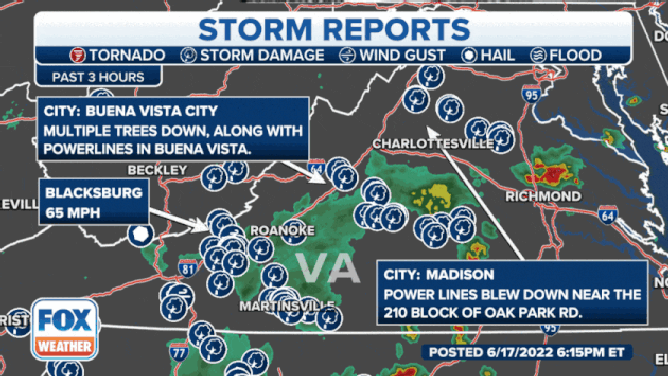 While Virginia and North Carolina took the brunt, severe thunderstorms stretched south into South Carolina and Georgia, knocking down trees and power lines there too. About 40,000 people lost power in South Carolina and 35,000 lost power in Georgia. 
Emergency managers in Walton County, Georgia reported several tree falls, including into at least one home, and onto two cars, but no injuries were reported. Numerous other trees fell across roads and into power lines in the county. Roofs lost shingles and trampolines were blown around in Cordele. 
A gust reached 56 mph at Folly Beach in South Carolina's Charleston County, while a gust hit 49 mph at Shutes Folly near Charleston and 46 mph at Georgia's Tybee Island. 
The storms Friday were the next chapter from Thursday's storms as the cold front tracked through the Ohio Valley, Northeast and mid-Atlantic and triggered numerous severe thunderstorms out ahead of it. 
The National Weather Service received more than 300 reports of damaging winds or wind damage from the Ohio Valley to western and central New York and southward into western and central Pennsylvania, West Virginia, Virginia and the Carolinas.
HOW TO WATCH FOX WEATHER ON TV
Happening now
Below is a three-hour radar loop showing the ongoing showers and thunderstorms.
WE'VE ENTERED AMERICA'S MOST ACTIVE TIME FOR DAMAGING WINDS FROM SEVERE THUNDERSTORMS
Any active Severe Thunderstorm Warnings are indicated in yellow, while any active Tornado Warnings are indicated in red. Additionally, any lightning strikes are depicted by the white lightning-bolt icons.
(FOX Weather)
---
CLICK HERE TO GET THE FOX WEATHER UPDATE PODCAST
Be sure to download the FOX Weather app to track any storms in your area and receive potentially life-saving weather alerts issued by the National Weather Service. The free FOX Weather livestream is also available 24/7 on the website and app and on your favorite streaming platform. The FOX Weather Update podcast also provides weather information for the entire country.