Some parts of US set power-demand records during this week's heat wave
Another, possibly more-intense heat wave is forecast next week
Some parts of the U.S. set new records for electricity demand this week as searing heat sent air-conditioning units across the country whirring.
Temperatures in the upper 90s and lower 100s have been common across the eastern two-thirds of the nation as a powerful high-pressure system remains in place. Combined with increased humidity, and those already hot temperatures feel more like 110 degrees in some places.
Record-high temperatures are expected to be set across parts of the country on Friday, as well.
HOW TO WATCH FOX WEATHER ON YOUR TV
Record heat is expected across parts of the U.S. on June 17, 2022.
(FOX Weather)
---
Record demand
Texas was the first place to set a demand for electricity this week. According to the Electric Reliability Council of Texas, the agency responsible for managing the state's power grid, demand for electricity peaked at 74,917 megawatts Sunday, which broke the previous record that was set in 2019. That newly set record was broken four days later when demand peaked at 75,124 megawatts on Thursday. Projections from ERCOT show Texas could be near record territory again on Friday.
7 THINGS TO KNOW ABOUT HEAT WAVES
People in the Carolinas set a new power demand record this week, as well. According to Duke Energy, customers in North Carolina and South Carolina set a new summertime record for electricity usage of 21,086 megawatts Monday. That shattered the previous record that was set in 2016. It fell just short of the all-time power demand record for the region of 21,620 megawatts set in 2018.
Other major power providers, such as Exelon, Xcel and PSEG, which have at least some of their service area in the path of this week's blazing heat, said they have not hit any records for demand this week.
DIFFERENCE BETWEEN HEATSTROKE AND HEAT EXHAUSTION 
Another heat wave expected
Many of the same electric grids that have been experiencing high demand will likely see a spike once again next week as another heat wave is forecast to move across the country. This one could be more intense than one that baked the U.S. this week.
Forecasters said an upper-level high-pressure system is expected to expand and strengthen, allowing for more well-above-average temperatures to spread across the central and southern U.S.
GET THE LATEST EPISODE OF THE FOX WEATHER UPDATE PODCAST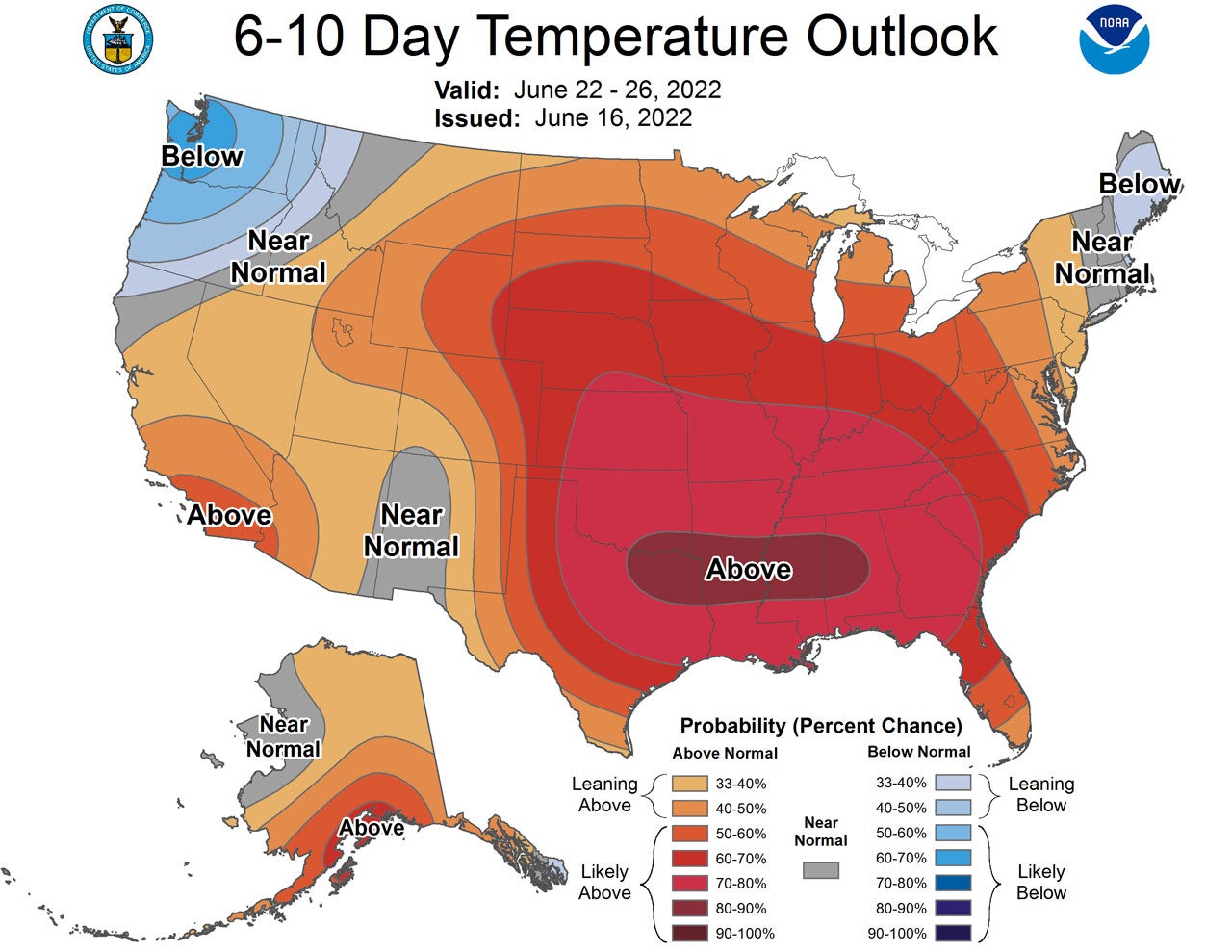 The temperature outlook from the Climate Prediction Center.
(NOAA)
---