Fire threat increases in the Southwest as wildfires continue to scorch the landscape
Dry thunderstorms are a concern in eastern New Mexico
Fire weather conditions in the Southwest will again reach elevated and critical levels on Tuesday with no end in sight to the dry, windy conditions that have persisted across the region for weeks.
This comes as several fires burning in the region have consumed hundreds of thousands of acres, including the Hermits Peak and Calf Canyon Fire, which has been burning for more than a month and is now the largest fire in New Mexico's history.
HOW TO WATCH FOX WEATHER ON TV
Dry thunderstorms are a concern as they produce plenty of lightning, but little precipitation.
(FOX Weather)
---
Elevated fire weather conditions exist across southern Utah, eastern and northern Arizona, central New Mexico, and West Texas, including the El Paso area.
However, the most extreme risk of wildfires will continue to be centered across western New Mexico and the Four Corners. Parts of extreme eastern Arizona also are included in the critical risk area.
Dry thunderstorms are also a concern in eastern New Mexico.
WHY DRY THUNDERSTORMS POSE WILDFIRE, DUST STORM RISKS
Dry thunderstorms are lightning-producing storms that produce little to no rainfall.
Thunderstorms don't need rain to produce lightning, however. Cloud-to-ground lightning can strike the surface and spark a wildfire, especially if the vegetation is dry. Gusty winds associated with the thunderstorm can fan the flames and quickly cause the fire to grow out of control.
MEET THE METEOROLOGISTS WHO HEAD TOWARD THE HEART OF A FIRE
Fire Weather Warnings are in effect across the Southwest.
(FOX Weather)
---
Fire Weather Warnings are in effect from parts of West Texas and into western New Mexico, including the cities of Las Cruces, Truth or Consequences and Albuquerque.
Those alerts also stretch into southwestern Colorado, south-central Utah and extreme southeastern Arizona.
SAVING YOUR WINE ONE BITE AT A TIME: OREGON WINERY USES GOATS TO FEND OFF WILDFIRES
Winds could be strong in parts of New Mexico and Texas on Tuesday.
(FOX Weather)
---
The winds won't be as strong as they have been over the past few days, but they're still expected to gust to between 20 and 30 mph in the Santa Fe, New Mexico area and to between 30 and 40 mph further south in the El Paso area.
Winds are a concern because they will help fires spread quickly if any were to ignite in those areas.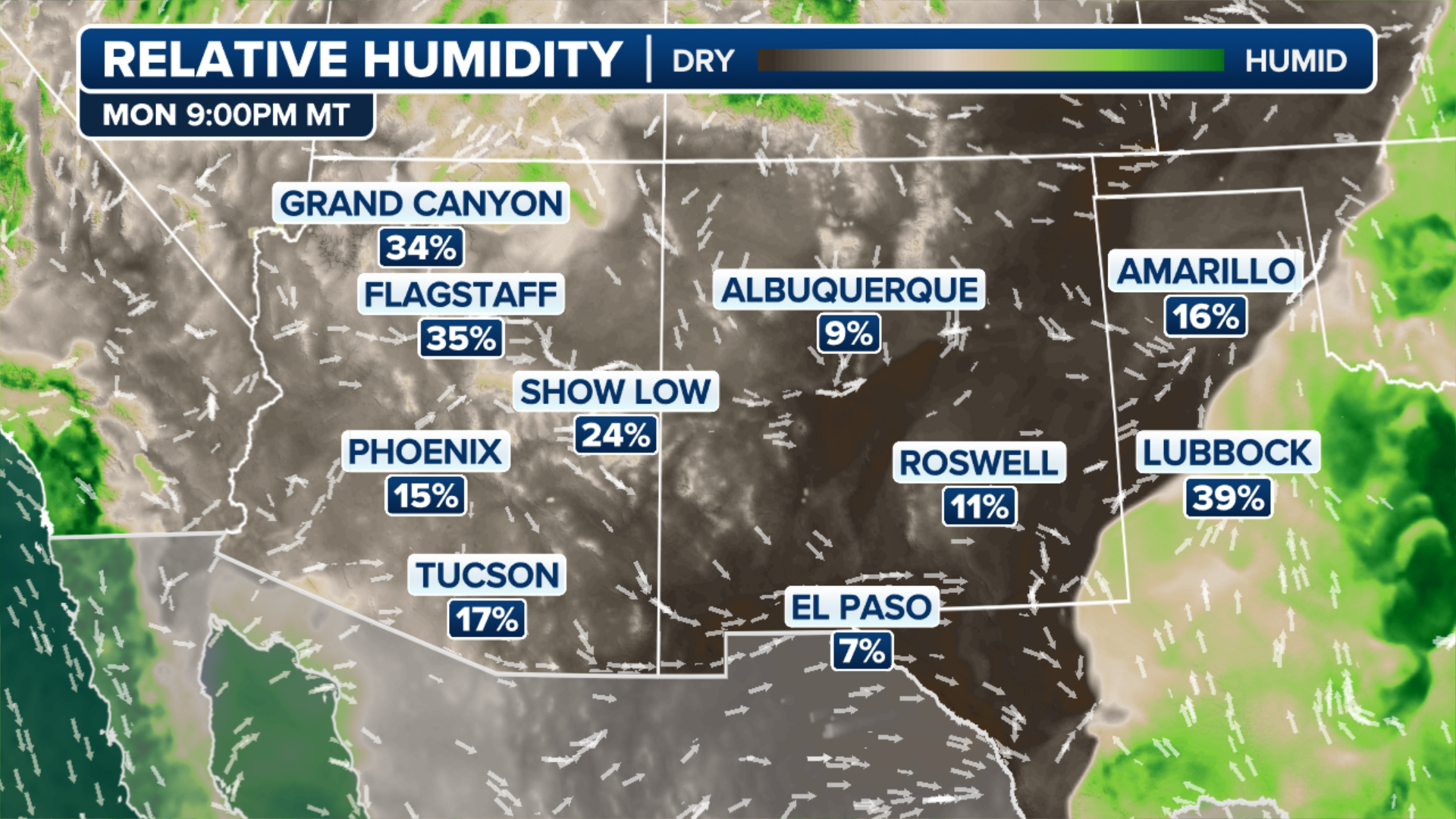 Relative humidity levels will fall into the single digits across most of the region on Tuesday.
(FOX Weather)
---
And the region will remain extremely dry on Tuesday.
CLICK HERE TO GET THE FOX WEATHER UPDATE PODCAST
Most areas from Las Vegas to El Paso will fall into the single digits, and that's where the highest risk of wildfires is expected throughout the day.
Anyone living or working in areas where the fire weather conditions are elevated and critical should try and limit any activity outdoors that could cause a spark. It's also a good reminder to properly dispose of cigarettes.