Wildfires in New Mexico continue to burn after consuming over 400,000 acres
Santa Fe and Carson National Forests closed amid fire threat
Wildfires continue across parts of New Mexico, fueled by extreme drought, high winds and scorching temperatures.
Three wildfires across New Mexico have engulfed more than 400,000 acres, including the more recent fire near Truth or Consequences that is raging out of control.
HOW TO WATCH FOX WEATHER ON TV
The Hermits Peak Fire started outside of Las Vegas, New Mexico, in early April. On April 19, the Calf Canyon Fire began. The two blazes later merged to create the Hermit Peak and Calf Canyon Fire Complex.
Earlier this week, the Calf Canyon/Hermits Peak fire became the largest wildfire in modern New Mexico history. As of Friday, the fire has consumed 303,701 acres. However, the acreage has not been updated since Thursday because pilots could not collect infrared imagery overnight. Containment in the last 24 hours has increased to 40%.
Due to the ongoing fires and dry weather, Santa Fe National Forest and Carson National Forest were closed Thursday. The Santa Fe New Mexican reports that the last time both parks were closed was in 2018 during drought conditions.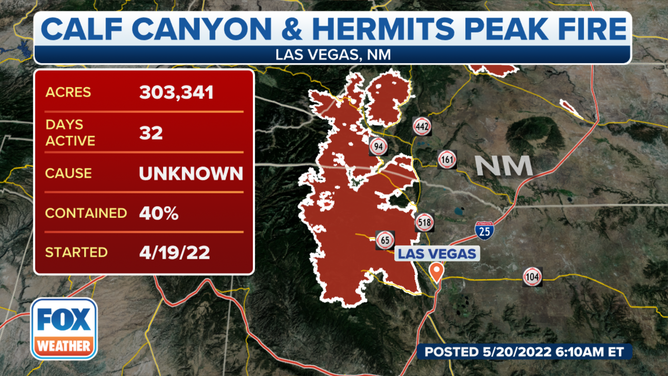 The Cerro Peldado Fire, also in the Santa Fe National Forest, began on April 22 and has burned more than 45,600 acres with 75% containment. 
A cold front moving over the fire is expected to produce lower temperatures and increase relative humidity, which will help firefighting operations.
GET THE LATEST FOX WEATHER UPDATE PODCAST
On May 13, a wildfire started in a part of the Gila National Forest in southwest New Mexico, about 31 miles outside Truth or Consequences.
According to Forest Service officials, the blaze is now called the Black Fire and has consumed 104,969 acres with 0% containment. It's the second-largest wildfire burning in the state.
WHAT DO LEVEL 1, 2, AND 3 EVACUATIONS MEAN DURING WILDFIRES?
The Federal Emergency Management Agency has approved more than 600 individual disaster assistance applications for the New Mexico wildfires. In April, President Joe Biden approved federal disaster assistance, allocating resources to communities impacted by the fires.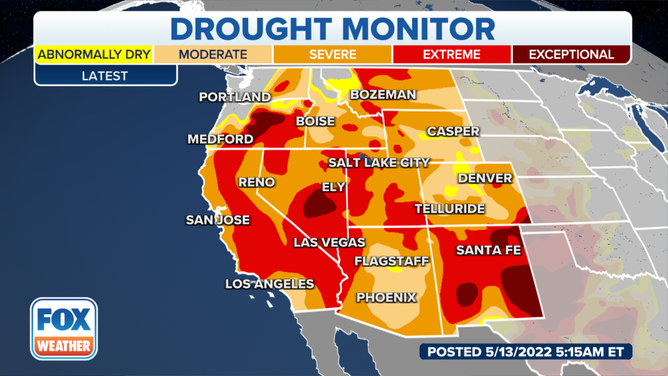 For weeks, the massive wildfires have been fueled by high winds and dry conditions.
According to the latest U.S. Drought Monitor report, southwest and east New Mexico is under exceptional drought, the most severe drought on the scale. Other parts of the state are under extreme drought.
HOW WILDFIRE BURN SCARS COULD HAVE LASTING IMPACTS
NOAA's summer outlook released this week did not provide any hope for improvement soon. The outlook shows below-average rainfall continuing in New Mexico and other parts of the West and southern Plains.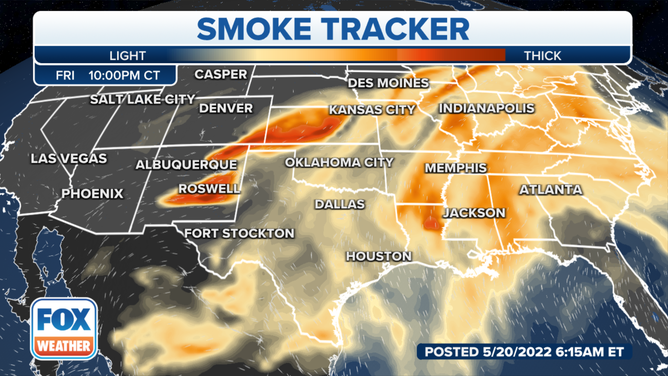 The wildfires continue to send smoke into neighboring states. On Friday, winds were pushing the smoke into southeast Colorado and Kansas.