NYC may see bare minimum snow Wednesday to ruin chances at beating the city's 332-day snowless record
New York City hasn't seen snow in nearly 11 months, which is flirting with records. However, a storm Wednesday could produce light snow in the city and restart the snowless streak.
NEW YORK CITY – Nearly 11 months have passed since measurable snow fell in New York City, making it the second-longest snowless streak to happen in the Big Apples since weather records started being kept.
The record for the longest streak was set in 2020, when 332 days passed without measurable snow, according to the FOX Forecast Center. Coming in third place is 320 days in 1973.
The last time the Big Apple received measurable snow was March 9, 2022, when 0.4 inches of snow fell. Since then, the city has been in a snow drought. With no snow forecast for New York City on Tuesday, that places this winter in second place for the longest snowless streak at 321 days.
WHEN CAN YOU EXPECT THE FIRST SNOW OF THE SEASON?
The snow drought, however, may be coming to an end.
A day after the storm brought a threat of severe thunderstorms and tornadoes to the South, it's set to morph into winter storm to hit the Northeast on Wednesday, potentially bringing up to 18 inches of snow to parts of Vermont, New Hampshire and Maine.
POWERFUL WINTER STORM EXPECTED TO DELIVER SNOW, RAIN FROM TEXAS TO THE NORTHEAST
According to the FOX Forecast Center, New York City could receive between a dusting and an inch of snow during the storm.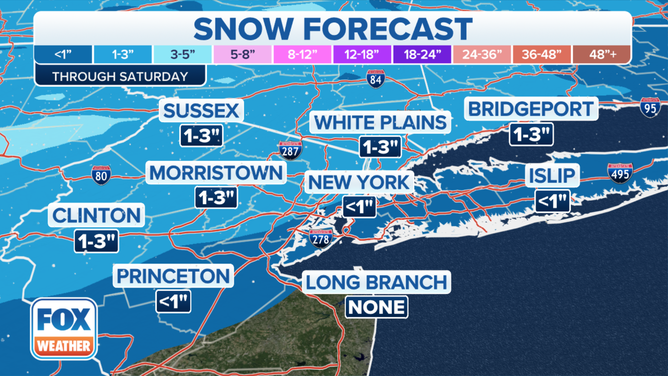 The dusting, while modest, could be enough to reset the clock on the number of days without measurable snow in the city. Measurable snow is defined as an accumulation of at least 0.1 inches. If the season's first snowflakes don't accumulate to the 0.1-inch mark in Central Park, it will not be considered the official first snowfall in the weather records and the streak will continue.
NO WHITE, NO GREEN: SNOWLESS I-95 CORRIDOR LEAVES PLOW DRIVERS WONDERING ABOUT NEXT PAYCHECK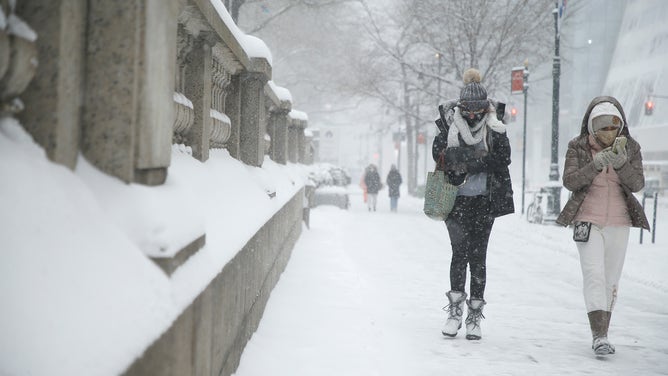 Late-season snowfalls aren't unheard of in New York. Some have even crippled the Big Apple in years past.