Snow spreading into northern New England as April begins
Between 1 and 3 inches of additional snow is expected in the Great Lakes, with locally higher amounts of 3 to 5 inches possible
On the cold side of the same storm system that brought severe weather to the East Coast, the air will be cold enough to support snow over parts of the Great Lakes and northern New England as April begins.

Rain is changing over to light snow across parts of the upper and mid-Mississippi Valley into the western and northern Great Lakes. This could lead to slippery travel conditions at times, including during the morning commute.
Snow squalls on Friday mean short periods of intense snow. 
WHAT ARE SNOW SQUALLS AND WHY ARE THEY SO DANGEROUS
Earlier this week officials blamed snow squalls for a 50 car pileup that killed 6 people.
6 KILLED IN 50-PLUS VEHICLE PILEUP CAUSED BY SNOW SQUALL IN PENNSYLVANIA ON MONDAY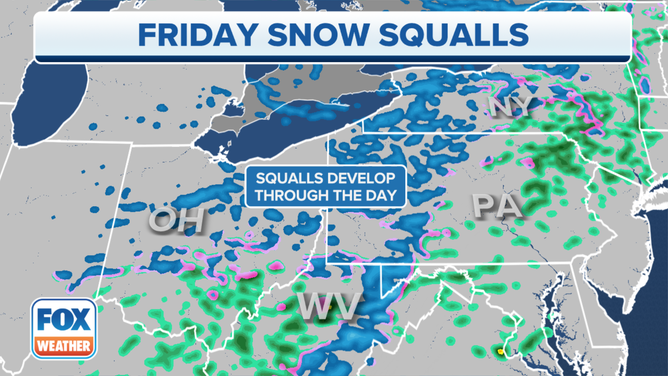 HOW TO WATCH FOX WEATHER ON TV
Snow will make its way  move into parts of the Ohio Valley, central Appalachians and southern and eastern Great Lakes, where light accumulations are possible for early Friday.
'TYPICAL KANSAS FASHION': SNOW FALLS IN WICHITA FOLLOWING SEVERE STORMS, 80-DEGREE DAY
Lake-effect snow will also develop Friday morning downwind of the eastern Great Lakes from Lower Michigan into northeastern Ohio, northwestern Pennsylvania and western and central New York.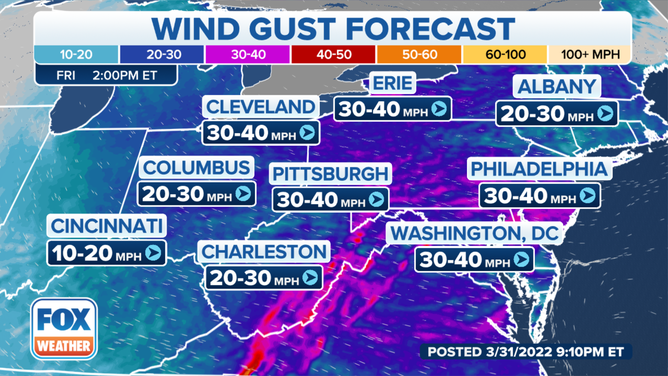 Meanwhile, upslope-flow snow will develop on Friday over parts of the central Appalachians in eastern West Virginia and southwestern Pennsylvania, as well as in parts of northern New England. The snow will taper off by Saturday morning.
Accumulations should mostly remain light in these areas.
WHEN CAN YOU EXPECT THE LAST SNOW OF THE SEASON?
Another blast of snow dusts the Midwest over the weekend.