'It's pretty bad': Tornadoes tear through Mississippi leaving 100-mile path of destruction behind
The twisters began in the town of Rolling Fork, where a Tornado Emergency, which is the most dire of tornado alerts, was issued. Storm spotters reported the tornado was at least a mile wide as it approached the town.
Tornadoes injured at least two people in Mississippi on Friday as the twisters tore a path of destruction across the state that appears to be at least 100 miles long.
The tornadoes began in the town of Rolling Fork, where a Tornado Emergency, which is the most dire of tornado alerts, was issued. Storm spotters reported the tornado was at least a mile wide as it approached the town.
Fred Miller, the former mayor of Rolling Fork, said much of the town has been destroyed.
"The west part of Rolling Fork is a residential area, and just a number of houses over there have been completely destroyed," Miller said. "Highway 61, where most of our businesses are, all of the businesses on 61 have been completely destroyed. People are trapped in a couple of the eateries, and people are trying to get them out now."
Eric Tole, a storm chaser with Live Storms Media, said he and his chase partners helped pull seven people, including a child, from the rubble of a restaurant in the town.
"Gas lines are broke – they're spewing, you can smell it in the air," Tole said. "It's pretty bad. (The town) got hit pretty bad."
Brett Adair, FOX Weather's field meteorologist who was chasing the storm, reported significant damage in Silver City, Mississippi, about 30 miles northeast of Rolling Fork.
"We had the drone up in the air and saw this massive tornado coming in, probably 5 or 6 miles away, and then just watched numerous explosions as it came across the highway here in Silver City."
Brandon Clement, also a storm chaser with Live Storms Media, said he was following the storm as it moved through Tchula, about 50 miles northeast of Rolling Fork. He said the storm appeared to miss the heart of the town.
"Unfortunately, we saw some extreme examples of what tornadoes can do tonight, and it's not over yet."
Christopher Jackson, another storm chaser with Live Storms Media, was following the storm as it ripped through the town of Winona. He said he saw a damage path that is about a half-mile wide.
A second tornado, which appeared to have originated from the same storm that caused the first twister, ripped through the eastern Mississippi towns of Amory and Smithville. The National Weather Service reported significant damage in those towns.

State emergency managers said search and rescue teams were deployed to Sharkey and Humphreys counties to look for storm victims, and hospitals are being assessed in Sharkey County.
More than 24,000 power outages have been reported across Mississippi, according to poweroutage.us.
"For Mississippi, it's devastating," Tole said. "Our heart goes out to everyone affected in Mississippi tonight because that tornado was bad."
Radar analysis by FOX Weather showed that the twister has been on the ground for at least 53 miles from the first debris detection near Rolling Fork about 8 p.m. CDT to just after 9 p.m. CDT northeast of Tchula. By 10 p.m. CDT, the tornado had been on the ground for about 80 miles. The second tornado lifted not long after it moved into Alabama.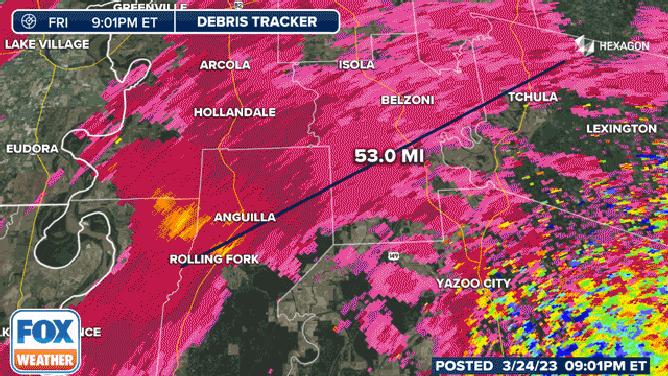 In Alabama, the National Weather Service reported tree damage in the Bear Creek area. An overturned tractor-trailer and tree damage was also reported near Hartselle.
Just after midnight, damage that may have been caused by yet another tornado was reported at a hospital in Fayetteville, Tennessee, according to the National Weather Service.
Where are the storms now?
Any storm is capable of producing dangerous lightning and flooding rain but in the stronger cells, damaging winds, hail and even tornadoes will be possible.
Millions of Americans are under flood alerts due to the threat of several inches of rain on top of already high streams and rivers.
5 SPRING WEATHER EXTREMES TO WATCH OUT FOR THIS YEAR
A three-hour radar loop showing where showers and thunderstorms are ongoing. Severe Thunderstorm Warnings are indicated in yellow. Tornado Warnings are indicated in red, while Tornado Warnings with a confirmed tornado are indicated in purple. Flood Warnings are indicated in green.
(FOX Weather)
---
Tornado Watches have been issued until 1 a.m. for northeast Mississippi and until 3 a.m. CDT for northern Alabama and Middle Tennessee. A Severe Thunderstorm Watch has also been issued until 5 a.m. EDT for northwest Georgia, extreme western North Carolina and eastern Tennessee.
WE'RE ENTERING AMERICA'S MOST ACTIVE TIME OF YEAR FOR TORNADOES
Current Tornado Watches.
(FOX Weather)
---
Current Severe Thunderstorm Watches. 
(FOX Weather)
---
Flash flooding also a threat in mid-Mississippi and Ohio valleys
Even in areas that don't see severe weather, heavy rain will be capable of producing flash flooding across the mid-Mississippi and Ohio valleys through Friday night.
A large swath of those regions could receive 2 to 3 inches of rain in a short amount of time, with localized rainfall amounts of 3 to 5 inches possible in a stripe from southern Missouri into southern Illinois, southern Indiana, extreme northern Kentucky and far southwestern Ohio.
Rainfall forecast through Saturday.
(FOX Weather)
---
The threat of flash flooding has prompted the National Weather Service to issue Flood Watches from central and eastern Oklahoma into the mid-Mississippi and Ohio valleys.
EXPLAINING FLOOD ALERTS ISSUED BY THE NATIONAL WEATHER SERVICE
Flood Watches are in effect.
(FOX Weather)
---
In addition to flash flooding, minor to moderate river flooding is predicted along much of the Ohio River, according to the NWS Ohio River Forecast Center.
Flooding turned deadly Thursday in Missouri, where authorities said two people were killed when a vehicle with six people inside was swept away
Isolated severe storms could linger in Southeast on Saturday
Isolated strong to severe thunderstorms could linger in parts of the Southeast on Saturday, but the threat will be much lower than Friday.
Damaging wind gusts and large hail are the main concerns from the Florida Panhandle northeastward into southeastern Alabama, Georgia and South Carolina. However, an isolated tornado cannot be ruled out.
BATTLE OF AIR MASSES WILL MEAN DRAMATIC TEMPERATURE DIVIDE FOR 300 MILLION AMERICANS
The severe weather outlook for March 25, 2023.
(FOX Weather)
---
Storms also caused problems in southern Plains
Already the cold front brought a line of severe thunderstorms into the Dallas-Fort Worth Metroplex Friday morning.
Large hail and strong wind triggered an hours-long ground stop at both Dallas-Forth Worth International and Dallas-Love airports early Friday morning.  Some flights were diverted to other area airports after circling several times in a holding pattern.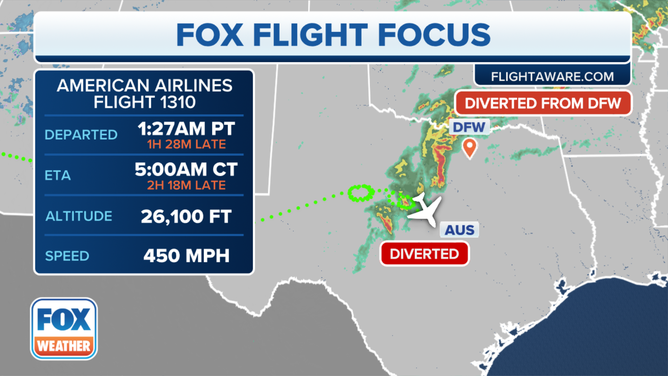 The ground stops have since been lifted, but departure delays lingered into mid-morning.  Trained weather spotters reported a gust of 71 mph at their weather stations in Decatur and Whitesboro. 
Gusts to 60 mph west of town near Poolville lead to a trailer home overturned with two people trapped inside, according to the National Weather Service, while fire officials report another trailer home overturned near Whitt with three people trapped inside. There is no word yet if there are any significant injuries. 
Ferocious winds knocked over power lines along Highway 199 near the Parker and Wise County border and spotters nearby reported seeing an RV turned over from the storms.
The NWS also confirmed two tornadoes struck west of the Dallas-Fort Worth metroplex early Friday morning injuring at least two people. Several mobile homes were damaged during the severe storms.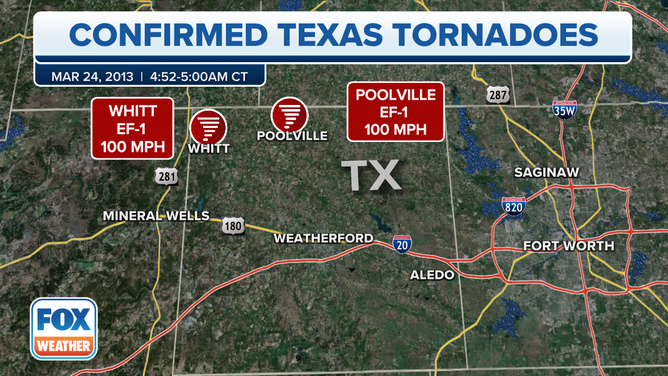 The Storm Prediction Center issued a series of Severe Thunderstorm Watches that stretched from North Texas through Missouri late Thursday.
Large hail was predominately the main threat, and the SPC received over 30 reports of hail.
Ping pong ball-sized stones were reported in communities in Teaxs, Oklahoma and Missouri. 
Damage was limited to trees and at least one outbuilding. There were no injuries were initially reported.
HERE'S WHERE TORNADOES ARE MOST LIKELY TO OCCUR IN EACH MONTH