Severe thunderstorms, including tornadoes, possible in Carolinas, Virginia
Damaging wind gusts, hail and a couple of tornadoes are all potential threats on Thursday
After several days of damaging thunderstorms and deadly tornadoes across the South, a cold front will trigger one final round of severe weather along the East Coast on Thursday.
The Storm Prediction Center issued a Tornado Watch Thursday evening from Virginia through North Carolina because of the threat of severe storms.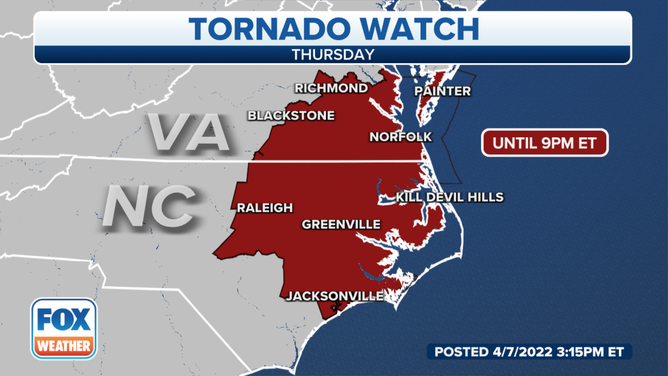 Damaging wind gusts, hail and a couple of tornadoes are all potential threats for the Southeast before the line of storms moves offshore.
The cold front will push offshore Thursday night and bring an end to this week's siege of severe weather.
HOW TO WATCH FOX WEATHER ON TV
Severe storm threat on Thursday, April 7, 2022.
(FOX Weather)
---
The system producing these showers and thunderstorms kicked off Monday evening over North Texas and southern Oklahoma. At least one person was killed in Whitehouse, Texas, late Monday night when a severe storm with strong wind gusts swept through the city, knocking down numerous trees and power lines.
The line of thunderstorms then rolled into the Deep South and Southeast on Tuesday, triggering more than three-dozen reports of tornadoes from Mississippi to South Carolina, including one near Newton, Mississippi, that brought significant damage.
VIDEOS SHOW ROOFS BLOWN OFF HOMES, TREES DOWN AFTER ANOTHER SEVERE WEATHER OUTBREAK IN THE SOUTH
Storms tracked into Georgia and South Carolina late Tuesday afternoon through the evening, spawning more tornadoes and damaging winds. The National Weather Service reported one person was killed during an EF-3 tornado in Pembroke, Georgia.
A rare Tornado Emergency was issued for Allendale, South Carolina, around 4 p.m. Tuesday. Officers reported that one person was injured and the tornado destroyed homes and trees. Other reports stated that this storm blew roofs off homes.
Nearly a dozen tornadoes were then spotted by storm chasers Wednesday in Middle and South Georgia, where trees and power lines were knocked down by the storms.
Because of the scope of the severe weather, damage assessments could take days to determine how many tornadoes impacted the South over the last four days.
Active stretch for tornadoes
While the frequency of tornadoes typically increases during the spring, this recent stretch has been more active than usual.
BUSY TORNADO SEASON SETS RECORD WITH NEARLY 250 TWISTER REPORTS IN MARCH ALONE
A record-breaking 249 reports of tornadoes were tallied in March, besting the previous record of 225 reports from March 2012. That's more than 2.5 times the monthly average. Sixteen different states had at least one tornado report last month.