Rare Tornado Emergency issued for towns in South Carolina's Lowcountry
Tornado Emergencies are rare and only issued when 'severe threat to human life and catastrophic damage are imminent or ongoing' for a confirmed tornado.
At 4 p.m. on Tuesday, the National Weather Service in Charleston issued a Tornado Emergency for Allendale, South Carolina.
"We do need to talk about the Tornado Emergency," said Brigit Mahoney on FOX Weather. "The way we need to think of it is an enhanced tornado warning, the National Weather Service calling extra special attention to this cell, and its potentially dangerous tornado on the ground."
"This is only the second-ever tornado emergency issued by NWS Charleston," said Greg Diamond Senior Weather Producer and Meteorologist. "The other one was in 2020 for Walterboro, South Carolina. That one ended up being an EF-1."
"We have a Tornado Emergency issued by the National Weather Service and that's not just something we see every day in South Carolina," said Derrec Becker, Public Information Officer for the South Carolina Emergency Management Division.
The tornado in Allendale was confirmed by a local firefighter who saw the storm near Highway 301. So far, Becker has reports of roofs off homes and unconfirmed reports of injuries. Up to 8,000 people were in the Tornado Warning which expired at 4:15 p.m.
WHAT YOU SHOULD DO TO PREPARE FOR TORNADOES
FOX Weather's radar and debris trackers showed evidence of debris being lofted in the air just outside of Allendale's center. Mahoney called the radar returns, "A textbook hook formation of a tornado signature."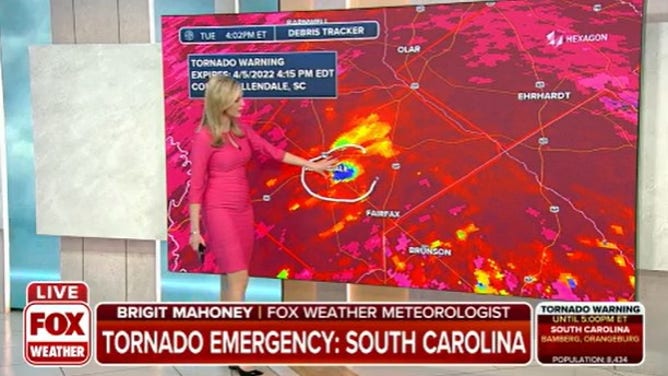 A second tornado touched down in Allendale County less than two hours later. 
TORNADO WATCHES ISSUED FOR 4 MILLION AS SEVERE THUNDERSTORMS THREATEN STORM FATIGUED SOUTH THROUGH WEDNESDAY
Nearby Hughes and Barnes in Bamberg County were under three tornado-warned supercells Tuesday afternoon.
History of the Tornado Emergency
The very first Tornado Emergency was issued by the NWS in Norman, Oklahoma on May 3, 1999. A large, confirmed tornado was heading for Oklahoma City and meteorologists felt that a Tornado Warning was not strong enough to describe the potential damage and loss of life.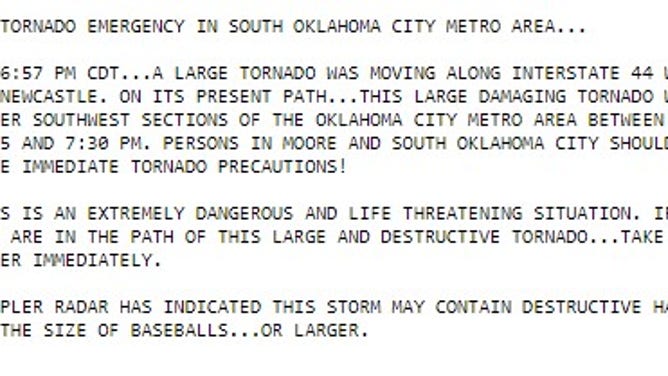 NWS surveys eventually rated the twister an F-5. It traveled over 38 miles in an hour and a half.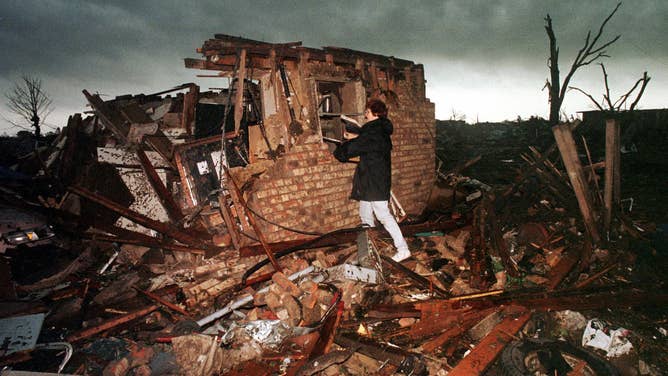 Tornado Emergencies remained unofficial until after a deadly EF-3 tornado in Arkansas killed 13 people, according to the NWS Little Rock office. They issued a Tornado Warning but not a Tornado Emergency.
The official statement, following an assessment, reads, "Little Rock personnel felt that the Tornado Emergency was to be reserved for tornadoes impinging on densely populated areas. This is the general perception of all WFOs (Weather Forecast Offices). During this event, there was no national guidance on when to use Tornado Emergency wording."
Per the NWS, Tornado Emergencies are specifically only used in the following situations:
Severe threat to human life is imminent or ongoing.
Catastrophic damage is imminent or ongoing.
Reliable sources confirm tornado (either 1 or 2): Visual Radar imagery strongly suggests the existence of a damaging tornado (a debris ball signature, for example)
Visual
Radar imagery strongly suggests the existence of a damaging tornado (a debris ball signature, for example)
Watch FOX Weather on TV or bring it with you on the FOX Weather app to stay safe and ahead of the storms.