Potentially deadly heat wave continues to bake the South, West
Triple-digit temperatures expected again across Texas, lower Mississippi Valley, parts of the western US
Millions of Americans from Texas to the Mississippi Valley, as well as parts of the western United States, are being urged to take precautions as triple-digit temperatures continue to scorch the region.
Heat-related illnesses like heatstroke and heat exhaustion can strike in minutes and can be deadly.
This was the case in Florida after local authorities in Miami Gardens said a child died on Monday after being left alone in a car for hours as temperatures in the area hit the mid-90s.
WHEN SECONDS MATTER: CHILDREN EXPERIENCE HEATSTROKE SYMPTOMS WITHIN MINUTES OF BEING IN A HOT CAR
And when you factor in the humidity, it's going to feel even hotter.
It's so hot, in fact, that the Electric Reliability Council of Texas (ERCOT) again asked residents and businesses to voluntarily conserve electricity between the hours of 2 p.m. and 8 p.m. Wednesday.
HOW TO WATCH FOX WEATHER ON TV
ERCOT had the same request on Monday when temperatures soared. The company has not made another appeal for Thursday's triple digits.
High temperatures on Wednesday, July 13.
(FOX Weather)
---
San Antonio is also getting very close to breaking its streak for the longest consecutive days above 100 degrees.
"With 12 consecutive days of 100-degree highs, San Antonio has now seen its third-longest 100-degree streak," said FOX Weather senior data specialist Shane Brown. "The all-time record is 21 days from 1962. The current forecast, if verified, gets (San Antonio) to at least 22 days."

WHAT IS THE 'FEELS-LIKE' TEMPERATURE?
The humidity will make it feel very uncomfortable.
Those triple-digit heat index values will be felt across much of Louisiana and southern Arkansas. Mississippi, too, will feel like it's at least 100 degrees when you factor in the humidity.
HOW TO TELL THE DIFFERENCE BETWEEN HEAT EXHAUSTION AND HEATSTROKE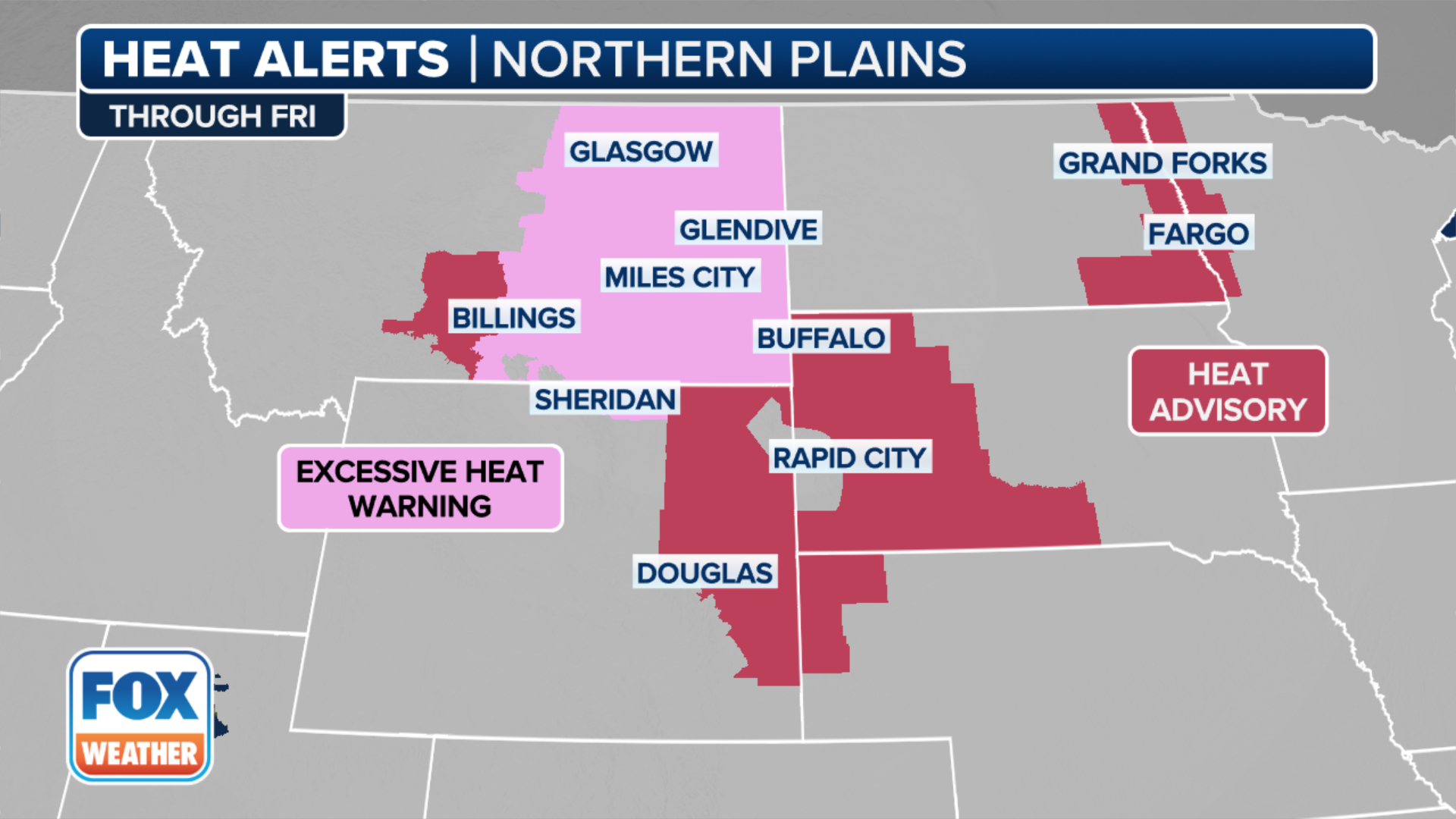 Heat alerts are in effect across parts of the western United States.
(FOX Weather)
---
The excessive heat is also continuing in parts of the western United States, and several heat alerts are in effect across the region.
Heat Advisories have been issued by the National Weather Service in eastern Montana, as well as parts of southern Idaho.
Excessive Heat Warnings are also in effect for northwestern Utah.
HOW THE WEATHER YOU'RE ACCUSTOMED TO AFFECTS NATIONAL WEATHER SERVICE HEAT WARNINGS, ADVISORIES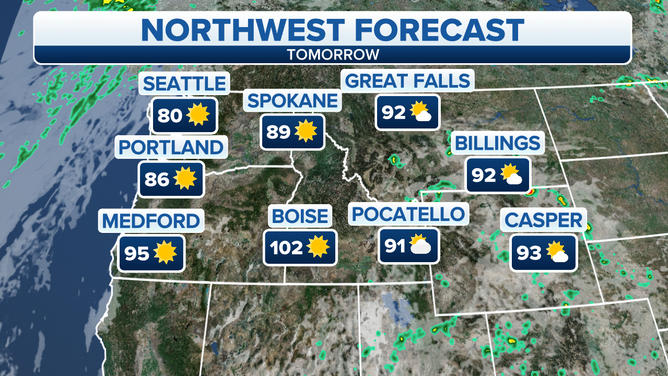 The heat alerts in the west are in effect for a good reason.
Parts of the Pacific Northwest, Rockies and Northern Plains will be feeling the heat.
CLICK HERE TO GET THE FOX WEATHER UPDATE PODCAST
Be sure to download the FOX Weather app to track the temperatures in your area. The free FOX Weather livestream is also available 24/7 on the website and app and on your favorite streaming platform. The FOX Weather Update podcast also provides weather information for the entire country.