Ophelia's remnants continue bringing leftover rain, wind to millions in the Northeast but relief is coming
Ophelia made landfall in North Carolina early Saturday morning as a strong tropical storm and caused widespread flooding and power outages from the mid-Atlantic to the Northeast. The storm's remnants continue to bring gusty winds and rain showers to the Northeast and New England on Tuesday.
BOSTON – The Northeast will need to endure one more day of wet, gloomy weather before conditions begin to improve thanks in part to the remnants of what was once Tropical Storm Ophelia that continue to spin across the region.
Central Park, the National Weather Service's official recording site for New York City, has reported three consecutive days of rain while the Northeast, in general, is now on day five of less-than-ideal weather conditions.
It's been cloudy. It's been wet. It's been dreary. Millions of people across the region are ready for a change but will have to wait just a little longer.
Improvements coming in the Northeast, New England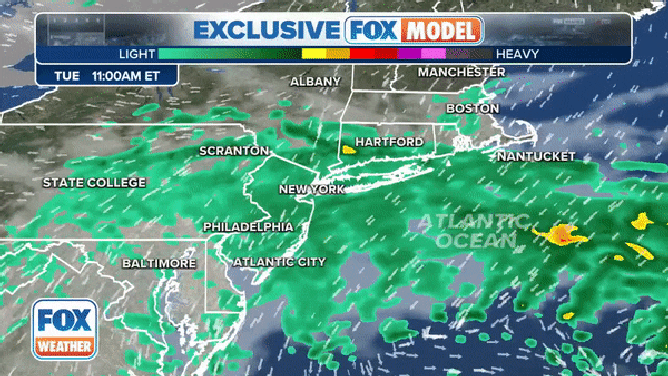 Widespread rain continues for hundreds of miles across the Northeast, but most of it is just misty rain that's more of an annoyance rather than something that will cause major problems on the roads or in rivers and streams.
However, there has been some steadier rain in western and central Pennsylvania, which made for a slower morning commute in those areas.
An additional few inches of rain from the remnants of Ophelia is expected in the Northeast and New England.
(FOX Weather)
---
The FOX Forecast Center isn't expecting much in terms of rainfall totals through Wednesday afternoon and evening. Most areas that do see additional rain will pick up less than a half-inch.
But there's another component that could continue to cause problems in the region: wind.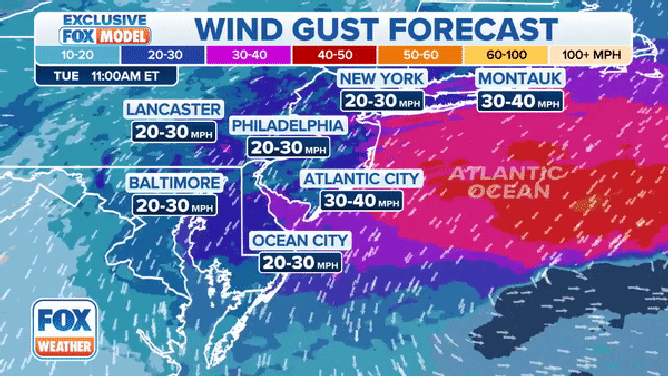 Winds have been gusting to between 20 and 30 mph in places like Montauk, New York, and Nantucket, Massachusetts.
"The big concern with some of these winds is going to be the fact that we have saturation of the ground," FOX Weather meteorologist Jason Frazer said. "And once you get some of the stronger wind gusts, we can end up seeing some trees being knocked down today."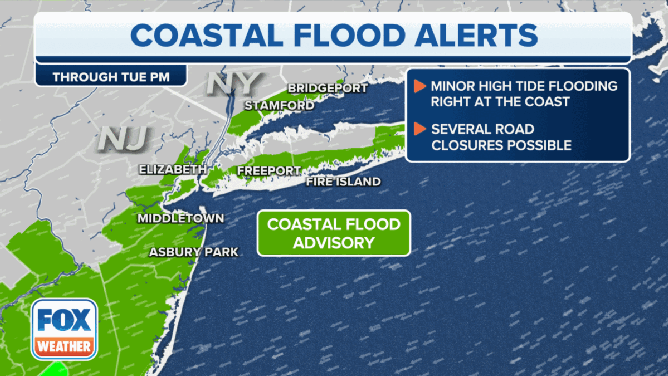 Coastal flooding is also a concern across the Northeast and for portions of New England.
"This is an onshore wind, which means coastal flooding," FOX Weather meteorologist Britta Merwin said. "New Jersey, Delaware. This is a shoreline that doesn't take onshore winds very well."
Conditions are likely to start to improve by Wednesday, when sunshine will begin to return to areas of the Northeast and New England that have seen days of dreary weather conditions.
Flooding leads to water rescues in mid-Atlantic

Ophelia made landfall near Emerald Isle, North Carolina, early Saturday morning as a strong tropical storm and caused widespread flooding and power outages from the mid-Atlantic to the Northeast. The storm then pushed farther inland later Saturday and into Sunday.
Coastal communities were flooded as Ophelia spun across the region, with the U.S. Coast Guard announcing it rescued five people on Friday from an anchored catamaran in Cape Lookout, North Carolina.
The Coast Guard said the group, which included three children, were on the moored vessel when the conditions on the water became dangerous.
Seas were reported to be about 6 to 8 feet, and winds were blowing just below tropical storm force when the rescue occurred.
COAST GUARD RESCUES 5 BOATERS FROM OUTER BANKS DURING OPHELIA
Despite pleas from first responders to stay home during the storm, some drivers who decided to venture out needed help after getting vehicles stuck in floodwaters.
At least one driver in Stone Harbor, New Jersey, needed help after getting stuck, and video from the area showed the roadway covered with water and high-water vehicles assisting during the rescue.
The fierce winds also caused more than 70,000 power outages during the height of the storm in the mid-Atlantic. Crews have been out in full force working to restore power, and data from PowerOutage.us shows most people have been brought back online.
Floodwaters being pumped into the ocean near Ophelia's landfall location
Ophelia made landfall near Emerald Isle around 6:15 a.m. Saturday with maximum sustained winds of about 70 mph – just shy of reaching hurricane strength. 
North Carolina's Department of Environmental Quality issued an alert on Sunday warning swimmers and surfers to stay out of the water in Emerald Isle because floodwaters from the storm are being pumped into the ocean surf in the region.
Officials said the decision to pump floodwaters into the ocean was made to minimize flood damage and to ensure roads are accessible for emergency vehicles.
"These waters can contain pollutants such as waste from wildlife and pets, oil and gasoline from parking lots and waste from septic systems or sewers," officials warned in a news release.
Officials said signs will be placed at discharge sites along the ocean beach to warn the public about possible health risks.
Those notices do not imply that disease-causing organisms are present in the water but identify an increased chance that contamination and adverse health effects could occur.
Signs will be removed from the area 24 hours after pumping stops, officials said.