Nor'easter 'bombs out' off East Coast as winter storm pounds Northeast with blizzard conditions
More than a foot of snow has already fallen in some areas, along with wind gusts over 80 mph in New England
A potentially historic nor'easter "bombed out" off the East Coast Saturday as it pounded parts of the Northeast with blizzard conditions, forcing the cancellation of 1,000 flights and snarling travel from the mid-Atlantic to Maine.
As of Saturday evening, 18 to 24 inches of snow had fallen along eastern Massachusetts, with snow totals reaching 21 inches along the Jersey Shore and onto Long Island. Snowfall rates of 2 to 4 inches per hour were observed in Massachusetts with heavy snows reported into much of New Jersey, New York City, Long Island and southern and eastern New England.
NOAA's Weather Prediction Center confirmed the nor'easter had officially intensified into a powerful "bomb cyclone" as of Saturday morning, achieving a rapid pressure drop of 35 millibars in only 18 hours. Meteorologists use that term to describe a low-pressure system that undergoes "bombogenesis" – defined as a pressure drop of at least 24 millibars in 24 hours or less – indicative of a very intense storm.
WHEN STORMS 'BOMB OUT': EXPLAINING HOW A BOMB CYCLONE FORMS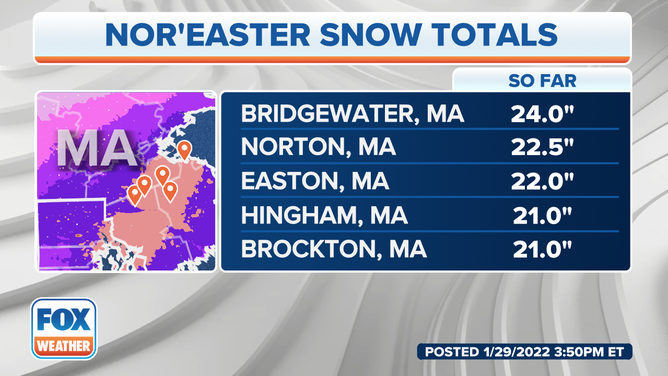 Wind gusts reached well over 70 mph along the Massachusetts coastline with a peak gust of 87 mph measured in Wellfleet on Cape Cod.
The heavy snow in combination with strong winds produced dangerous blizzard conditions in some coastal areas, resulting in nearly impossible travel at times.
The National Weather Service confirmed blizzard conditions near the town of Lewes in Sussex County, Delaware, early Saturday morning when webcams from the area showed a whiteout was ongoing. Blizzard conditions were later confirmed in Boston and across eastern Massachusetts, eastern Long Island and parts of the New Jersey shores. 
Blizzard Warnings remain in effect along the coasts of Maine, New Hampshire, Massachusetts, Rhode Island, eastern Connecticut, Long Island, New Jersey and the southern Delmarva Peninsula. This includes the cities of Boston; Providence, Rhode Island; and Portland, Maine.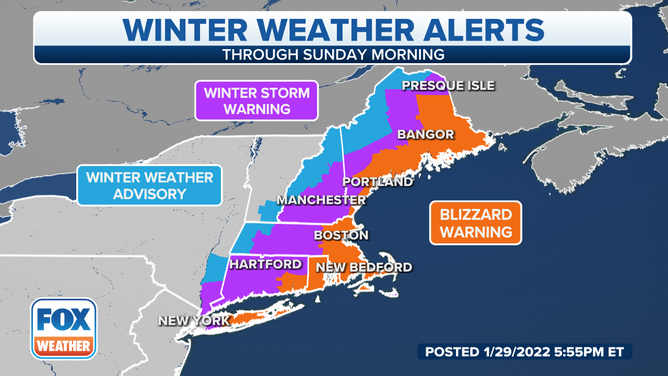 It has been four years since Boston was last under a Blizzard Warning – in March 2018.
WHAT MAKES A BLIZZARD DIFFERENT FROM AN ORDINARY SNOWSTORM?
Winter Storm Warnings are in effect for a larger area of the East Coast from Maine to northeastern North Carolina, including New York City, Philadelphia, Hartford, Connecticut, and Norfolk, Virginia. Winter Weather Advisories extend farther south and westward into parts of the Appalachians and Southeast as far south as South Carolina.
Several states in the Northeast declared a state of emergency ahead of the winter storm and urged drivers to stay off the roads if possible. Heavy snow with high winds could down trees and cause widespread power outages.
It remains likely that eastern and southern New England will see the worst impacts from heavy snow, high winds and coastal flooding because it will be closest to the center of low pressure. However, significant impacts are also expected for all the other areas under Blizzard and Winter Storm Warnings.
Below is our outlook for the storm's timing and impacts. Be sure to download the FOX Weather app for the 24/7 livestream, plus the latest forecast and weather alerts for your exact location.
LIVE UPDATES: NOR'EASTER BLASTING EAST COAST WITH HEAVY SNOW, HIGH WINDS
Nor'easter timing
Saturday night
WE'VE ENTERED THE PEAK TIME OF YEAR FOR MAJOR NORTHEAST WINTER STORMS
Snow has tapered off in New Jersey and much of New York save for eastern Long Island as of 6 p.m. Eastern. Snow will continue into the early nighttime hours for Rhode Island, eastern Massachusetts, and into New Hampshire and Maine, tapering off from south to north overnight. 
There will be significant blowing and drifting snow, leading to very low visibility and, in some areas, blizzard conditions.
Sunday
Some lingering snow is possible in northern New England to start the day, but the low-pressure system will exit into the Canadian Maritimes on Sunday, bringing an end to the snowfall for the rest of the Northeast.
However, bitterly cold temperatures will remain in place across the region for cleanup after the storm.
ARCTIC BLAST TO ADD MISERY FOR MILLIONS IMPACTED BY POWERFUL NOR'EASTER
How much snow?
The highest snow totals from the nor'easter are expected in southeastern New England from Rhode Island into eastern Massachusetts, where more than 2 feet is expected to pile up in some areas. That includes Boston, where this could be one of the city's all-time biggest snowstorms.
HOW ONE POINT ON A MAP CAN MAKE OR BREAK A NORTHEAST SNOWSTORM FORECAST
Make sure to follow FOX Weather on social media for more videos, photos and coverage of the nor'easter. Don't forget to tag us in your weather photos or use #FOXWeather.