Potentially historic blizzard could drop 2+ feet of snow in Boston
If Boston picks up more than 19.4 inches of snow, it will make the list of the city's 10 biggest snowstorms
BOSTON – Historic snow is possible in Boston, where a crippling 2-plus feet could potentially fall, making it one of the biggest snowstorms on record.
While that is on the high end, it's certainly not out of the question for at least parts of the metro area. If Boston picks up more than 19.4 inches of snow, it will make the list of the city's 10 biggest snowstorms.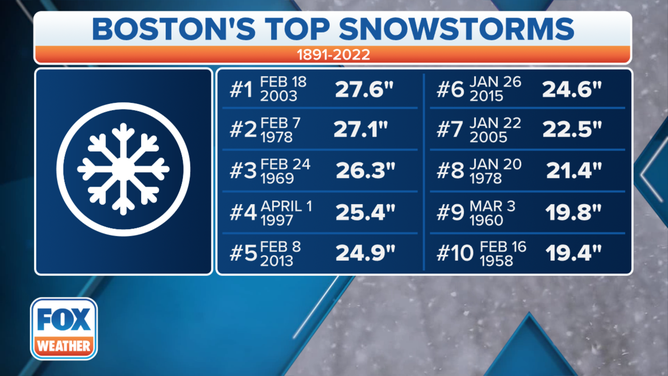 If Boston records more than 27.6 inches, it will seal the top spot as the largest snowfall total for any storm in the city since records began in 1891. 
'THEY JUST PUKED EVERYWHERE': A LESSON ABOUT SNOW AND PARKING SPACES IN BOSTON
The President's Day blizzard of 2003 was one of the largest snowstorms in many years, the National Weather Service said, that brought paralyzing snow accumulations to the Northeast on Feb. 16-17, 2003. 
The NWS said it was the third major snowstorm of the season that affected much of eastern New York and adjacent New England. It was one of the few winter storms to drop a foot or more of snow in Washington, Baltimore, Philadelphia, New York City and Boston.
WHAT MAKES A BLIZZARD DIFFERENT FROM AN ORDINARY SNOWSTORM?
The Northeast Snowstorm Impact Scale ranks Northeast snowstorms on a scale from 1 to 5 based on accumulation, population and other hazards. 
There have only been two Category 5 storms: Superstorm of 1993 and the blizzard of 1996. The President's Day storm of 2003 is the fourth-highest ranked storm on the NESIS scale.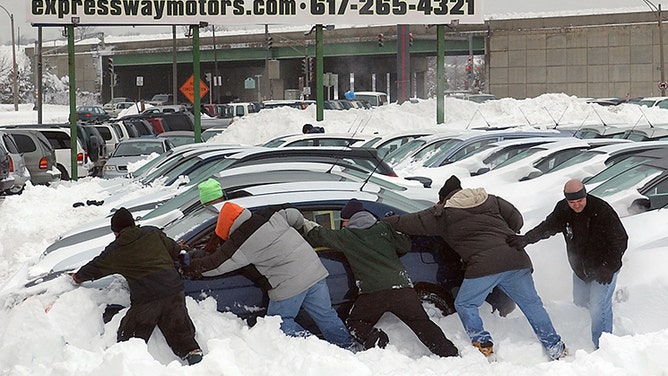 The blockbuster nor'easter this weekend is expected to make considerable impacts Friday through the weekend from the mid-Atlantic through the Northeast with major travel implications. 
THOSE IN PATH OF NOR'EASTER BRACE FOR HEAVY SNOW, HIGH WINDS AS STORM LOOMS
Drifts as high as 3 to 5 feet are also likely as the wind piles up the snow, which will be light and fluffy in nature.
Residents in the Boston area have some time to prepare for the incoming nor'easter, as the snow should hold off until between 10 p.m. Friday and 1 a.m. Saturday.
SAFE INSIDE: STORM PREPS NEED TO BE DONE BY THESE TIMES IN BOSTON, NEW YORK AND PHILADELPHIA
The snow will turn heavy at times Saturday morning through the afternoon, potentially falling at the rate of 2 to 4 inches per hour for a period of time. 
Blizzard conditions are expected to materialize as winds gust to between 50 and 70 mph. Travel should be avoided at all costs on Saturday.
Snow will start to lighten up Saturday evening before tapering off between 9 p.m. and midnight.
Make sure to follow FOX Weather on social media for more videos, photos and coverage of the nor'easter. Don't forget to tag us in your weather photos or use #FOXWeather.